Miami Condo Investments' Most Popular Buildings in Greater Downtown Miami
June 15, 2017
by Sarah Elles Boggs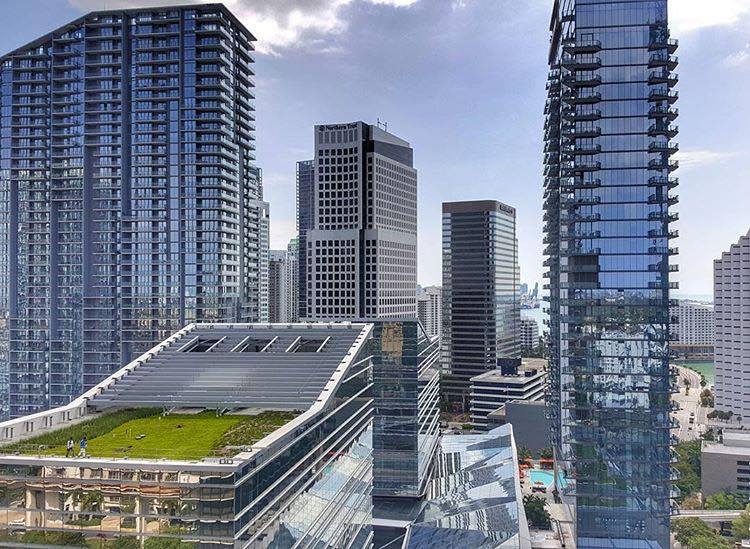 I thought about doing a TBT post today, but then changed my mind. There is so much going on in today's real estate market, why talk about the past? New buildings are opening every month, people are curious about how these new buildings compare to the ones that were new in years past. So which buildings are currently the most popular by condo shoppers?
I took a look through our Google Analytics report to see what our readers are looking at the most. In the time period from May 14, 2017-June 14, 2017, MiamiCondoInvestments.com received a total of nearly 73,000 page views. Of those, here are the ten most viewed building pages. This list does not include views of individual listings, just of the building pages themselves, where you can find inventory lists, market statistics and closed sale/rental data.
1 – SLS Brickell – 1,219 views
It makes sense that SLS Brickell would take the number one spot with an overwhelming lead. The project was very much anticipated by future tenants, owners and pool-party-goers alike. Move-ins began in late December/early January and have moved on at a rapid pace, leaving the building almost at full occupancy now, with demand still strong. Our agents alone have handed out 16 sets of keys in the building, with a healthy book of buyers and prospective tenants still shopping.
2 – Reach at Brickell City Centre – 731 views
I would have been surprised if Brickell City Centre didn't make this list! This project was the catalyst that fueled the buying craze in Brickell over recent years and reinvigorates the neighborhood that was once a dense yet sleepy enclave of beautiful high rises that became quiet at night. Reach was the first residential tower to open in Brickell City Centre, and is also approaching occupancy. When the project initially opened, one bedrooms started at $2,400-$2,450/month, but now have risen to $2,650/month.
3 – Brickell Heights East – 715 views
The newest new building on the block also made the list, and no surprise there. Our photo tour of Brickell Heights just days before they opened was one of the most popular blog posts so far this year, and the amount of calls we get for it is a very good sign that the initial occupancy of the building will go smoothly.
4 – 1100 Millecento – 700 views
Millecento's place as number 4 on the list was a bit more surprising, but not in a bad way. It's not the newest building in the area, so people aren't hungry for a preview. There's really no drama going on with the building (that I have heard of at this time), so people aren't looking for gossip and info. We still receive a healthy amount of calls and contact requests on Millecento, so I feel it's safe to say that the traffic is good ol' prospective residents. That's great!
5 – Biscayne Beach – 638 views
Edgewater's newest new building is also on the charts. We covered the progress & opening extensively, so it makes sense that blog readers are interested in the progress. We also have a beautiful 3 bedroom unit listed on the 30th floor with direct bay and Downtown Miami views. It is well-priced and a blank canvas inside. With the amount of attention the building receives, I feel that it will sell quickly.
6 – The Bond on Brickell – 615 views
The Bond is very popular for people who want to live in a brand-new condo in Brickell, but prefer understated elegance and high quality finishes over the kitschy excess that is SLS Brickell. We receive many calls about this building, and there have also been many of our clients who have called about SLS Brickell but then chosen The Bond. It is like SLS Brickell's quieter sister.
7 – The Plaza at Brickell East Tower – 531 views
The Plaza is basically a Brickell staple. I was surprised that it received more views than any of the IconBrickell towers, but that just shows what the market is interested in. We did a market report on Monday about The Plaza and found that sellers and landlords fare better in today's market by removing that horrible outdated berber carpet from 2008. There is too much competition in the neighborhood to expect buyers and tenants to sign up for old berber carpet (in case I didn't make my point on Monday).
8 – BrickellHouse – 530 views
Despite their garage saga, BrickellHouse remains a popular building in the neighborhood. Yes, the garage is broken. No, we don't know when it will be fixed. Despite that, the finishes are quite lovely, the views and location are great and it remains very popular among our clients.
9 – IconBrickell Tower 1 – 477 views
Of course IconBrickell would be on the list. It has remained one of our most requested buildings since it opened… even since the pool closed. The pool should reopen by the end of the year.
10 – Jade Residences at Brickell Bay – 468 views
Jade is one of the most luxurious buildings in the neighborhood, even after 13 years. Although most buildings in Brickell have beautiful bay views, Jade is where you go if you want an extremely luxurious setting with private elevators and direct bayfront. The only building it competes with is the Santa Maria, except that Jade is more modern and in a more walkable section of the neighborhood.
Do you think that the top viewed buildings on our website are surprising, or expected?