Which Miami Condo Developments Are On Highest Ground?
August 10, 2017
by Sarah Elles Boggs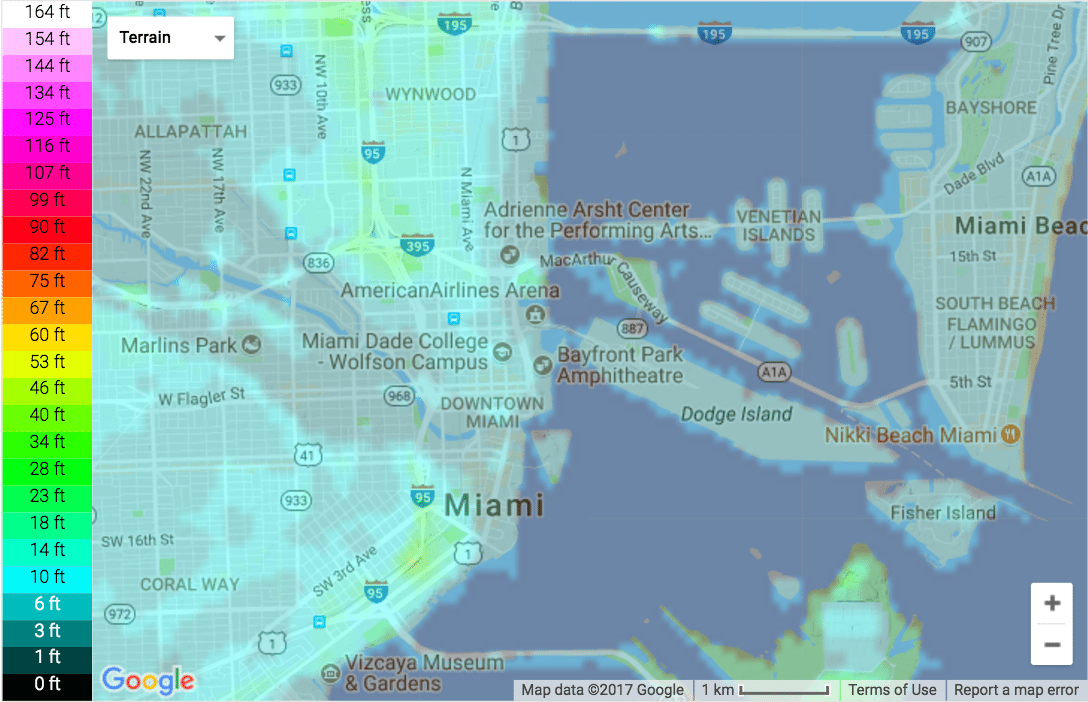 The threat that climate change presents to Miami is as hot of a topic as it is a polarizing one. With increasingly frequent flooding due to storms and the moon/tide cycles, many of the locals have grown familiar with the low-lying hazards in the neighborhood. A summer storm wouldn't be complete without the dramatic shot of a newscaster standing outside the Publix in Mary Brickell Village with water up to their knees, gawking at drivers who splash by, many of whom end up with water damage to their pricey rides. The intersection of Brickell and 13th Street is another spot that overflows quickly.
After the storm we went through last week that flooded the underground parking garages at Brickell City Centre plus all of Mary Brickell Village, forcing shops to close for a day and a half, I started to wonder which buildings in the area are on higher ground? Some may be surprised to learn that the Downtown area is not flat. There are small, but valuable hills that make certain buildings more secure from the floodwaters. I did a little bit of research and found this very interesting topographical map that is fully interactive and mapped the buildings in our area. The vast majority of the buildings sit between 0-3 feet above sea level, but here are the ones on higher ground…
Simpson Park Area
On the south end of the Brickell Financial District but on the north side of South Brickell is Simpson Park. It is situated on a small hill that crests at the intersection of SW 1st Avenue and I95 at 30 feet above sea level. Le Parc at Brickell is the highest condo development in our service area at 20 feet above sea level. Nearby, Infinity at Brickell also takes advantage of this hill at 10 feet above sea level, but it drops off quickly. SLS Brickell measured 3 feet above sea level.
Because of the contour of the elevation, Vue at Brickell and Axis at Brickell were all showing up as 7 feet above sea level, leaving Millecento and the rest of the surrounding buildings at 3 feet.
North Brickell
All of the other buildings in Brickell are between 0-3 feet except for one small incline at 5th Street that puts 500 Brickell's East Tower on slightly higher ground (7 feet).
Downtown Miami
The wall of towering skyscrapers along Biscayne Boulevard in Downtown has been affectionately dubbed the "Biscayne Wall" in real estate and architecture groups for some time now, but there could be another reason for it. There is a small increase in altitude along Biscayne Boulevard, leaving Bayfront Park at 3 feet above sea level and all of the condo developments from 50 Biscayne to Marquis Residences at 7 feet above sea level. This includes Vizayne North and South, MarinaBlue, 900 Biscayne Bay, One Thousand Museum, and Ten Museum Park.
Just a bit farther inland, Centro, The Loft Downtown, The Loft 2 Downtown, and Paramount Miami Worldcenter are all also 7 feet above sea level.
Edgewater / Arts & Entertainment District / Midtown
As can likely be expected, none of the buildings in Edgewater are higher than 3 feet above sea level… but the grade increases relatively quickly as you go farther west (by Miami standards anyway). The Arts & Entertainment District's new project, Canvas, is 7 feet above sea level, and industrial loft or live/work space fans will be pleased to hear that Parcloft and Filling Station Lofts are both built 10 feet above sea level.
Midtown fans will also be pleased to know that the entire neighborhood, including Midtown 2, Midtown 4, Midblock and the new Hyde at Midtown are all 10 feet above sea level.
Final Thoughts
If you would like to play with the interactive map on your own, you can do so here. Do the findings make you feel better or worse about our situation?