Brickell Key Buildings With Tennis Courts
March 29, 2017
by Sarah Elles Boggs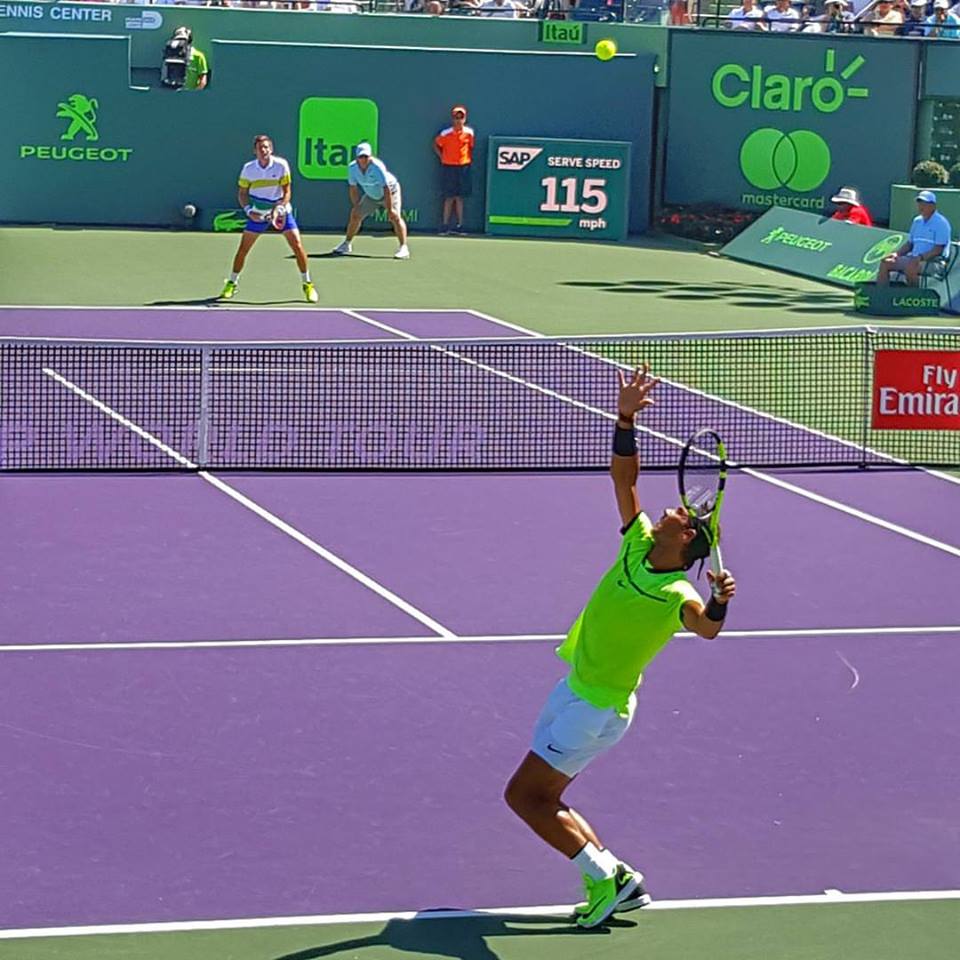 Yesterday we honored the 2017 Miami Open by taking an in-depth look at all of the new construction buildings coming to the area that will offer tennis courts, but what is out there for those who need to move more quickly? Here are our suggestions for buildings that are already constructed and also have onsite tennis facilities.
Brickell Key has the largest concentration of buildings with tennis courts in the area. For those who don't know, it is a private island with 11 residential buildings, most of which were built in the 1980's through the early 2000's. Given the fact that it is situated behind a guard gate and the large array of family-friendly amenities, the island is very popular for families with young children.
The newest and most luxurious building on the island is Asia. It was built in 2008 and has 123 residences. Some of the amenities include private elevators and fingerprint access. Prices range from around $1 million to the $12.8 million penthouse. Rental prices range from $4,500/month to $12,000/ month.
The most affordable buildings with tennis courts are Brickell Key 1 & Brickell Key 2. Brickell Key 1 was the first building to be constructed on the island in 1982, followed by Brickell Key 2 in 1991. Together, they offer a resort-like feel and share a tennis court. Prices currently start at $220,000 for a studio and average $425/square foot. Rental prices start at $1,750 for 1 bedrooms and $2,500 for 2 bedrooms. Every now and again you can catch a studio for $1,550 or a 3 bedroom for $3,000.
On the south side of the island, next to the Mandarin Oriental Hotel, is Isola Condo. It was built in 1990 with 1 and 2 bedroom plans and has availability ranging from $260,000 – $600,000. Rental prices range from $1,750-$2,800.
Carbonell is located on the northern tip of the island and offers larger floor plans that range in price from $469,000 to $2.35 million. It was built in 2005 and has amazing unobstructed water views from most all of the apartments. Even the apartments facing south have nice water views over the island. Rental prices range from $2,700 for a 1 bedroom that is over 1,000 square feet up to $9,700 for a 2,860 square foot 4 bedroom and amazing wraparound terrace.
If you are interested in courts of all kinds, I would suggest Courts at Brickell Key. They have tennis, racquetball AND squash courts (hence the name). Apartments at Courts range from 863 one bedrooms up to 1,878 three bedrooms. Their prices range from $359,000 to $1.4 million for sales and $2,050/month to $4,900/month for rentals.
On the top of the hill are the Tequesta buildings. The newest is Three Tequesta Point, which also has a tennis court. This building was built in 2001 and also offers larger floor plans. The one bedrooms start at 1,087 square feet and $490,000. The largest unit is a 3,739 square foot 46th floor penthouse that is $3.825 million. Tenants can find opportunities between $2,950/month up to $14,700 for that same 46th floor penthouse.
Something that many people are unaware of is that Two Tequesta Point shares amenities with Three Tequesta Point, so residents of both towers share a tennis court. The apartments in Two Tequesta Point are slightly smaller, but just as beautiful. They range from $400,000 for a 907 square foot 1 bedroom up to $1.95 million for a 2,510 square foot 3 bedroom on the 34th floor. Rentals range from $2,500/month for a 1 bedroom up to $7,250/month for a 3 bedroom. Two Tequesta Point is also in the process of having its lobby renovated, which can be previewed here.
It is important to note that the prices we have discussed are valid for today, March 29, 2017. Since these are resales and rentals, they could change at any moment depending upon the market. If you would like to discuss specific availability, we are always here to help. Tomorrow, we will head back over to the mainland for a tour of Brickell condo buildings that have tennis courts!