Miami Riverfront Market Update
April 18, 2017
by Sarah Elles Boggs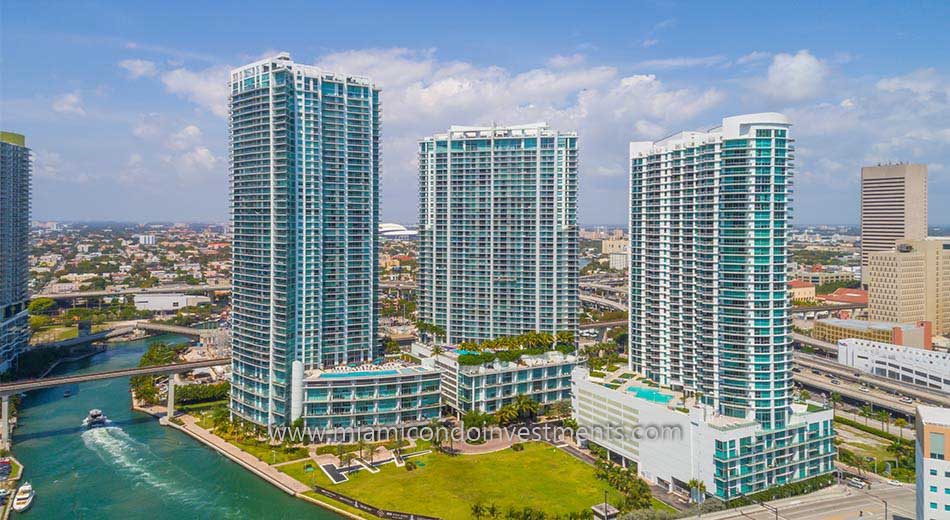 As promised, we're back with another market update of one of the submarkets in Miami's Greater Downtown area! Today, we're going to check in at the Miami Riverfront. This is a gated enclave of 3 condo towers, Mint at Riverfront, Ivy at Riverfront and Wind by Neo. Some people also consider Neo Vertika and Latitude on the River as a part of the Riverfront since they are technically on the river, but since they are outside of the gated enclave, I'm considering them a part of West Brickell for today. The gated enclave currently has 1,517 condo units. Mint has 530 units, Ivy has 498 and Wind has 489.
Let's start with the scary part of the update and get that out of the way. This year has brought 18 closed sales between the three buildings. While some may think that is ok for the first quarter, there are also 189 active sales listings. That is a whopping 31 month supply!
Now that we have that cat out of the bag, let's talk about some more positive aspects of my findings. The average list price of those 189 available units was $380/square foot. The average sold price of the 18 that did find buyers was $323/square foot. Also, there are 15 units that have found buyers but are awaiting closing. The average asking price of the pending sales was $365/square foot, and we'll learn the sold price as soon as the closings are logged.
The highest price listing in the area was Ivy's Penthouse 5, listed for $1.8 million. While I love to look at photos of this 3 bedroom triplex with an amazing rooftop terrace, we can't really consider it in our statistics since it is such an outlier. Aside from the penthouse, the most expensive offering in the area was Ivy at Riverfront #4009. This one is a furnished 3 bedroom that is offered for $785,000, or $472/square foot. The seller is offering seller financing and the furniture is beautiful but I imagine we'll see this one on the market for awhile still.
The lowest priced listing is also at the Ivy. Unit 1812 is am 816 square foot 1 bedroom corner unit. It is priced at $240,000, or $295/square foot. Looking at the history of the listing, it seems the seller is playing pricing see-saw. The price has been going up and down and the listing has been on and off the market several times in the last year. I feel like that if the seller can be reasonable, this one will not stay on the market for too long (I'm not sure what's going on with that little pricing dance they're doing though).
For buyers looking for two bedroom plans, the lowest prices are found at Wind. Unit 2114 is listed for $305,000 ($326/square foot), but despite being officially a two bedroom, I really consider this a one bedroom plus den. The second bedroom is very small and many times is open to the living area. For a full-on two bedroom with two enclosed bedrooms, the prices start at $325,000 for Wind #2606.
Is there better news in the rental market?
Yes! Despite the press that Miami has recently received, I'm finding that the rental market is still relatively healthy. Case in point: There are currently 84 rental listings in the Miami Riverfront and the last 3 months have brought us 71 closed rentals. That gives us a very healthy rental market.
Also, I have noticed that while the prices have fallen in the area, the landlords have less need to negotiate below their asking price in order to secure a tenant. The average asking price of the 71 rented condos last quarter was $2.36/square foot. They closed at an average of $2.30/square foot. That's not a lot of wiggle room for an opportunistic tenant who wants to take advantage of a desperate landlord. The rentals are moving and they're moving close to the listing price.
The highest price rental was that same Ivy penthouse with the amazing terrace. They have secured a tenant for $9,000/month after listing the property for $10,000/month. Outside of penthouses and townhouses (which I also consider outliers), studios are starting at $1,650/month at Wind, one bedrooms are starting at $1,750 at Ivy and you could get a three bedroom for as much as $4,300/month at Mint. Two bedrooms start at $2,400-$2,500 in all three buildings currently. To be fair, the $1,650 studio I mentioned is listed as a one bedroom, but has no separation between the bedroom and the common area so lives more like a studio.
Overall, I am pleasantly surprised to see how the market is holding up in the Riverfront area, just as I was pleasantly surprised by how well IconBrickell is doing during their massive renovation. How do you think the trend will continue? Are there any additional metrics that you would like to see?