Market Stat Monday: Which Brickell Buildings Are The Most Popular For Buyers?
May 15, 2017
by Sarah Elles Boggs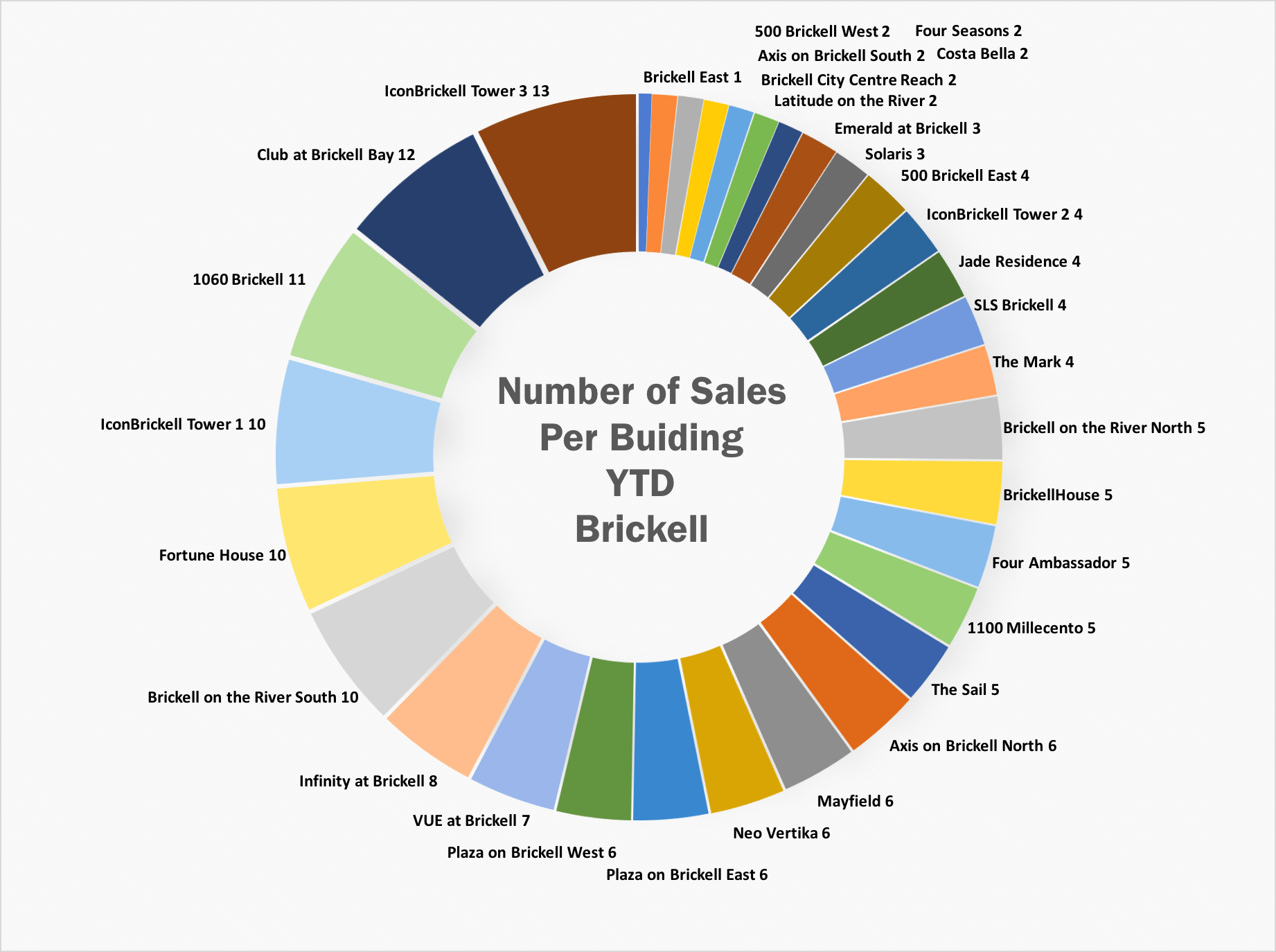 During our Market Stat Monday series, I've started to notice a trend that there is an increasing amount of competition between condo listings for a smaller amount of buyers in the market. This led me to become curious if there are any buildings in the that are more popular among the active buyers, and some of the results are surprising!
First, we have to acknowledge the harsh reality that we have seen only 175 closed sales in the neighborhood this year. With 1,413 active listings, that amounts to over 40 months of inventory on the market JUST in the Brickell resale market. When pulling my data, I only looked at resales, not developer inventory. If you add in the developer inventory, there will be even more months of inventory.
The sellers who were able to sell did so for a neighborhood average of $389/square foot.
I was pleasantly surprised to see that IconBrickell's Tower 3 has been a stand-out so far this year. They have seen 13 closed sales despite losing their hotel program (which I think creates an opportunity for owners). Seven of those sales took place in April, telling me that the investors agree.
Another popular option has been The Club at Brickell Bay, who saw 12 closings with an average price per square foot of $299/square foot. I am not aware of anything out of the ordinary that would cause The Club to be such a good buy right now, aside from the fact that the layouts and location are good and the price is right.
1060 Brickell has also had a good year. There have been 11 total closed sales at a rate of $346/square foot. Our statistics page only reports 9 sales, but that is because we have separated the project into the east and west tower.
I was not surprised to see Icon Brickell's Tower 1 on the list. Buyers nearly always ask about IconBrickell, despite fears regarding their pool construction. Also, Tower 1 is one of the densest towers in town, with 712 total apartments, so it makes sense that there should be more transactions.
Brickell on the River's South tower made the list with 10 sales, and that sort of makes sense to me. The building is well-run and the loft-layouts are unique. I typically advise investors to purchase a 1 bedroom in the South tower, but if they are looking for a 2 bedroom, to buy in the North tower. This is because the 1 bedroom plans rent far easier in the South tower because of their loft layout, but the 2 bedroom loft layouts lose a lot of potential tenants because of the lack of privacy from the bedrooms. Since there is competition from newer buildings these days for tenants, you want your investment to appeal to as many people as possible and the 2 bedroom lofts don't work well for roommate situations or families. The price is also right, averaging $297/square foot.
Speaking of loft layouts, Infinity at Brickell is also on the list with 8 sales at an average of $319/square foot. I remember back in the day when people would complain about the developer selling apartments at Infinity for $255/square foot. Those were the days. A lot of people are under the misconception that Infinity no longer has views because of the construction of SLS Brickell next door. While it is true that SLS blocked some views, most of the units still have at least some bay views and the 00 and 02 lines still have a lot of bay views. Infinity is still one of my favorite buildings, the staff is very friendly and professional, the layouts are nice and since the building is so well-maintained, it does not look like it is about to be 10 years old.  At $319/square foot, that is a great bargain for what you get.
One building that really surprised me was BrickellHouse. It didn't make it into the top 10, but there were 5 sales this year averaging $474/square foot! That is a lot lower than the $600/foot price the original buyers paid, but is still a great number for a building that is probably about to have a special assessment that will make you do a double take and recount those zeros. On the bright side, they did finally find a solution to their parking debacle, so at least we're moving forward.
Here is the full top10 list of Brickell buildings by transaction count:
Icon Brickell Tower 3 – 13 sales – $412/square foot average
The Club at Brickell Bay – 12 sales – $299/square foot average
1060 Brickell – 11 sales – $346/square foot average
Icon Brickell Tower 1 – 10 sales – $517/square foot average
Brickell on the River South Tower – 10 sales – $297/square foot average
Infinity at Brickell – 8 sales – $319/square foot average
VUE at Brickell – 7 sales – $289/square foot average
Plaza at Brickell East – 6 sales – $462/square foot average
Plaza at Brickell West – 6 sales –  $411/square foot average
Neo Vertika – 6 sales – $317/square foot average
Are you surprised by any of the findings?