Marina Blue Through the Eyes of a Professional Photographer
May 22, 2008
by Lucas Lechuga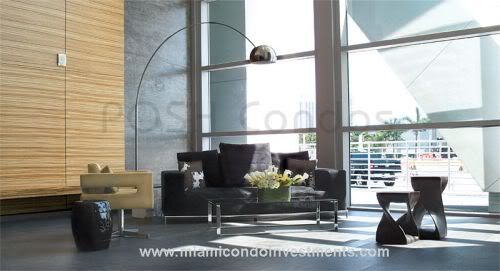 About a month ago, I shared a bunch of pictures that I shot while touring Marina Blue. Someone left a comment remarking that my amateur eye didn't fully encompass Marina Blue in all its glory. I think you will all agree, after viewing this post. Fortunately, the people at Posh Condos were nice enough to share with me some professionally shot photos that they had someone shoot for them. They agreed that I could share these amazing pictures of Marina Blue with my readers, so enjoy!
The lobby seating area at Marina Blue.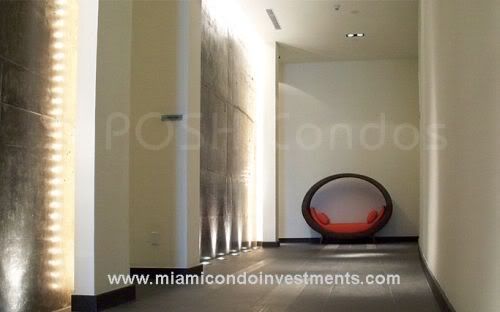 The hallway to elevator core 3 and the beautiful orange round-chair at the end.
A shot of elevator core 1 at Marina Blue.
The entrance to the Sky Beach Fitness Center on the 14th floor at Marina Blue.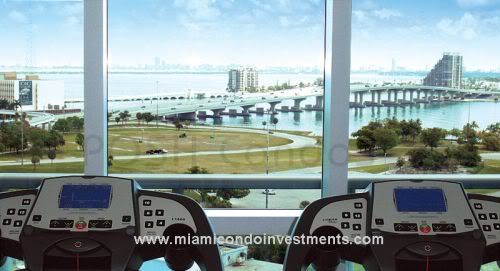 This amazing view should inspire quite a few to get their cardio workout in each day.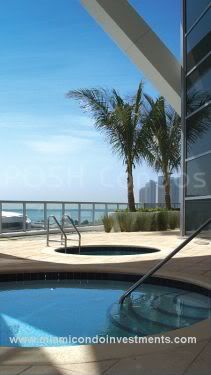 The two hot tubs at Marina Blue.
The sunrise pool at Marina Blue and the Downtown Miami view.
The poolside eating area off the club room. The barbecue grills aren't installed yet but they will be.
The poolside lounge area at Marina Blue.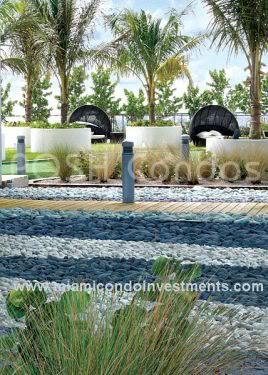 The rock garden at Marina Blue. I never knew rocks could look so beautiful.
The putting green. I think there's about 5 holes in all.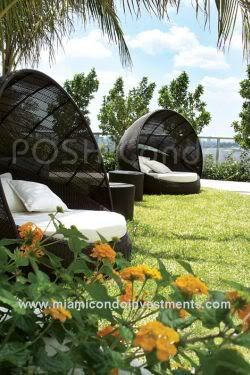 A shot of the circular beds off the sunset pool at Marina Blue.
The sunset pool. You can work on your tan all day until the sun fades into the horizon. The sand volleyball court was being set up the last time I was on the pool deck at Marina Blue.
Most people hate to see an unfinished unit with concrete floors. Above, you'll find a finished condo at Marina Blue with painted walls, flooring, baseboards and window treatments. The view is killer even from this condo on a relatively low floor. Last week, I got a rental listing on the 5th floor and received an offer that was accepted after just one showing. All Marina Blue condos have a direct water view.
This is the kitchen at Marina Blue from a 12 line unit with tiled floors. The 12 line is a 2 bedroom/2 bath corner unit with direct views of Biscayne Bay and Miami Beach from the living room and master bedroom and views to the north and west from the kitchen and second bedroom.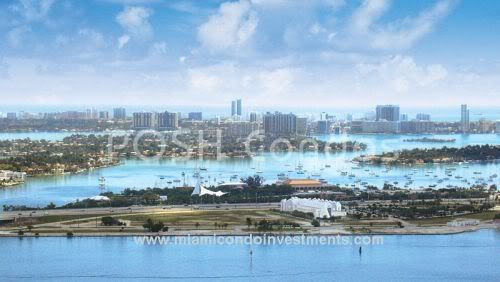 A sick view to the east at Marina Blue.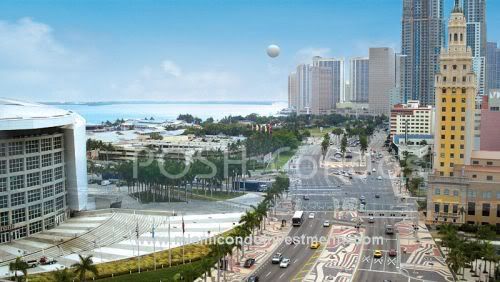 A view down Biscayne Boulevard. Yes, the traffic may be congested at times, although you don't see it in this shot, but isn't that what urban life is all about? I honestly can't wait for there to be more traffic in Park West, Brickell and the Arts District. The infrastructure will follow.
I'm originally from Chicago. A few years before I left Chicago, nobody wanted to live south of Congress. The infrastructure wasn't in place at the time because there wasn't much interest to live there from young professionals. Now, it's a totally different situation. Development has pushed more south with each passing year and what was formally known as the "hood" has become a place that young professionals actually enjoy living.
There's no doubt that the same will happen with Miami. Six months ago, I used to show condos at Loft 2 and 50 Biscayne and hardly anybody lived there. Now, the foot traffic that goes through the lobby of each building each hour is incredible. I showed a condo for sale at Loft 2 this evening and I couldn't believe how many people actually live there now. It was a sight to see! It'll definitely take some time for the market to digest the new inventory but, when it does, Miami will be hot again!!!