Brickell Buildings With Tennis Courts
March 30, 2017
by Sarah Elles Boggs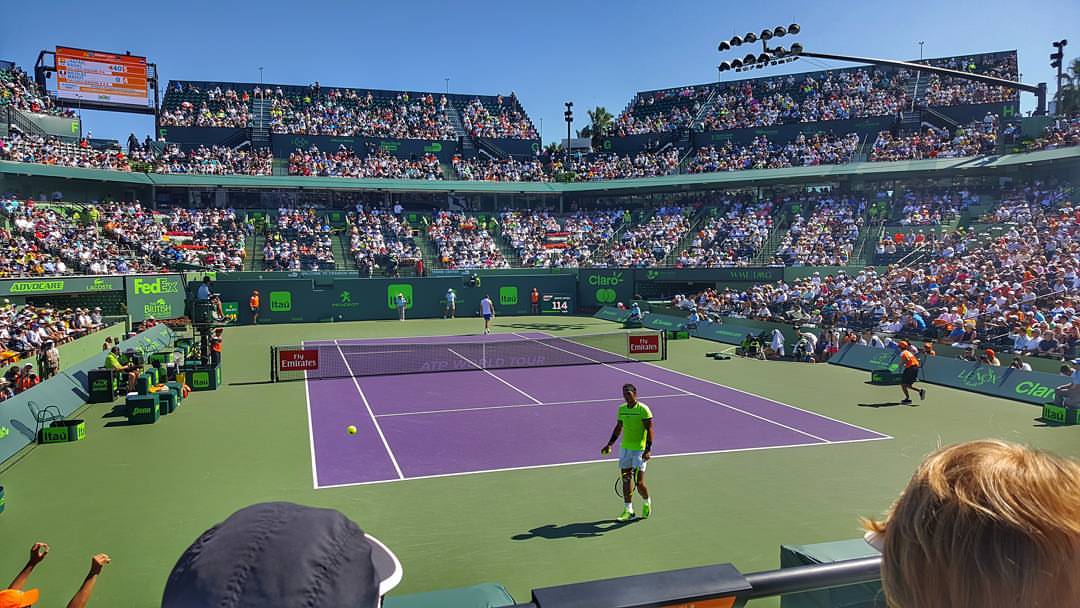 Today we start the semifinals of the 2017 Miami Open on Key Biscayne, so let's wrap up this condo list by looking at the buildings in the Downtown Miami area that have tennis courts. We qualify the Greater Downtown area as being Brickell, Downtown, and Midtown. Since there aren't yet any buildings with tennis courts in Downtown Miami or Midtown, we'll look at Brickell today.
Let's start with the building closest to the Rickenbacker Causeway that takes you to the tennis center and work our way north. That puts us at Brickell Townhouse, which was built in 1963 but remodeled in the early 2010's. It has been reported that there is an offer from Vladislav Doronin to purchase the entire building and use it as an 8 acre waterfront development site, but that is a very complicated deal to put together. In order for it to happen, 90% of the condo owners must agree to the terms. So, in the meantime, 1 bedroom units start at $274,000 up to $675,000 for a 1,703 square foot 3 bedroom. The 1 bedroom is newly renovated with a park and city view, the 3 bedroom is renovated with a modern look and has a park and partial bay view. Rentals range from 1,800/month to $4,300/month.
Next door to Brickell Townhouse is the Brickell Bay Club (not to be confused with the Club at Brickell Bay, which is at 1200 Brickell Bay Drive). Brickell Bay Club was built in 1974 and has a whopping six tennis courts. The building is also situated so that most every unit has at least a partial bay view, but most have a direct view. There are also some great opportunities to find renovation deals. The 1 bedroom sales start at $279,000 (not bad for a waterfront deal!) up to $1.575 million for the 3,100 square foot penthouse. Tenants should prepare to pay between $1,850/month to $3,600/month depending upon the size of the unit.
Two blocks up is Bristol Tower, the site of Pharrell's famous penthouse and the first of Ugo Colombo's Brickell buildings. The 40 story rotunda shaped building offers large units, from 1,210 square foot 1 bedrooms up to the 9,000 square foot triplex penthouse. The largest unit on the market currently is a 2,825 square foot 3 bedroom for $2.38 million. Rentals range from $4,700/month for a 2 bedroom to $9,500/month for a 3 bedroom.
The newest building on the Brickell list is Skyline at Brickell, which was built in 2004. The floor plans range from 1 to 3 bedrooms and offer up to 1,762 square feet. Prices start at $309,900 or $1,850/month for a fifth floor 1 bedroom with 791 square feet up to $820,000 or $3,900/month for a 2 bedroom an $950,000 to $1.1 million for a 3 bedroom. Most all of the units have at least a partial bay view.
From the newest building to possibly the most famous, many people have seen this iconic Miami building in the Scarface as well as Miami Vice. It is the first high rise designed by Architectonica, who has gone on to dominate the skyline. Atlantis on Brickell offers 2 to 4 bedroom plans from $475,000 to $1.45 million and rental units from $2,900/month to $3,700/month. All of the rental units available today are 2 bedroom plans between 1,304 square feet up to 1,666 square feet.
To follow the success of Atlantis, Architectonica went on to design the Imperial at Brickell at 16th and Brickell avenue in 1983. This building is very popular due to its proximity to the financial district and large floorplans. Available units range from 1,316 square feet to 1,792 square feet and $489,000 to $895,000. Rentals range from $2,600/month for a 2 bedroom to $3,500/month for a 3 bedroom.
The most luxurious option on our list of Brickell apartments that have tennis courts is Ugo Colombo's Santa Maria. This is actually one of the most luxurious buildings in the neighborhood. It was built in 1997 and features the last of the original Brickell waterfront estate homes that once lined the bay. Intensely private, there are no photographs allowed of this estate, but it is an amazing place to hold an event. The apartments at Santa Maria start at $1.93 million up to $11.5 million. They have private elevators and 2,100 square feet up to 6,300 square feet. Rentals range from $6,900/month to $20,000/month.
Another interesting building in Brickell that also has a tennis court is The Palace on Brickell. It was developed by the husband of the "Queen of Mean," Leona Helmsley. She once owned the penthouse, which was sold to a Saudi Sheik and redesigned as Brickell's Taj Mahal. You can see photos of that penthouse here. As for current availability, units start at $595,000 and go up to $699,000. All of the available units are 2 bedroom plans around 1,650 square feet. If you are looking to lease, there are slightly more options between $3,400/month to $4,600/month. All of the rental units are also 2 bedroom plans.
The only current condo building in the financial district section of Brickell that has a tennis court is The Mark on Brickell. It is also located on a waterfront lot, at 1155 Brickell Bay Drive. Despite being built in 2001, the building recently underwent a thorough renovation. They received a new lobby, the pool deck and tennis court were refurbished, the building was repainted and the balcony railings were switched to glass from the original iron railings to give the building a newer and more high end look. This is one of my personal favorite buildings to get a great value, particularly after the modernization. It is close enough to the action of Brickell to be a part of it, yet secluded enough to be more peaceful when you want to be. The layouts are modern and usable and the prices are fair. Currently there are 1 bedrooms starting at $290,000 and a 2 bedroom penthouse is available for $760,000. All of the units have a bay view, and rental prices range from $2,100/month to $3,700/month.
Just like yesterday, when we toured the Brickell Key condo buildings that have tennis courts, it is important to remember that the prices we discuss are what is available right now. Apartments come available and others go into contract every day, so reach out if you are interested in learning more about any of these Miami buildings with tennis courts.