Brickell's Taj Mahal-Inspired Penthouse Under Contract
April 20, 2016
by Sarah Elles Boggs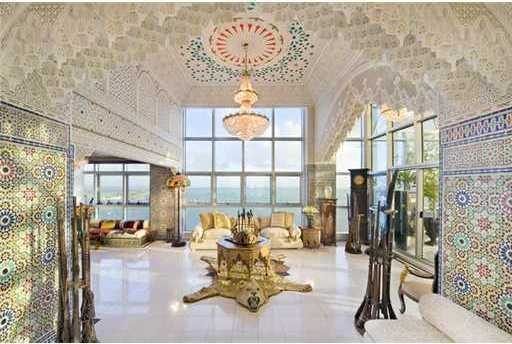 It is one of Brickell's most unique and storied penthouses, nestled above The Palace Condominium and spanning over 5,800 square feet in 3 levels of Moroccan-inspired glamour. The Brickell Taj has had only 3 previous owners since it was built in 1981. That may soon change as a contract was accepted this week.
According to local legend, the penthouse was originally intended to be the Miami home of New York's "Queen of Mean," Leona Helmsley. Instead, the property was sold to a Saudi Sheik who spent 2 years with a team of 27 Moroccan craftsmen to finish the interior as an Arabian palace for his use while visiting the Magic City.
The property boasts 6 bedrooms and 4.5 bathrooms of hand-crafted wall designs and intricate tile mosaics with Turkish, Indian and Persian influences. A glass atrium offers amazing entertaining space with a 3,000 square foot terrace that spans the entire width of the building's rooftop.
After nearly 20 years and very little use, the Sheik sold the palace atop The Palace to a developer and weapons collector, who has now received a contract from an unnamed buyer. The property had been on and off the market several times over the last 4 years without finding a buyer. In 2012 it hit the market with an asking price of $4,199,000 but was reduced to $2,295,000 at the time of sale… an excellent case in point of the fact that no matter how ornate or beautiful the property, spaces that are uniquely designed are notoriously more difficult to sell.
Photos courtesy of MLS