Introducing our Virtual Reality Lounge for Real Estate
April 27, 2020
by Lucas Lechuga

It's been six months in the making, but we're happy to finally announce the official launch of our Virtual Reality Lounge where visitors can virtually explore and navigate Miami luxury houses and condos from the comfort of their own homes. Our Virtual Reality Lounge also includes a section where visitors can virtually explore the amenities of various condo developments in Miami and Miami Beach.
At launch, we've included two virtual reality tours under the Condo Developments section: the amenities of Palazzo Della Luna, an ultra-luxury condo development located on Fisher Island (America's richest zip code), and the fitness center at Rise Brickell City Centre, a luxury tower in Brickell which boasts 500,000 square feet of retail and restaurants down below. In the months ahead, we plan to add to the Condo Developments section virtual reality tours of the amenities of additional residential towers located throughout South Florida.
With the amenities of literally every condo development closed to the public due to the COVID-19 global pandemic, what better time to deliver this service to the public? When someone tours a building's amenities for the first time, they ask themselves questions like, "Does the pool deck get enough sun?", "Does the fitness center have adequate equipment to get a decent workout?", and "Does the building have a decent children's playroom?". These are all questions that can be easily ascertained by virtually walking a building's amenities via a 3D, virtual reality tour. Even once everything returns back to normal, there will be no better way for a prospective buyer or renter to tour a building's amenities without disturbing the peace and privacy of a building's residents. Every condo development in Miami should be getting this done while it is still feasible. If they aren't future-proofing themselves while they can, they're doing a disservice to their building and community.
For buildings with a virtual reality tour on the Miami Condo Investments website, a VR button appears on the building's profile page as shown in the screenshot below. This is another way in which prospective buyers and renters will be able to access the 3D tours while perusing our website.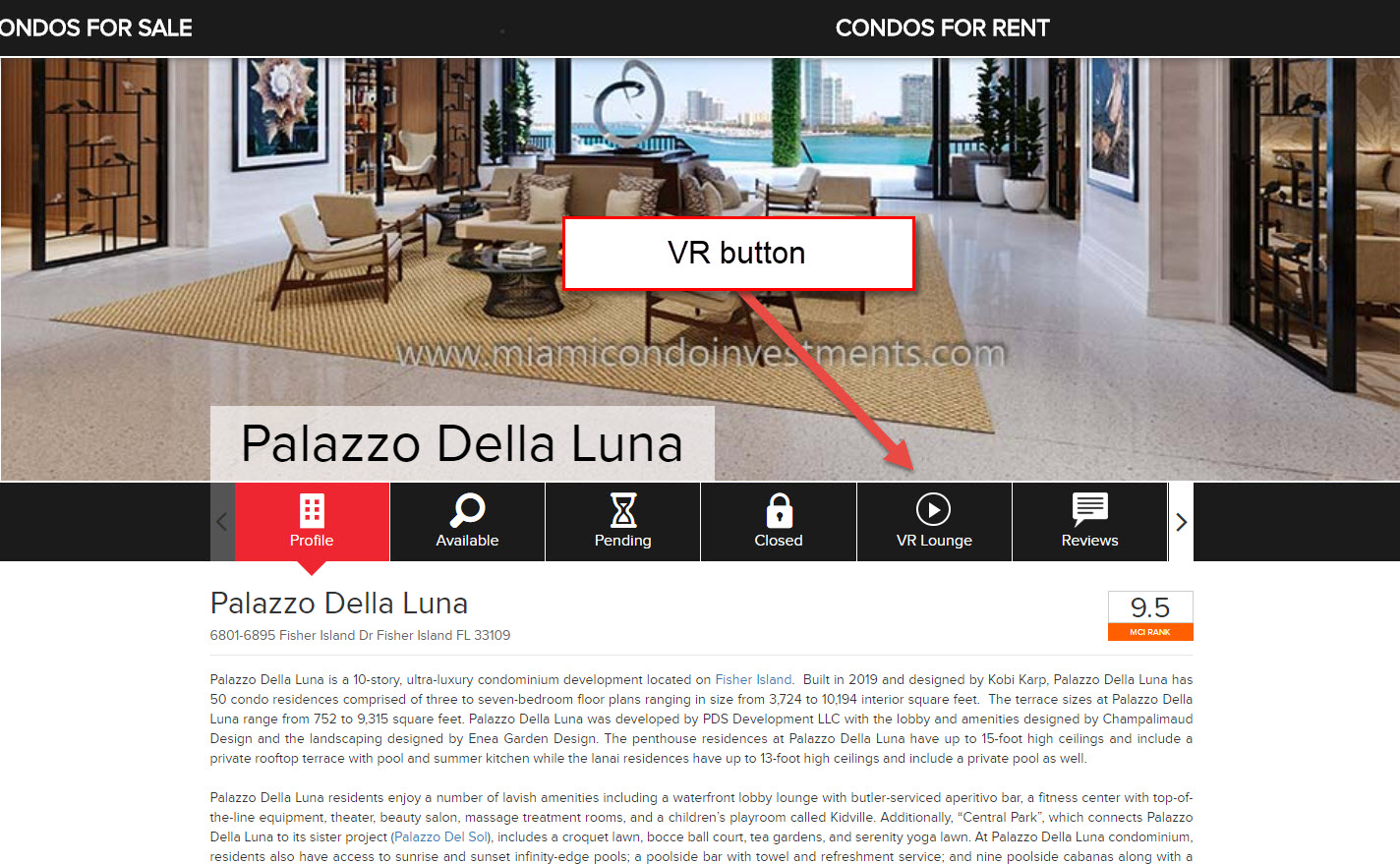 Besides the Condo Developments section, our Virtual Reality Lounge includes five other categories: Featured, Luxury Homes, Luxury Condos, Recently Added, and Trending. The Featured category is a place where virtual reality videos of exclusive listings or feature-worthy properties are included. At launch, the following four luxury properties are featured: (1) an exquisitely designed, four-bedroom condo at Palazzo Della Luna professionally designed by Champalimaud Design - Asking $14.5M, (2) a four-bedroom lanai residence at Palazzo Della Luna with 13-foot-high ceilings and a private, zero-edge pool - Asking $14.5M, (3) a gut-renovated and turnkey furnished, three-bedroom penthouse at 900 Biscayne Bay - Asking $3M, and (4) a flow-through, three-bedroom residence at Jade at Brickell Bay offering direct, unobstructed views of the ocean and bay from the 43rd floor - Asking $1.75M.
The Luxury Homes section includes virtual reality videos of single-family homes priced $5 million and up; the Luxury Condos section includes virtual reality videos of condo listings priced $2 million and up; the Recently Added section includes virtual reality videos of listings which were added within the past 15 days; and the Trending section includes virtual reality videos which have had the most views within the past 15 days.
Clicking the video play button opens the virtual reality video for each property while clicking the property details located immediately below takes you to the property page associated with the virtual reality video.
In the future, we do plan to add a section for rentals but, given that there aren't many rental listings which include a virtual reality tour, we've opted to hold off on this for the time being. We're hoping this is a situation that will change sooner than later.