Market Stat Monday: Quantum on the Bay
April 24, 2017
by Sarah Elles Boggs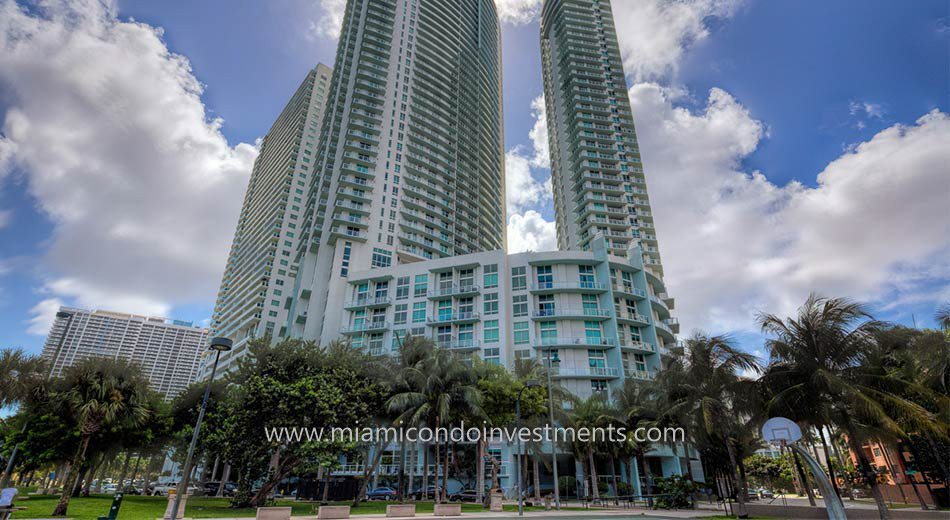 After the positive reviews of my Miami Riverfront Market Statistics article last week and similar feedback to previous market stat posts, I've decided to try something new and make it a regular thing. Monday is now Market Stat Monday on the Miami Condos Blog. Each week, I'll take a look at a different neighborhood, area, or a building. If you have a building or area that you would like to see featured, just let me know. I'm happy to do it and enjoy digging in the numbers.
One of our social media followers suggested that I take a look at what's going on in Quantum on the Bay. I haven't written about Quantum in awhile, so agree that it a good place to start. For those who don't know, Quantum on the Bay was developed by Terra back in 2008. It is located across the street from Margaret Pace Park and is situated in a way that most every apartment has at least a partial bay view, but many have a big, open view of the bay. Because of the park, it used to be a very popular place for people with pets, but the condo association stopped allowing pets for tenants. Owners may have pets, but not tenants (unless you have a support animal). The building has 2 towers and 698 residences.
Despite the beautiful views and convenient location, Quantum has not been free from drama. They had to sue the developer in order to be repaid for the repair of some construction defects. They won that lawsuit and threw a party. The party was barely cleaned up before a tenant slapped the association with a lawsuit for price gouging on move-in fees. I was really wondering how long it was going to take for that to happen somewhere. Almost all of the buildings do it and the tenants always complain but nobody has gotten mad enough to actually sue over a few hundred dollars.
SALES MARKET
So, let's see how the building is doing. There are currently 86 active sales listings in Quantum. That's just over 12% of the building, which isn't so bad. But with only 7 closed sales this year, that's 43 months of inventory. On the bright side, the units that did sell received 96% of their asking price, so at least it's not a bloodbath. There is just a lot of competition for buyers, who are more scarce.
The units that closed did so for an average of $357/square foot. The least expensive was a 1 bedroom on the 36th floor for $250,000. In an interesting turn of events, a 3 bedroom with 1,620 square feet sold for $535,000, less than a two bedroom with a direct bay view. The two bedroom sold for $540,000 on the 27th floor and another for $570,000 on the 39th floor. That's interesting to see how a direct bay view does affect the price of an apartment more so than an additional bedroom. 1,620 square feet is really an enormous apartment in this area. There are 8 contracts waiting to close.

For the buyers who are still looking, there are studios available with partial bay views starting at $220,000, a one bedroom on the 40th floor with a partial bay view is offered starting at $257,000 and two bedrooms with partial bay views start at $380,000. Three bedrooms start at $524,000 or $350/square foot and there is a 3 bedroom penthouse available for $950,000. These prices are relatively the same as they were two years ago (when I last had an active buyer in the building). I'll save the trends for a future post.
RENTAL MARKET
Just like at the Miami Riverfront, Quantum on the Bay's rental market is also far healthier than the sales market. There have been 54 rentals this year so far at 98% of the asking price. The average price of a closed rental is $2.37/square foot. The individual prices were:
Studios: As low as $1,500/month.
One bedrooms: Starting at $1,675 for a 35th floor apartment with 663 square feet and a little bit of a water view.
Two bedrooms: There was one rental at $2,250 for a two bedroom, but I have a feeling this one is an outlier. The remarks said that the property had to be taken "as-is", so I imagine it was either filthy, needed painting or had something else wrong with it. The next least expensive unit was 2711, which rented for $2,300/month with a partial bay view.
Three bedrooms: as low as $3,100/month.
There are 38 available rentals listed, so just under 3 months of inventory for tenants. There are 18 units that have a contract signed and are waiting for move-in day.
All in all, it looks like things are picking up for Quantum. I feel like that once the association straightens up and the lawsuit over their application fees settles, the sales market will pick up also. Litigation makes things very difficult for sellers, since most banks will not finance transactions in buildings with legal drama.
We'll see you next week with another report! Which building or area should we dig into next week?