Market Stat Monday: The Bond On Brickell
August 7, 2017
by Sarah Elles Boggs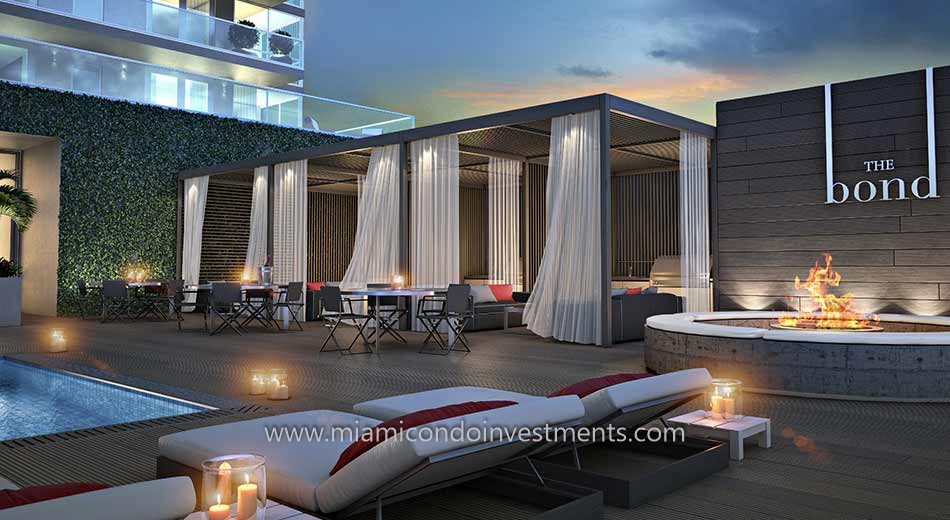 This week, we are going to take an in-depth look at another recently-opened development, Rilea Group's Bond On Brickell. Around the same time last year, we were treated to a sneak peek just days before the project began closings, and it has come a long way since!
After digging into the numbers, I'm really starting to see some solid trends among these new buildings. The developer made off flush, closing on all but a handful of the units for an average of $587/square foot, or $183 million as reported by The Real Deal. Nearly 80% (77% to be exact) of the pre-construction buyers are now either trying to sell or lease their properties, and nobody has claimed their homestead exemption.

RESALES
Looking at the resale market, the outlook is pretty grim (but don't get worked up, the rental market is better, just scroll down if you're looking for rosy news). There are currently 68 active listings for sale, and only 2 have sold on the resale market so far. The MLS shows 6 total sales, but 4 of them were developer sales. If you figure the months of inventory based upon all closed sales combined, there are 91 months of inventory. If you only consider the true resales, that number jumps to 272 months of inventory! Either way you figure it, that is far more inventory than we've seen so far.
Of the apartments that did sell, again we are seeing that the sellers are not budging far in their negotiations. The developer sold their 4 listed apartments at an average discount of 4% and garnered $595/square foot. Open-market resales received 94% of their listing price with an average of $499/square foot. Although both investors garnered far less for their units than the developer, that's not to say they both lost money.
Apartment 2508
– Originally purchased in September 2016 for $742,900. If you figure a 1.5% developer fee, that nets a $754,000 buy-in.
– The property resold in April 2017 for$620,000. If you figure the seller paid the standard 6% commission, they netted $582,800 in the sale.
– The overall investment lost the investor $171,200 (unless there are hidden factors that we can't pull from the MLS and tax roll).
Apartment 2101
– Originally purchased in August of 2016 for $527,900, netting $535,800 after assuming the 1.5% developer fee.
– The property sold in May of 2017 for $595,000. Assuming the 6% commission, the net sale was $559,300.
– This transaction left the investor a $23,500 gain, or a little more than 4%.
Final Thoughts
Am I saying that purchasing in The Bond on Brickell is a bad idea? Absolutely not. The building turned out very nicely, with high quality finishes and thoughtfully chosen amenities. Rilea Group was also smart to purchase the air rights over the small office building next door. I see it as SLS Brickell's not-so-garish cousin. If that is your taste, then it is a great time to get a great deal and a lovely home for years to come, just don't buy in thinking you can flip the property for a hefty profit, because you will be disappointed.
The current price ranges are:
Studios – $268,000-$389,000
1 Bedroom – $359,000-$680,000
2 Bedroom – $667,000-$850,000
3 Bedroom – $1,050,000-$1,650,000
RENTALS
Now it is time for the good news. The rental market is very stable, with only 20 active listings currently. The building has been leasing up at an average of 18 units per month (142 for the year so far), leaving just over 1 month of inventory for tenants to choose from.
Despite the low inventory today, the average days on market is listed as 64 days. It is common to see new buildings offer a glut of inventory shortly after the investors close on their units. Everyone wants to find a tenant and fast. The lease prices drop for awhile until the majority of that inventory is absorbed and then the prices and days on market stabilize.
This trend is evident in the rental history of The Bond over the last year. Studios have leased for as little as $1,350/month during times of high inventory, but now command between $1,900-$2,350/month. One bedrooms have been as low as $1,800/month, but now are leasing between $2,300-$3,250. Two bedrooms were as low as $2,400/month but now are $3,300-$4,500. Three bedrooms were once $4,200/month, but the only one available today is $6,500.
This is not the time for opportunistic tenants to try and over-negotiate lease prices. There is very little on the market and the landlords are only negotiating to 94% of their asking price… not a huge drop.
So, while the resale market is pretty bleak, the landlords and owner/occupants in The Bond are poised for success!