How Did The $1 Million+ Downtown Miami Condo Market Fare In Q3 2017?
October 10, 2017
by Sarah Elles Boggs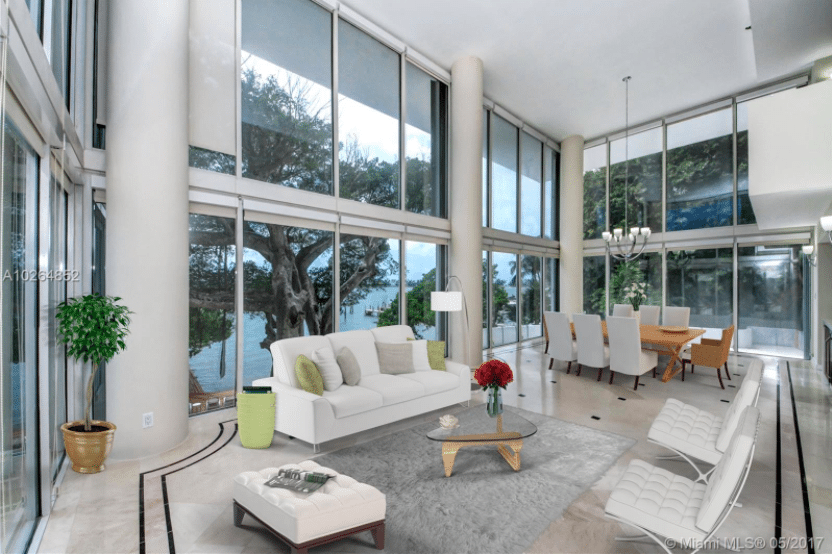 Last week, one of our faithful readers requested more information on the million dollar-plus condo market in Greater Downtown Miami, and I had planned to make it our Market Stat Monday entry for this week, but got sidetracked with Missoni Baia's groundbreaking and the waterfront sale on the Venetian Islands, but here we are…it's not Monday anymore, but the stats are just as interesting.
During the time period of July 1, 2017-September 30, 2017, there were a total of 18 closed condo sales in the area that garnered at least $1 million.
The Highest Priced Sale
Marquis Residences' PH6301 was the overall priciest listing to sell during Q3. It is a duplex with 3 bedrooms, 3.5 baths and just over 3,800 interior square feet. After 8 months on the market (243 days), a buyer surfaced and paid $3.5 million ($913/square foot) cash. The seller had been seeking $3.745 million ($977/square foot).
The Lowest Priced Sale / Lowest Price Per Foot
The lowest priced million dollar sale of the quarter is also the lowest price per square foot, and the buyer landed a really nice deal! Pictured above, the duplex Lanai Units at The Imperial at Brickell rarely come available, and they are really quite unique! Unit 407 has 2,673 interior square feet with 4 bedrooms and 4 baths. Despite being built in 1983, the unit was recently remodeled and has close-up direct bay views from the 4th floor.
The residence had been asking $1,050,000 ($393/square foot) and received $1,000,000 cash ($374/square foot) after just 65 days of marketing.
Highest Price Per Foot
The apartment that commanded the highest price per square foot is also one of the few luxury listings that sold with conventional financing. The Four Seasons Residences #62E is a 2,738 square foot 2 bedroom with 2.5 baths, a den and sweeping bay views. It had been listed for $3.2 million ($1,169 per square foot) and sold for $3,079,999 ($1,125 per square foot) after just under 4 months on the market.
Longest Marketing Time
There is a lesson here. Brickell Key's Three Tequesta Point 2001 took nearly 23 months to sell after numerous price reductions and the addition of commission bonuses. The seller had listed the property at $1.48 million ($629 per square foot) and finally accepted $1.3 million ($552 per square foot) after nearly two years.
The unit is quite lovely, it is a corner apartment with marble floors and lots of natural light. The building is one of the most desirable on Brickell Key, and there is an enormous terrace with huge bay views. So, what happened? The seller had decided to forego a listing agent, instead going with a flat-fee firm that only provides the MLS listing. Although clearly trying to save money by not hiring a listing agent, the sellers ended up having to pay nearly a full commission anyway and the marketing time dragged on for YEARS. A trusted, knowledgeable and hard working agent is worth every nickel of their commission and could have certainly gotten the job done in a fraction of the time, probably garnering more profit as well.
Shortest Marketing Time
Jade Residences at Brickell Bay was by far the most popular building of the million dollar-plus price point during Q3, giving us 7 of the 18 closed sales in the entire Greater Downtown Miami area (Brickell to Midtown/Edgewater). It also gave us unit 2911, which sold after just 32 days on the market. The unit is a beautiful 1,878 square foot corner unit that has Southeast exposure and a large open terrace. There are 2 bedrooms, 2.5 baths, and marble floors throughout. The seller had asked $1.55 million ($825 per square foot) and received a cash deal of $1.395 million ($743 per square foot).
Averages
The 18 listings that sold were asking an average of $744 per square foot and received an average of $690 per square foot after 154 days of marketing time. Sellers are tending to accept 93% of their asking price.
In Conclusion
While these beautiful condos all found buyers over the last few months, it is also important to do a competition analysis before listing property in order to achieve the best results. Looking at the closing rate over the last 3 months compared with the 488 other properties that are listed for at least $1 million (nearly SEVEN years' of inventory), it is important to single your property out as unique and hire an agent with superior marketing and negotiation capabilities in order to achieve optimal results.