Who Is Going To Buy Alan Potamkin's Coral Gables Estate For $47.5 Million?
September 24, 2016
by Sarah Elles Boggs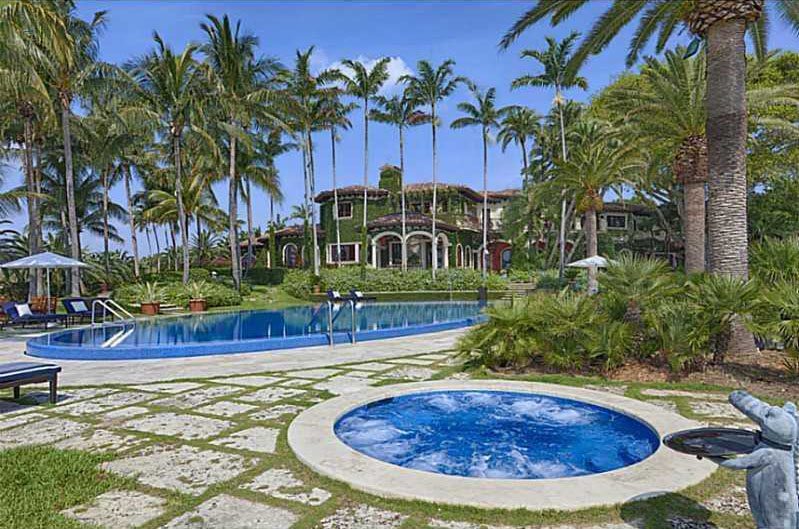 It's the house that has everything for the person who has everything. Yes, Car King Alan Potamkin has relisted his sprawling Gables Estates waterfront mansion for a whopping $47.5 million.
Before you drop your jaw on the price tag, let it be known that this is actually a $20 million reduction from the $67 million they were seeking last year. After nobody raised their hand and said, "Me!" the price was slashed to $49 million for the house and half of the land.
The lot is actually two separate lots that are combined to make up a 3.6 acre estate with 937 feet of ocean frontage. Talk about a compound! They ended up at $39 million before regrouping and coming back to the market this week. Today's asking price of $47.5 million includes the house and all of the land.
The house has over 20,000 square feet of interior living space with 9 bedrooms, 10 bathrooms and 5 powder rooms. There is also an 8 car garage, with enough driveway space for everyone except Gil Dezer. There are several kitchens as well, in case you want to switch things up from time to time. There's enough space that you could essentially move your family to another area of the house and it would feel like an entirely new home, except you never left your house.
Some of the bells and whistles that come along with the estate are 2 built-in saltwater aquariums, an aviary, his and hers libraries, a billiard room, boxing room, gym, massage room, nanny's quarters, nursery/play room, guest house and a property tax bill of almost $400,000.
Last year, Forbes made a slideshow of the estate's pictures, seeming very impressed by the decorative ceilings. They forgot to mention the ceiling in the billiard room, which is hideous. A drop ceiling with florescent lighting has no place in a $47 million estate. Not even in the garage. Just, no. Take it down and make it stop. The drop ceiling looks like a suburban McMansion that is aspiring to be a notable piece of Miami real estate. In my opinion, the animal murals need to go too, but I guess we all have our own taste.
Outside, the lot has a resort-like feel with a pool and Jacuzzi overlooking the Atlantic Ocean, a private beach, fire pit, tennis court, a lagoon, and a boat dock. There are several patios and terraces on the house, perfect for luxurious soirees or a quiet evening with a candlelit dinner and a view.
I'm wondering who could be the next owner of the property. It is rumored that Lebron was considering it when he took his talents to South Beach, but he's gone now. Wade is gone too and Bosh is hurt, so I doubt a Miami Heat player will step in. We already said that there's not enough parking for Gil Dezer, so he's out. It has been reported that Lil Wayne is looking to take his talents off of South Beach after being repeatedly swatted (when someone calls 911 on you and sends the entire police force to your house, only to find out you're still in bed). Maybe a Miami season of the Bachelor? There are certainly enough bedrooms for the suitors & scene locations on the estate. Or maybe the person who invented The Bachelor. We'll see. In the meantime, check out the pictures below.