Biscayne Beach – Construction Update (Photos)
August 16, 2015
by Lucas Lechuga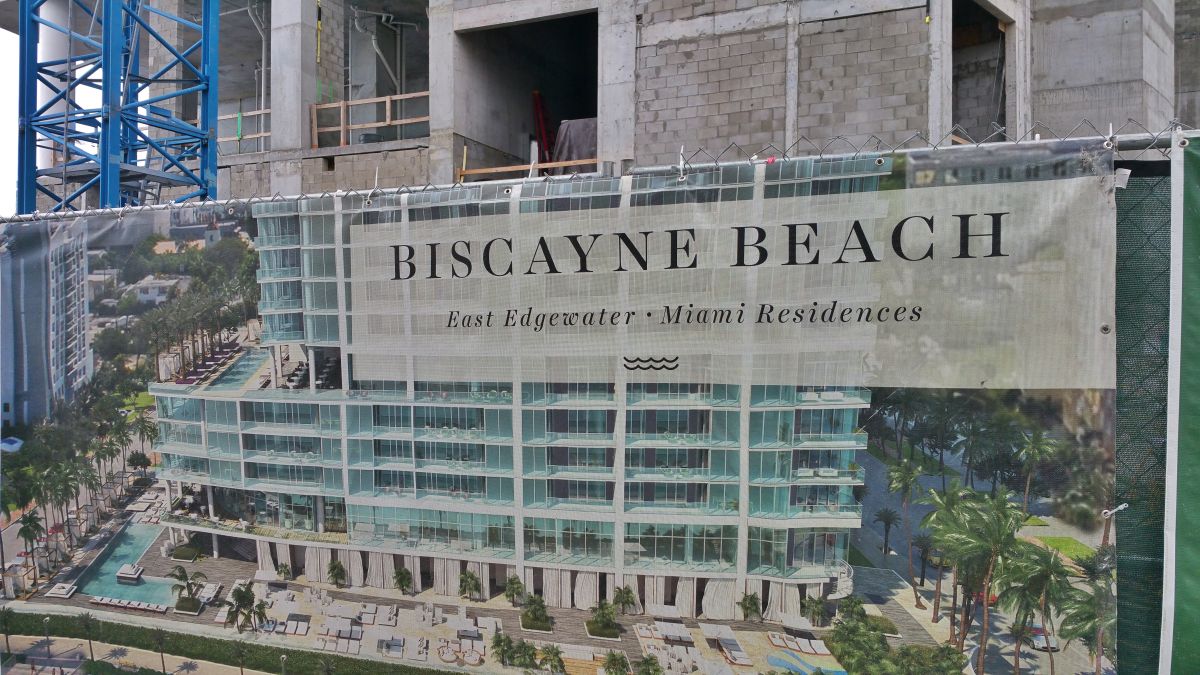 Of all the condo developments that are completed or currently under construction in Edgewater, Biscayne Beach is by far my favorite. It will be the only condo development in Miami to include an actual beach. How awesome is that? Some of you, especially non-locals, may be thinking, "So what? There's tons of sand in Miami." Well, that's where you'd be wrong. Miami is situated along the bay, not the ocean, and, therefore, does not have sand-filled, waterfront land. On the other hand, Miami Beach, which is a completely different city from Miami, has plenty of sand along its coast, because it's situated along the Atlantic Ocean. And the rest of you may be thinking, "Duh, well of course." Sorry, but I feel the need to clarify that very rudimentary point for locals, because, so often, I come across people who aren't from Miami who think that Miami Beach is a beach off the coast of Miami and that beaches there are plentiful.
Anyway, enough with the geography lesson – all that is about to change. The developer of Biscayne Beach is bringing the beach to Miami. Residents of Biscayne Beach and their guests will be just an elevator ride away from feeling the sand on the bottoms of their feet and/or enjoying a cocktail at the beach club bar. The atmosphere at Biscayne Beach should truly be a unique and special experience. The building hasn't even been completed, yet every time I drive by it, the song "Beachball" by Nalin and Kane comes to mind. For those of you who have never heard of that song, "Beachball" was the 1997 international dance club hit. The song starts off with the words, "Yeah, let's go to the beach". The rest of the song is then filled with rhythmic yet soothing beats and voices. Such an amazing track! To me, it embodies the energy and atmosphere that one will find at Biscayne Beach once it is completed.
Construction of Biscayne Beach is well on its way. Earlier today, I made a visit to the construction site  to show a 2 bedroom condo at Platinum. While there, I had an opportunity to snap some photos showing the progress being made to Biscayne Beach. By my count, construction has reached the 26th floor. Below are the photos I took this afternoon. Oh, and in case you're wondering, just a handful of units remain at Biscayne Beach, one of which is a two-story grand penthouse residence with 4 bedrooms, a den, a study, wine room, 5 full bathrooms, and a rooftop terrace with private plunge pool and summer kitchen. The penthouse has 7,878 interior square feet plus an additional 2,785 square feet of outdoor space. Asking $9,450,900 ($1,200 per square foot).