Market Stat Monday: The IconBrickell Pool Prepares To Reopen
November 27, 2017
by Sarah Elles Boggs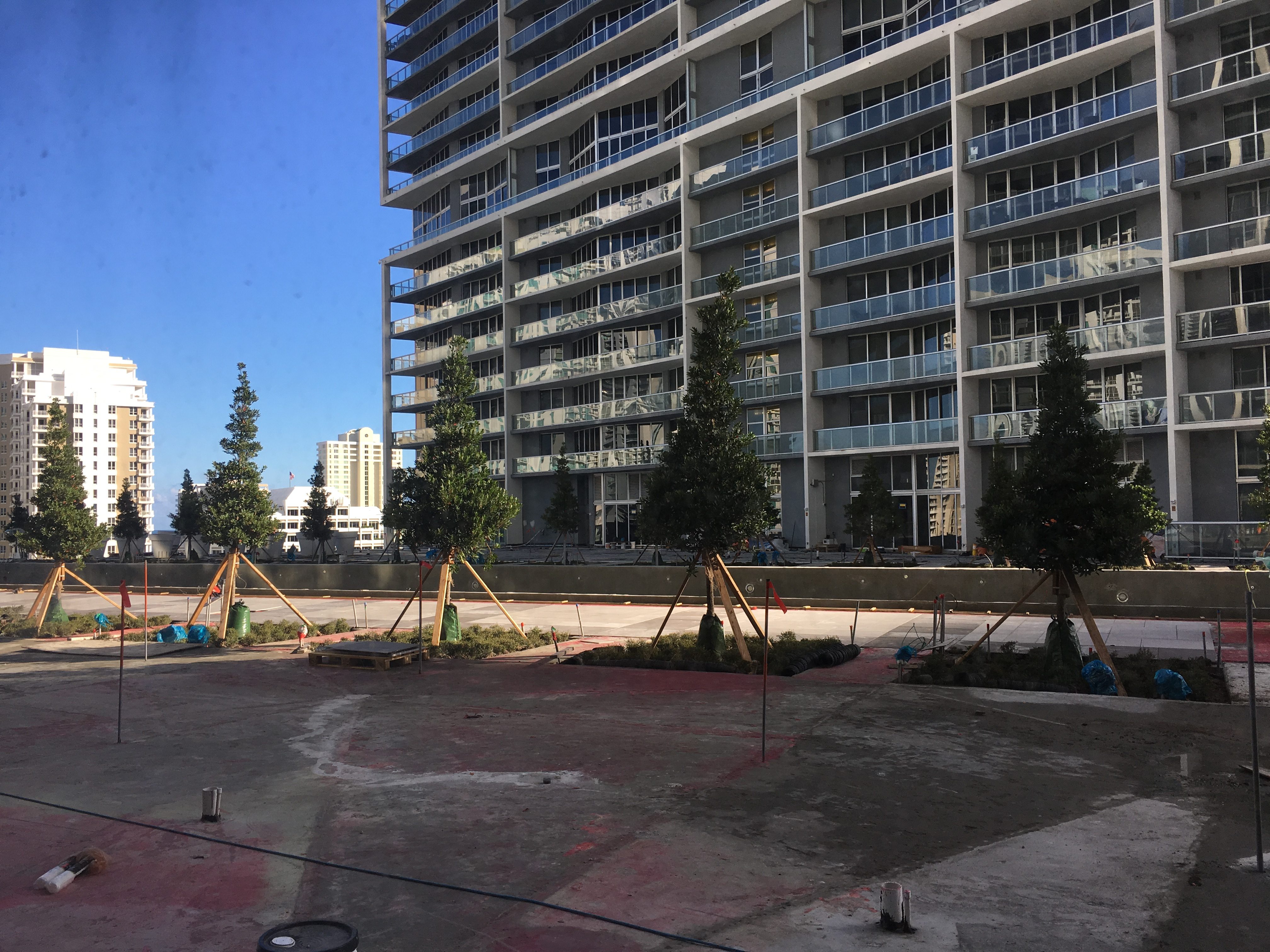 December is just around the corner, which means the day that IconBrickell's management office anticipated the completion of their pool repairs is upon us. According to the office, they are still aiming for a completion date of December 15 and from the progress we've seen, things appear to be coming back together.
We were the first to report the scheduled year-long closing two years ago after months of whispers about the damage. As you can see below in the renovation schedule, by this point the new light fixtures should be being installed, followed by paint and cleanup, removal of the construction equipment and ultimately… POOL DAY!
IconBrickell Renovation Schedule by Sarah Elles Boggs on Scribd

You can see in our photo above that the landscaping has been reinstalled along with some light fixtures and what looks like charging stations. The management office did mention to us that additional outlets would be added, and we agree that they were much-needed!
So, now that we know that the pool is coming back very soon, what about the sales and rental values?
I cannot in good faith sit here and tell you that the values haven't changed. They have. Condos were trading at a rate of $583 per square foot when news of the repair broke in November of 2015, By the time the work actually commenced in December of 2016, sales prices had plummeted to $426 per square foot. What is unclear is the effect the pool repair had on the final sales prices vs the effect the market in general had on sales prices.
On the upside, while the rest of the sale market is in decline, IconBrickell is inching upward. Since July of this year, 35 units have closed with an average sales price of $449 per square foot.
The least expensive listing to sell (per square foot) was a two bedroom in Tower 3 (the W Hotel Tower) for $465,000 after nearly 2 years on the market. This works out to $361 per foot, but the listing DID mention that the seller was extremely motivated. The most expensive per square foot was a three bedroom on the 41st floor of Tower 1 that sold for $1.5 million after 5 months on the market. It was fully upgraded and furnished for $822 per square foot, so you can see the range depending upon placement, finishes and furnishings that we're dealing with.
Now for the bad news. With 165 current active listings, IconBrickell is carrying 23 months of inventory. This isn't as bad as some other developments that are carrying 80 months of inventory, but it still isn't great.
So, what's the lesson?
The 13 units that are currently under contract were listed for an average of $504 per square foot. The 35 that have closed since July all closed for 92% of their asking price, yet the 165 active listings have an asking price averaging $560 per square foot. I won't call out specific unit numbers, but it appears a lot of the active sellers need to adjust their prices…