2 Bedroom Foreclosure @ The Cosmopolitan in South Beach is Prime for the Picking
May 20, 2007
by Lucas Lechuga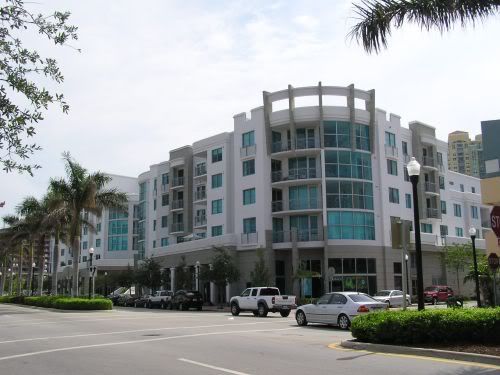 There's a 2 bedroom foreclosure at The Cosmopolitan in South Beach that is prime for the picking. Located on the corner of 1st Street and Washington Avenue, The Cosmopolitan is two blocks from Ocean Drive and the beach. Having been built in 2004, The Cosmopolitan is one of the more recent additions to the South Beach neighborhood known as South of Fifth, commonly referred to by locals as SoFi. South of Fifth is arguably the best neighborhood in South Beach, and with a few exceptions, such as The Setai, has the most expensive real estate in South Beach. The neighborhood is also home to some of the hottest nightlife spots in South Beach, such as Nikki Beach, Pearl, Prive, and Opium Garden, and has top restaurants, such as the world-famous Joe's Stone Crab, Monty's Raw Bar, China Grill and Smith & Wollensky.
Earlier this year, the bank took possession of this 2 bedroom/2 bathroom condo unit, with 1,010 square feet, and has recently listed it with a traditional real estate agent. On May 1, 2007 it was listed at $560,000. At that price, it was the second best priced 2 bedroom unit at The Cosmopolitan but still far from being considered a true bargain. The owner of this unit paid $545,000 in July 2006. Two days later, on May 3, 2007, the price of the property was reduced $40,000 to $520,000 which, according to closed sales figures in the MLS, is the lowest that a 2 bedroom unit at The Cosmopolitan has ever been resold. Still no takers. On May 15, 2007, the bank once again dropped the price to $485,000. In the past six months, only one 2 bedroom/2 bathroom unit with the same square footage has sold in The Cosmopolitan. It closed in January 2007 for $587,500. Another 2 bedroom/2 bathroom unit that was 186 square feet larger sold for $668,000 in April 2007.
In my opinion, this is one price drop away from being considered an excellent deal. The only problem is that if another price drop should occur, several South Beach real estate investors, with their money on the sidelines, will likely submit offers on this property. The better option is to make an offer now, below the current list price, to avoid being in a multiple-offer situation. I don't know about you, but anything under $450,000 sounds pretty juicy to me.
I'm going to try to take pictures and video footage of this unit tomorrow and post them here if I can. It may take a few days since it says that the unit is currently tenant-occupied.
The Cosmopolitan at South Beach condos for sale
The Cosmopolitan at South Beach rentals