Inside ECHO Brickell: Construction Tour Of The $42 Million Carlos Ott Penthouse
January 21, 2017
by Sarah Elles Boggs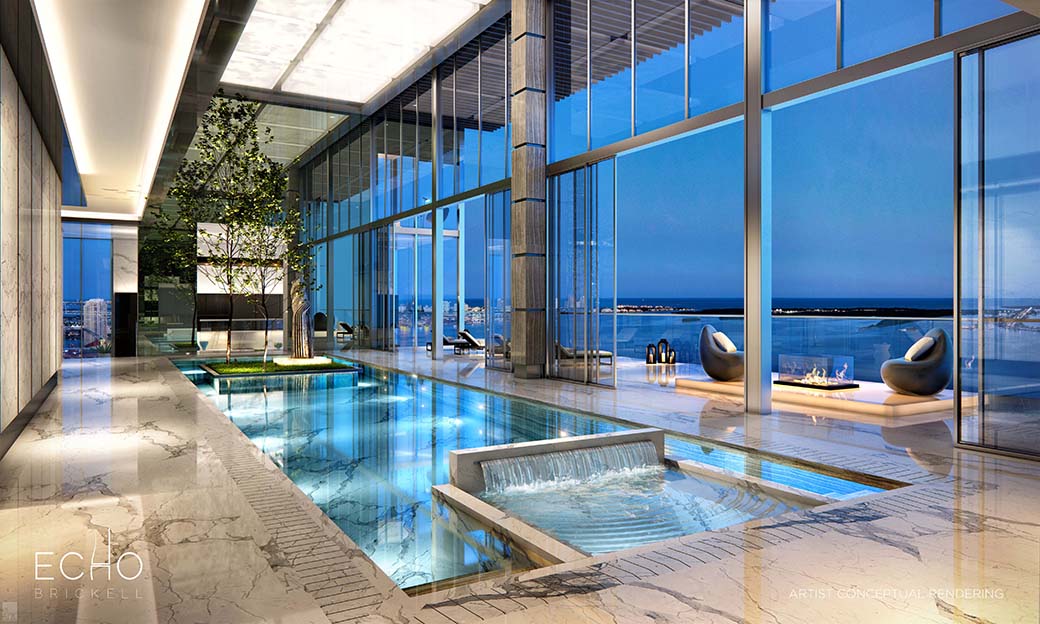 ECHO Brickell is topping off this week and we were lucky enough to be the first to get a hard hat tour of the 57 story project, including the Carlos Ott penthouse. The penthouse covers the entire 56th & 57th floor and is the most dramatic, most expensive penthouse in the history of Brickell.
With over 10,000 interior square feet, the residence will have 4 bedrooms, 7.5 baths, a den, fitness center, service suite and 30 foot indoor lap pool and spa overlooking the Biscayne Bay. In the video, you can already see the dramatic 14 foot ceilings and double height living room, giving the living room a 28 foot ceiling with floor to ceiling windows. The project will offer top of the line biometric security for the elevators, a dramatic 50 million gallon fish tank in the lobby and round the clock concierge services. The penthouse is custom designed by Carlos Ott and is priced at $42.2 million.
Here is a video of our hard hat tour of the penthouse. Please remember that this is a raw video of the tour and the property is still very much a construction site.
Here is a virtual tour of what the property will look like once finished.
ECHO Brickell – Carlos Ott Penthouse Presentation by Sarah Elles Boggs on Scribd
Stay tuned to the blog as we post construction tours of other units to celebrate ECHO Brickell's milestone! There are 13 remaining purchase opportunities with prices starting at $2 million.