53-Story Tower Proposed In Omni District
November 30, 2017
by Sarah Elles Boggs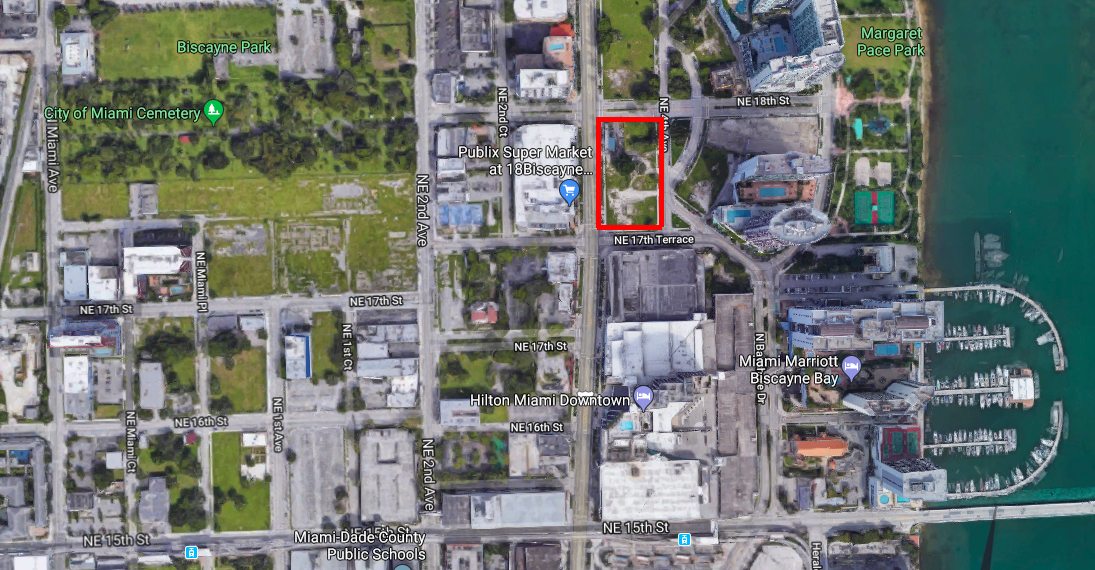 Miami's Urban Review Design Board is considering plans for a new 53-story tower in the Omni area near Downtown Miami. The 47,500 square foot lot is located at 1775 Biscayne, just across the street from the Omni Publix location and directly to the west of Opera Tower and Aria on the Bay. The tower is said to feature 444 residential units, 200 hotel rooms, 45,600 square feet of commercial space, 64,500 square feet of office space and 546 parking spots, according to the South Florida Business Journal. It is being called simply, "V." As of now, it is unclear whether the residential units will be condominiums or rental units, but we do know that the tower is designed by Kobi Karp.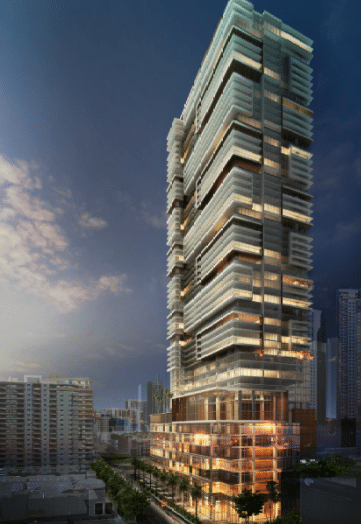 It is also unclear whether the owners actually intend to develop the building, or if they are simply attempting to increase the value of the land by going through the approval process before selling. This is a common tactic for people who do what is called "land banking". They purchase the land and hold it until the value increases and infrastructure goes up around the lot. At that point, they undergo the approval process so that the ultimate buyer can purchase the land PLUS the approvals (the approvals are notoriously tedious and expensive to obtain).
Another example of this tactic is the current site of the Mexican Consulate in Brickell at 1399 SW 1st Avenue. Back in 2016, plans emerged for redevelopment on the lot just to the west of Infinity at Brickell, but no developer was named (see photo below). Fast forward to August of 2017 and the 44,500 square foot build site was purchased by a developer for $31.75 million despite the fact that the consulate has 5 years remaining on their lease.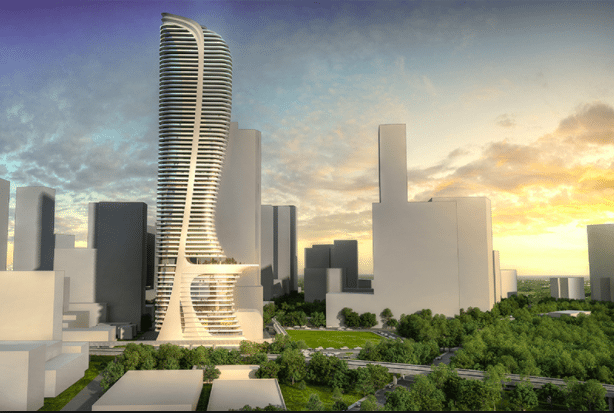 Another likely example of this tactic is the plan for the building dubbed "18" that was released earlier in the year. It is a 78-story mixed use tower that was to go up on the lot at 10 SW 8th Street, just between Brickell Heights and Brickell City Centre.
Related Group has clearly passed on the opportunity to purchase the lot, for now, but they know that something will certainly be built there. The evidence is that the Fabian Burgos mural does not cover the north side of Brickell Heights, I had the opportunity to ask Carlos Rosso, the President of Related Group's Condo Division, what he thought of the project. He said that he did not see it going up, the renderings are pretty but the lot size would deem the tower structurally impossible. Meanwhile, the tenants in the strip center have reported that their leases include a development kickout clause in case the owner finds a buyer.
What do you think? Will these towers be the first of our next development cycle, or is it all smoke in mirrors?