Four Bank-Owned Condos in Miami & Miami Beach to be Auctioned September 19, 2007
September 4, 2007
by Lucas Lechuga
Four condos will be auctioned off Wednesday, September 19, 2007 at approximately 3pm. Three of the four condos are located in Miami while the fourth is located in Miami Beach. All four condos have gone through the foreclosure process and are currently owned by the bank.
1. Meridian Place – 325 Meridian Avenue #6 | Miami Beach, FL 33139
This is actually a townhouse. Of the four units being auctioned, it will probably hold the most interest because of its fantastic location. Some of South Florida's most expensive condominiums reside in the South of Fifth neighborhood of South Beach. Built in 1994, this 3 bedroom/2 bath townhouse has 1,300 square feet of interior space, as well as two parking spaces (one garage space and one driveway space). County records indicate that the bank is owed $549,000. The opening bid is $100,000.
2. The Club at Brickell Bay – 1200 Brickell Bay Drive #2114 | Miami, FL 33131
Let's just say that I'm not surprised. I'll leave it at that. This 1 bedroom/1 bath condo has 818 square feet of interior space. The bank is owed $610,000. I guess they're in for a rude awakening come September 19th. The opening bid is $100,000.
3. Venetia Condo – 555 NE 15th Street #16-H | Miami, FL 33132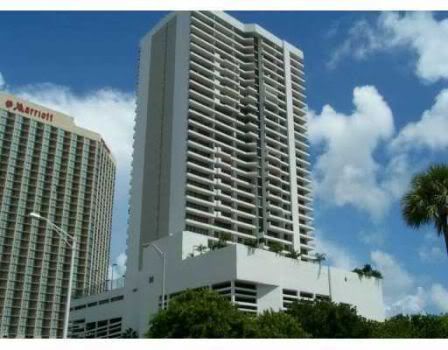 Venetia Condo is located at the entrance of the Venetian Causeway in Miami. The building was built in 1980. The condo up for auction is a 1 bedroom/1 bath with 800 square feet of interior space. It faces south and has views of Biscayne Bay as well as the cities of Miami and Miami Beach. The bank is owed $410,000. The opening bid is $50,000.
4. Blue Lagoon Condominiums – 5091 NW 7 Street #705 | Miami, FL 33126
Of the four condos that will be auctioned on September 19, 2007, I think the 2 bedroom/1 bath at Blue Lagoon Condominium will hold the least amount of interest from the people attending the auction. However, this makes it a great candidate to be acquired at bargain prices. Blue Lagoon Condominium is located near the airport, about 12 minutes from Brickell. It'll make for a great investment property if it can be obtained for $175,000 or less. The unit has 862 square feet of interior space. The bank is owed $305,000. The opening bid is $50,000.
Contact me for more information regarding this auction featuring the above four condos.