Two Multi-Million Dollar Condos Recently Go Pending in Brickell
March 19, 2008
by Lucas Lechuga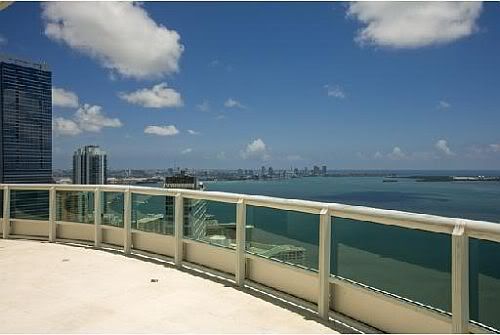 Two multi-million dollar condos in Brickell recently went pending within the past 30 days. The first was a 5 bedroom/6.5 bath Penthouse condo at Santa Maria with 6,300 square feet that went pending on March 3, 2008. The list price was $5.29M, or $840 per square foot. The views from this Penthouse condo at Santa Maria are simply amazing, as you can see from the above picture. The MLS listing description and photos of this Penthouse condo at Santa Maria will show you just how amazing this condo truly is.
What's interesting to note is that the current owner purchased this Penthouse condo at Santa Maria for $3.9M in the latter half of 2005, when many would say the Miami condo market peaked. This just goes to show that the ultra-luxury condo market in Miami has continued to hold up well. Despite the potential profit that the current owner makes, anything under $840 per square foot for this unit is a freakin' bargain. In my opinion, Santa Maria is the best condo building in Brickell and is in a complete league of their own. No foreclosures or short-sales that I've ever come across, and a comparatively very low maintenance fee, despite the world-class amenities that Santa Maria has to offer.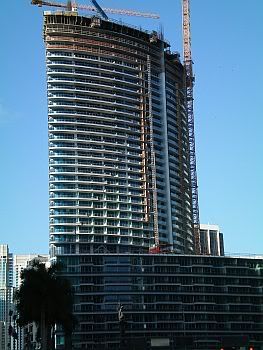 The second multi-million dollar condo in Brickell to go pending within the past 30 days is the Penthouse condo at Epic located on the Miami River near the inlet into Biscayne Bay which went pending on Febuary 27, 2008. It's a 4 bedroom/5.5 bath two-story Penthouse with 4,522 interior square feet and an amazing 7,488 total square feet, including balconies. The list price on this bad boy is $5M. Epic is currently still under construction but should be completed by the end of this year.
What is not a coincidence is that the developer behind both condo buildings is Ugo Columbo. He is well-known for delivering some of the most high-quality condo products to Miami. His reputation definitely supersedes him. I can't wait to get inside Epic to see how it compares to his previous condo developments such as Santa Maria, Bristol Tower and Grovenor House.
Here are some multi-million dollar condos in Dade County that have actually resold and closed in 2008:
Villa del Mare #7274 – $12,360,000
Porto Vita #1104 – $3,600,000
Continuum #TH-7 – $3,100,000
Bellini Condo #1102 – $2,900,000
Santa Maria #3005 – $2,680,000
The Setai #3106 – $2,600,000
One Bal Harbour #707E – $2,550,000
Grovernor House #1902 – $2,525,000
Continuum #TH-9 – $2,350,000