Opportunity to Own a 1 Bedroom in Tower 2 of the Luxurious Icon Brickell
July 10, 2007
by Lucas Lechuga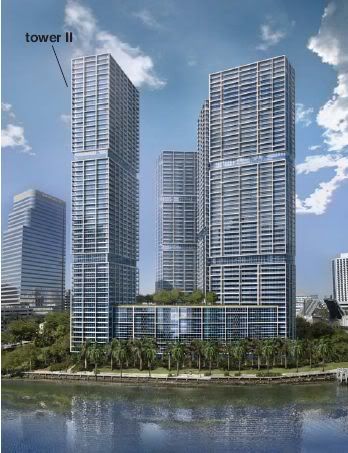 A few days ago I received an email from a gentleman who holds a preconstruction contract for a 1 bedroom in Tower 2 of Icon Brickell. He prefers not to close on the unit and wanted me to find out if there's any interest in his unit from someone looking to acquire a condo at Icon Brickell. Even though the market has slowed, I still think there will be interest due to the reputation that the "Icon" brand has created. The "Icon" brand has become synonymous with ultra-luxury living and the Icon Brickell development will be one of the finest in all of Brickell.
The gentleman was originally supposed to receive a contract for a 1 bedroom in Tower 1 of Icon Brickell but due to high demand that tower quickly sold out. The developer, The Related Group, did however give him a 1 bedroom in Tower 2 at the same price that he was promised a 1 bedroom unit in Tower 1. It is a G floor plan with 984 square feet of interior space and a 137 square foot terrace. The unit is located on a high floor above the 30th.
His price per square foot of $486 is pretty amazing given that units in that same line sold for slightly over $750 per square foot. I spoke with a sales representative at Icon Brickell today to get a feel for how pricing will be once resales begin. She notified me that The Related Group has no plans to launch a resale program for Icon Brickell. I asked her why and she said that resale programs are only launched for their projects when they feel that the market can absorb it. She continued to add that because the market is currently soft they don't feel that this is the case at this time. Icon Brickell has been sold out of one bedroom units in Towers 1 and 2 for quite some time. I asked her if she could remember what a G line unit was selling for before they sold out. She told me that there was a G line unit on the 46th floor that sold for $750,000.
The gentleman who contacted me is looking to resell his 1 bedroom at Icon Brickell. His asking price is $599,000. A simultaneous closing would need to be done since the developer is not allowing contracts to be assigned at this time. Icon Brickell is scheduled to begin closings towards the end of 2008. If you or someone you know has an interest in acquiring this unit, please drop me an email or give me a call.
Check out the picture slideshow below for more renderings of the Icon Brickell project: