MyBrickell Sales Officially Launch; Prices Start at $177,900
October 28, 2011
by Lucas Lechuga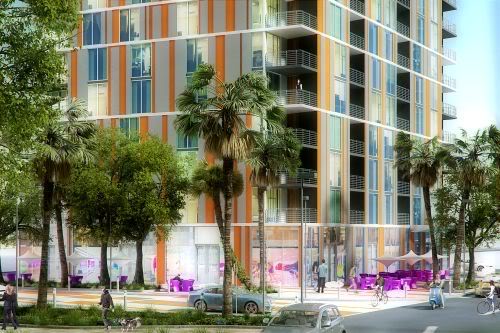 Last night's gala introducing Karim Rashid, the world-acclaimed interior designer behind MyBrickell, marked the official launch of sales for the condo development. MyBrickell is off to a tremendous start with over one-third of the condos already reserved. That is quite an amazing feat given the fact that reservations were not being accepted until just 11 days ago. The level of success that MyBrickell has experienced thus far helps to understand the level of demand that still remains for new condo inventory in Miami.
MyBrickell will have a mix of studio, one bedroom + den, 2 bedroom and 2 bedroom + den units. Prices start at $177,900 which is excellent, in my opinion, given the current availability of Brickell condos in that price range. To put the pricing for studios into perspective, there are currently only 4 studios in Brickell priced under $200,000 for sale on the MLS. Two of those studio condos are located at The Four Ambassadors (built in 1968), one at Brickell Townhouse (built in 1963) and one at Brickell Bay Tower (built in 1964). Furthermore, two of the four listings are short sales. It goes without saying that MyBrickell will be a brand-spanking new condo development when it is completed and delivered in 2013 to those with reservations. I may not have a crystal ball, and cannot tell you with certainty where prices are headed, but I can pretty much guarantee you that there will be less condo inventory in Brickell in 2013 than there is now. Moreover, MyBrickell will be the only Brickell condo development to hit the market that year.
One of our clients attended the MyBrickell sales event last night and reserved a 1 bedroom + den. Her price – only $228,000! With pricing like that, it helps explain the rush by people to reserve condos at MyBrickell.
Below, you will find the price ranges for condos available at MyBrickell. The average price per square foot for MyBrickell hovers around $300.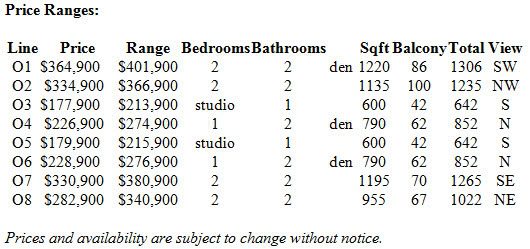 Now that sales have officially launched at MyBrickell, you are able to receive pricing for specific units and reserve one immediately if you choose to move forward. Please refer to our MyBrickell profile page with renderings, building and unit information and pricing. There, you may also download the MyBrickell e-brochure as well as the reservation agreement and wire instructions. Feel free to contact us if you have any questions or an interest in reserving a condo at MyBrickell.