Market Stat Monday: Biscayne Beach
January 15, 2018
by Lucas Lechuga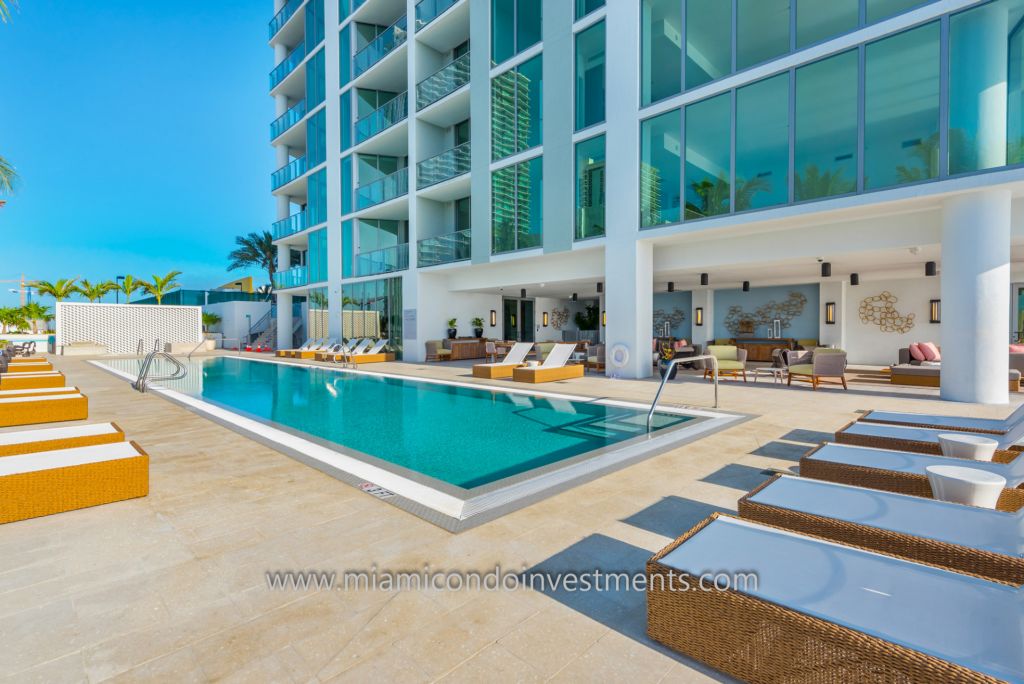 As the busy season for Miami real estate progresses, we've noticed quite the increase of inquiries from both renters and buyers for one of Edgewater Miami's most upscale developments: the beautiful, Biscayne Beach. Its most notable feature is found on the ground floor of the building - mainland Miami's first ever beach club, complete with sand, lounge chairs, beach volleyball, and cabanas. Also a highlight of the building are the gorgeous interiors by internationally-acclaimed celebrity interior designer, Thom Filicia (of Bravo's hit TV show, Queer Eye for the Straight Guy). Completed in July of 2017, Biscayne Beach saw its first condo resale in September and has since seen 6 other resales closed to date.

Let's check out the stats for our prospective renters and buyers…

Current Inventory
According to the MLS, there are 68 units currently available for rent of the building's 391 total residences, 9 listed as pending rentals, and 48 marked as rented. Of those 68 units available for rent, 20 are 1-bedroom floor plans, 34 are two-bedrooms, 12 are three-bedrooms, and the final two are a penthouse and a beach house residence.

82 units at Biscayne Beach are currently listed for resale, with 3 marked as pending, and 7 closed.

Closed Rentals
Here are the price ranges for the closed rentals to date:
-1 bedroom units: $2300 - $2900 per month
-2 bedroom units: $2,500 - $4,200 per month
-3 bedroom units: $5,200 - $6,600 per month

Closed Resales
Here are the sales prices for the 7 resales that have closed to date:
-1 bedroom units:
-#1009 - $573,000 ($488 per sq ft)
-#2009 - $504,000 ($477 per sq ft)
-#3509 - $530,000 ($501 per sq ft)

-3 bedroom units:
-#1907 - $1,050,000 ($499 per sq ft)
-#2307 - $1,255,000 ($597 per sq ft)
-#3307 - $1,250,000 ($594 per sq ft)
-#4007 - $1,400,000 ($666 per sq ft)

The fact that all the closed resales so far are either of the 07 or 09 lines tells us that these two floor plans are the building favorites. Considering that they are located at the southeast (07 line) and southwest (09 line) corners of the building, there's no wonder why. The view really opens up to the south with the added bonus of being able to enjoy views of the Downtown Miami skyline and sunset.

While stunning bay views, gorgeously designed interiors, and high-end finishes are bountiful at Biscayne Beach, there's no question that its amenities are what make this building so unique. From a family-friendly club room and children's water feature at the impressive beach club, to a residents-only amenities floor with a BBQ, tennis courts, dog walking area, and a pool; all it's missing now is a tenant for the large, commercial restaurant space on the waterfront side of the lobby level. Check out the photos below.

If you or anyone you know has an interest in leasing or purchasing a condo at Biscayne Beach, email us at [email protected] to speak with one of our expert agents.