Construction Begins at Aria Reserve Miami
May 16, 2022
by Jacki Taylor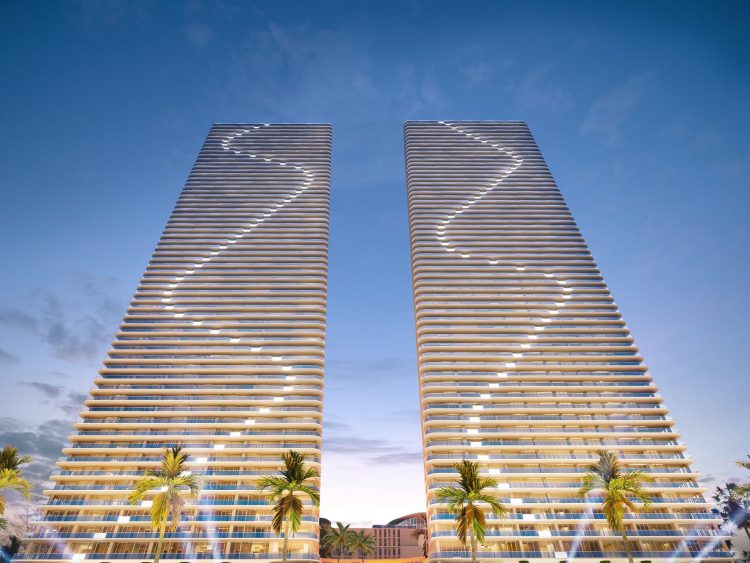 Today marked the official start of construction for Aria Reserve Miami with a groundbreaking ceremony. In attendance were the developers, the Melo Group, Mayor Suarez, and many others. The groundbreaking took place near the ocean at the Edgewater site just steps away from the sales center.
Speakers included Guopo Melo, Mayor Suarez, and sales staff for Aria Reserve. Refreshments and appetizers were served along with a mini-presentation of Aria Reserve.
Aria Reserve will rise 62 stories tall reaching 627 feet, making it the tallest twin waterfront residential development in the United States. The project will feature two towers, each with 390 units and 1,608 parking spaces.
Sales for Aria began in June 2021 for South Tower. According to the Melo Group, over $40 million of all 12 penthouses have sold within the first 90 days of the launch. Now more than 90% of the units have sold with a total sales of over $600 million.
Residential units begin at $750,000. Although sold out, the penthouses started at $12 million. Units will feature 1 to 4-bedroom floorplans with 1,100 to 2,600 square feet of options. The penthouses themselves range from 3,500 to 9,000 square feet with each of them featuring a 3-car garage.
Tower Amenities:
2-acre recreation deck
Lap pool and spa
Gaming center
Playground
Tennis courts
Basketball courts
Paddle courts
Miniature golf course
Wellness center
Gym
Meditation Garden
Residence Features
Unobstructed views of Biscayne Bay and Ocean
Finished residences with two flooring options
All residences include 2 high-speed elevators
All residences include an office/media room
All residences are sunrise-sunset flow-through from East to West
3-month seasonal rentals allowed up to 4 times per year
Construction is anticipated to be completed in 2024. If you or someone you know have an interest in purchasing at Aria Reserve, please contact Lucas Lechuga via email at [email protected] or by phone at (786)247-6332.