Top Five Condo Deals in Downtown Miami
November 25, 2013
by Lucas Lechuga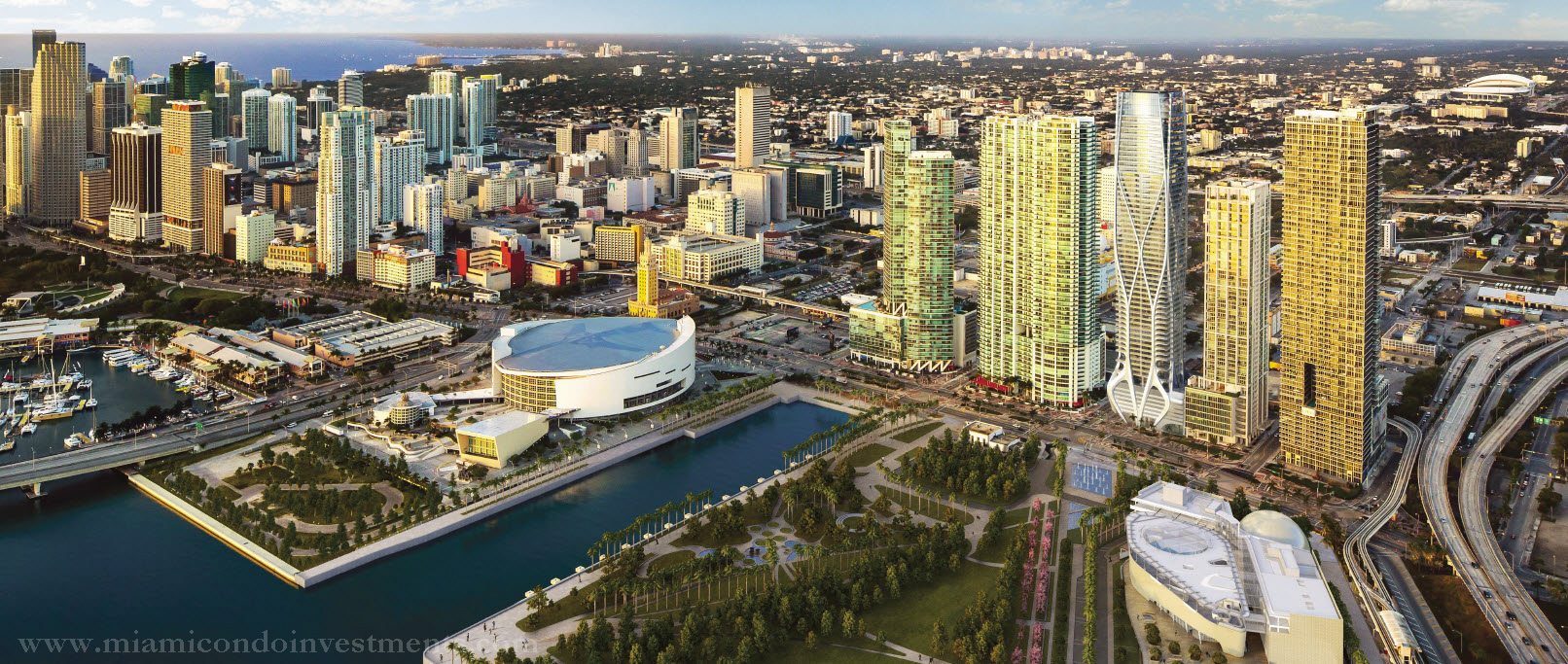 As mentioned in my last blog post, I think real estate values in Downtown Miami, for a number of exciting reasons, are ready to take off.  Museum Park is about a year from being completed, Miami Worldcenter seems an almost certainty, and a proposal for a 1000-foot observation tower called Skyrise Miami was recently submitted to the city of Miami for approval.  Also, with prices starting at $4M, the addition of One Thousand Museum will only help position the area as Miami's equivalent to New York City's Park Avenue.  If there were ever a time to be excited about the prospects for Downtown Miami, the time is now.
So how does one take advantage of all this fabulous news?  Well, surprisingly, there are still a number of great deals to be had in the existing condo market in Downtown Miami.  Due to the illiquid nature of real estate, market news oftentimes get disseminated at an almost snail-like pace and, as a result, does not manifest itself in pricing for quite some time.  The same, however, does not hold true for the pre-construction real estate market.  Prices there are set by developers who take into account any and all information that will have a positive effect on neighborhood values from now until completion of the project.  In that regard, it is sort of like buying commodities futures with the price determined by future expectations and the likelihood of those expectations being met.  The hope for contract holders is that market values present at the time of delivery will be at or above their contract price.  That is why one will notice a sizable gap between the price per square foot for existing condos and the price per square foot for pre-construction condos .  In other words, the promise of what is yet to come has already been taken into consideration when determining the contract price.
My point is that the existing condo market is slow to act.  As a result, there are definitely still good deals to be had.  Below, you will find a list of five condos currently available for sale in Downtown Miami that I believe are undervalued and well positioned to take advantage of the positive news that is now shaping the neighborhood.
Before I start, I want to first say that none of the properties listed below are my exclusive listings.  These were chosen unbiasedly by me because I truly feel that they warrant inclusion.
Marquis 3707 – This is a bi-level, 2 bedroom+den/3 bath corner unit with 2,081 interior square feet and 20-foot, floor-to-ceiling glass windows.  The unit is located on the northeast corner of the 37th floor offering beautiful views of Biscayne Bay and the Atlantic Ocean.  It also overlooks Museum Park which is currently under construction.  The only drawback to this unit, and likely the reason why it hasn't sold yet, is the fact the landlord is getting very low rent until October 2014.  The tenant was able to negotiate a great deal in exchange for paying the entire lease upfront.  A triumph for the tenant but an ill-advised move by the landlord because, from an investment standpoint, low rent has an adverse effect on a property's value.  If a buyer can stomach the low rate of return until October, there is an opportunity here to buy at a great price the only bi-level, 2 bedroom corner unit currently offered for sale at Marquis Residences.  Asking price is $1,250,000, or $601 per square foot.

Marina Blue 5205 – This unit likely won't win any Best in Show Awards but it has incredible potential.  If one can look past the traditional, almost anti-Miami decor, I'm sure one will find incredible value here.  This is one of the largest 2 bedroom floor plans at Marina Blue, a rare combination unit found only on floors 52-56.  It is a 2 bedroom/2.5 bath condo with 1,660 interior square feet and 10-foot, floor-to-ceiling glass windows.  The unit faces east-southeast and enjoys a panoramic view of the Atlantic Ocean, Biscayne Bay and Downtown Miami skyline.  Asking price is $725,000, or $437 per square foot, which, in my opinion, is low considering the fact that it is a prime floor plan located on a very high floor.  Given a few recent comps, and the fact that the listing has grown stale after sitting the market for 600 days, there should still be room to negotiate on the price.
Marina Blue 1603 – This might be your last opportunity to own a 1 bedroom + den at Marina Blue for under $370,000.  This is an approved short sale priced at $355,000, or $376 per square foot; an incredible value no matter how you slice it.  Every unit at Marina Blue has a direct water view and this unit, located on the 16th floor, is no exception.  In fact, it not only offers a view of Biscayne Bay but also the Downtown Miami skyline.
Ten Museum Park 3101 – Unfortunately, the listing agent hasn't uploaded any pictures of this unit onto the MLS.  I've seen it in person though and it's a beauty!  The bi-level, 2 bedroom/2.5 bath corner unit sports 20-foot, floor-to-ceiling glass windows, offering an amazing view of the water and a front row seat to all the action down below at the upcoming Museum Park.  The unit is impeccably designed and exudes the sexy, clean look for which Miami is known.  Asking price on this 1,802 square foot loft is $1,150,000, or $638 per square foot.
900 Biscayne Bay 5302 – While there are cheaper 02 and 09 lines available for sale in the building, this one is located on the 53rd floor and comes completely furnished.  Equally important, the unit has always been owner-occupied, and it shows.  The condo is tastefully decorated and offers not only direct bay and ocean views but also sunrise and sunset views from this 53rd floor flow-through unit.  In my opinion, these flow-through units, which are relatively rare in Downtown Miami, will become extremely valuable once Miami Worldcenter gets built.  Not only will owners get to enjoy the amazing water views to the east, but they will also be able to check out the action down below at MWC to the west.  It would be like overlooking Time Square in New York City.  The price was reduced $115,000 yesterday and is now asking $975,000, or $619 per square foot.  Also, the listing states that the owner is motivated.  This could be a good time to snag an amazing unit at an excellent price.
If you or someone you know has an interest in learning more about any of the above properties, or would like to view any in person, please contact me via email at lucas@miamicondoinvestments.com or by phone at 786-247-6332.