One Thousand Museum's 53rd Floor Lower Penthouse Offered For $20 Million
March 8, 2017
by Sarah Elles Boggs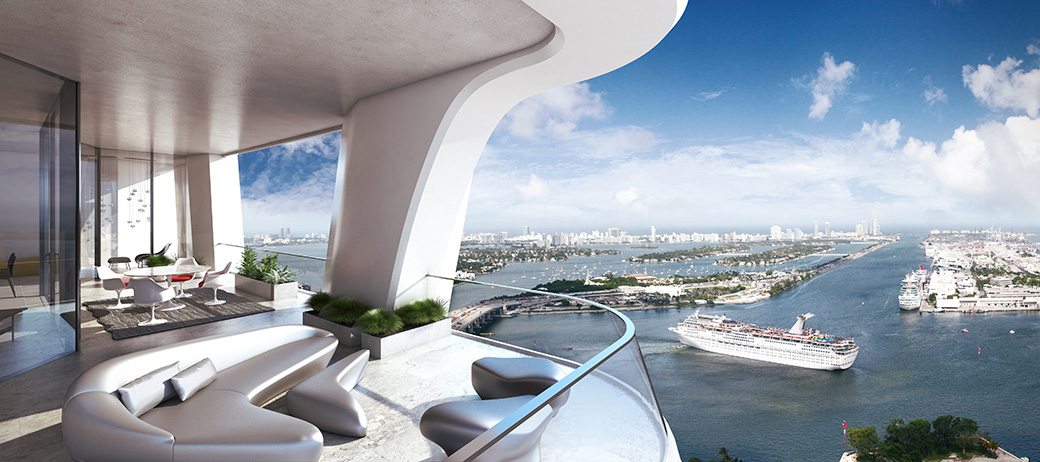 The 53rd floor lower penthouse at Zaha Hadid's iconic tower in Downtown Miami has been unveiled. One of 8 penthouse units in the 62 floor building, Residence 5301 is a full-floor of the building with 5 bedrooms, 7.5 baths, a staff quarters, media room and 2,400 square foot great room that overlooks the Biscayne Bay and Port of Miami.
The apartment will have 4 total balconies totaling 1,112 square feet of outdoor space. The interior living space is over 10,000 feet with 360 degree views from the 53rd floor. This is one of only 3 remaining penthouses available at Zaha Hadid's last tower and her only residential tower in this hemisphere. The European finishes include doors by Lualdi, lighting by apure and custom kitchens by Poliform. Zaha Hadid-designed door handles for Valli&Valli will complement the sophisticated and contemporary architecture inside the unit. It is being offered for $20.485 million.
One Thousand Museum has 83 total residences with over 30,000 square feet of luxury communal areas designed by Zaha Hadid herself. The amenities include a two story amenity space at the top of the tower, an aquatic center, garden areas, event spaces, a two story health spa, multiple art galleries, a theater and the city's only private rooftop helipad.
The vertical construction recently surpassed the halfway point and estimated completion is expected in late 2018.
One Thousand Museum Residence 5301 by Sarah Elles Boggs on Scribd