Miami's First Vinyl Listening Bar-Dante's HiFi
November 5, 2021
by Jacki Taylor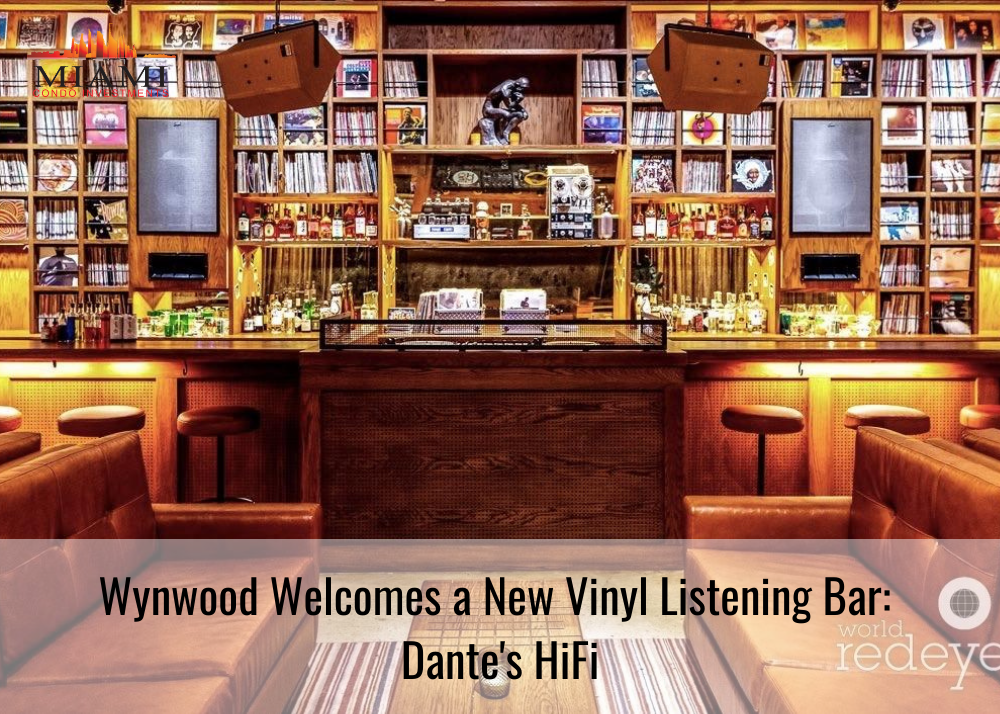 Wynwood welcomes Dante's Hifi, the newest bar and listening lounge that will have you stepping into a different era. Think vinyl-covered walls, low lighting, and big leather couches that create a retro yet vintage vibe.
One of the cool things features of this bar is that it is similar to a speakeasy. With no front door, the entrance is in the back through a courtyard.
The intimate bar and lounge located at 519 NW 26th St., Miami was founded by Sven Vogtland, DJ Rich Medina, Alan Drummond, Jourdan Binder, and Arturo Nuñez. The inspiration behind the bar was from listening rooms in Japan. The group also wanted to offer a unique musical experience and not just another Miami nightclub. Medina wanted to bring "listening at a higher level" to Wynwood.
Vogtland being a massive vinyl collector states that "It's a real cultural thing there, having a cocktail and enjoying vinyl. "That's where Dante's came from. I came home and told my business partner: 'Miami is craving something a bit different."
According to the owner's Medina's album collection is what's playing at Dante's HiFi and that around 40% of the records are still in the process of being moved from New York. One of the best things about the music is that there is a specific genre. According to one of the owners, "there's room for everything."
Starting the night off, the music is very laid back and chill. After hours, the music picks up and changes into more of a club-like vibe.
Dante's can only hold around 50 people so reservations are not required by highly recommended with a $25 reservation fee that is applied to drinks.
Speaking of drinks, the cocktail menus are focused on highball that is made with Japanese whiskey and served in a great glass boot. There is also beer, wine, and other cocktails to choose from.
Membership options are also available.