Renzo Piano's Eighty Seven Park Prepares To Break Ground; Is Contributing To North Shore Park Upgrades
March 13, 2017
by Sarah Elles Boggs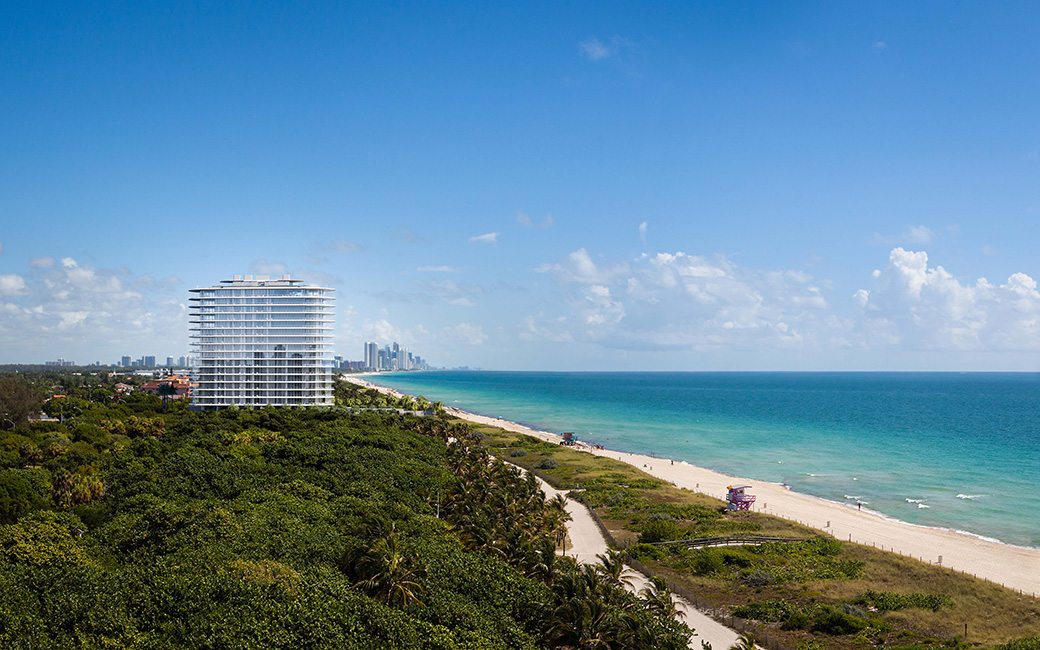 Situated on the northernmost oceanfront lot in Miami Beach, Eighty Seven Park is preparing for its groundbreaking in April. The project will have just 70 residences and 18 stories and will incorporate an upgraded North Shore Park into its amenity list.
In 2013, Terra bought the lot at 8701 Collins Avenue from Dezer Development for $65 million. They also paid the City of Miami Beach an additional $10 million in return for the rights to close 87th Court just to the north of the lot. These funds have been earmarked for a redevelopment project in North Shore Park, which is open to the public. While we do not yet know the specifics of the redesign, it has been mentioned that the goal is to incorporate the look and feel of the ultra-luxury development throughout the park so as to feel as though the park is an additional amenity. In addition to the public park, residents of Eighty Seven Park will also have a private park that is gated. The development will distribute keys to the owners, similar to the famous keys to Gramercy Park in New York.
The building is designed by Renzo Piano, and Italian architect and engineer who has also won the coveted Pritzker Prize. He is also the architect behind the famed Shard in London. The idea behind Eighty Seven Park is to experience the beauty of the park throughout the entire building. The residences have large sliding glass doors and floor to ceiling windows so that the owners can experience the indoor/outdoor feeling. An on-staff botanist will care for the lush landscaping throughout the lobby and curate an ever-changing botanical exhibition.
The layouts of the units is expansive as well, even the one bedroom plans are over 1,000 square feet. The two bedroom plans are between 1,600 square feet and almost 1,850 square feet, three bedrooms range from 2,500 square feet to 3,500 square feet and the four and five bedroom layouts go all the way to 4,000 square feet. There are two penthouses, the eastern penthouse is a 7,500 square foot 5 bedroom and the western penthouse is a 4,200 square foot 3 bedroom. Both penthouses have rooftop terraces with private plunge pools. Prices range from $1.7 million for a north view 1 bedroom up to $7.25 million for the 3 bedroom with a south view overlooking the park. All units will also have an ocean view.
Some notable buyers in the project include Michael Huffington and the Conde Nast family.