Miami Dade County Breaks More Records for Home Sales in September 2021
October 22, 2021
by Jacki Taylor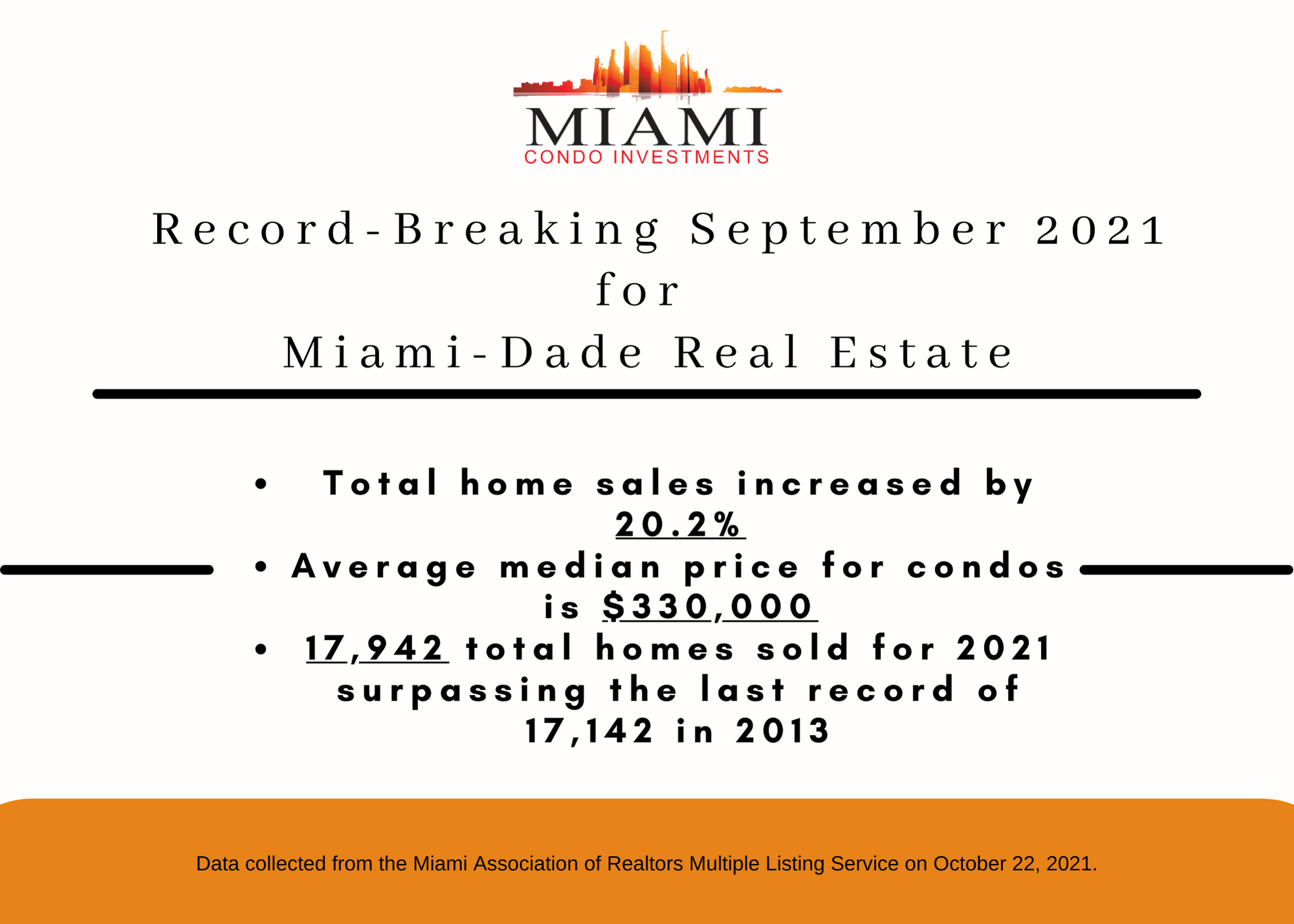 Home sale records continue to be crushed month over month for Miami-Dade, marking its best September sales in history and setting the bar for the most condos sold in a year's time. The previous annual record was 17,142 in 2013, while the current condo sales have equaled 17,942 with only 3 months to go!
According to the Multiple Listing Service (MLS), homes sales for Miami Dade have risen 20.2% at 3,031 transactions. This is up from the 2,521 transactions that occurred in 2020. Simultaneously, we saw a dip in single-family home sales at 3.6% at 1,241. This may be due to the lack of single-family home inventory. Condo sales have exponentially increased at 45.2% at 1,790 for September.
According to the Miami Chairman of the Board Jennifer Wollmann, with international travel resuming in the United States in November, the expectation is that foreign home buying will grow in the coming months.
Miami is also on track to have its best year ever for single-family home sales. For September, single-family home sales have increased by 35.3% at 3,031 total transactions.
Miami condos sales have increased by 45.2% in September with major increases in pricing for properties over $250,000.
Luxury sales have also been in the records spotlight with a 31.4% increase with 209 sales for September. For properties $1 million and up, sales have increased 96.5% at 167 transactions. Currently, there is a 3.9 month of supply for luxury single-family homes and a 9.4 month supply for luxury condos.
Single-family home pricing falls between $400,000 to $600,000 increasing by 27.4% higher than September 2020. Condo sales also saw a heavy rise at 161.1% with sale prices between $400,000 to $600,000.
Inventory has decreased for both single-family homes as well as condominiums. Inventory single-family homes decreased by 42.1% since 2019. Condominiums have decreased from 68.8% since 2019 as well.
Single-family home median prices have increased by 11.5% from $435,000 to $485,000. Condo median prices have increased by 24.5% from $265,000 to $330,000
Miami-Dade cash sales are up by 62.2% and represent 37.3% of Miami's closed sales in September. According to statistics from the National Association of Realtors, almost 23% of all United States home sales are cash. Cash sales count for 45.9% of Miami condo sales with 24.9% for single-family sales.