Get Your Popcorn! Drama Is Going Down At Quantum on the Bay
June 19, 2017
by Sarah Elles Boggs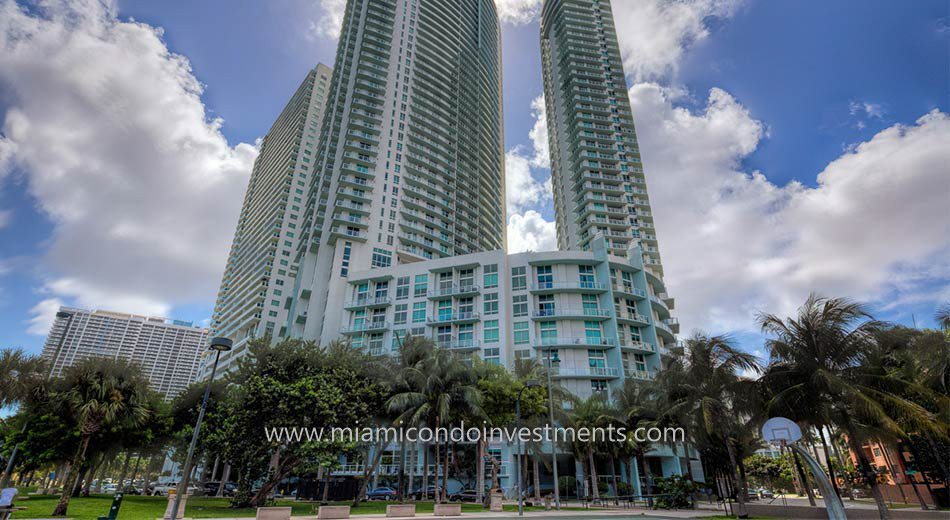 There's a battle brewing at Edgewater's Quantum on the Bay, and the weapon of choice is the elevator bulletin. Apparently, the owners of units in the South tower saw that the sales prices in the building have gone down drastically, farther than competing buildings in the neighborhood and they are not impressed one bit.
Many feel that the condo association should take better care of the building. A better maintained building will better hold its value. That makes sense, right? Well, not to the management office. The owners are demanding a recall of the management company for the Master Association. (There is a management team for each residential tower of the complex, and then a third management team for the common areas/retail space/amenities that are shared between the towers.) They demand a new management team be put into place that will take better care of the property… and they have a point. The building could really use a fresh coat of paint and a good shining up.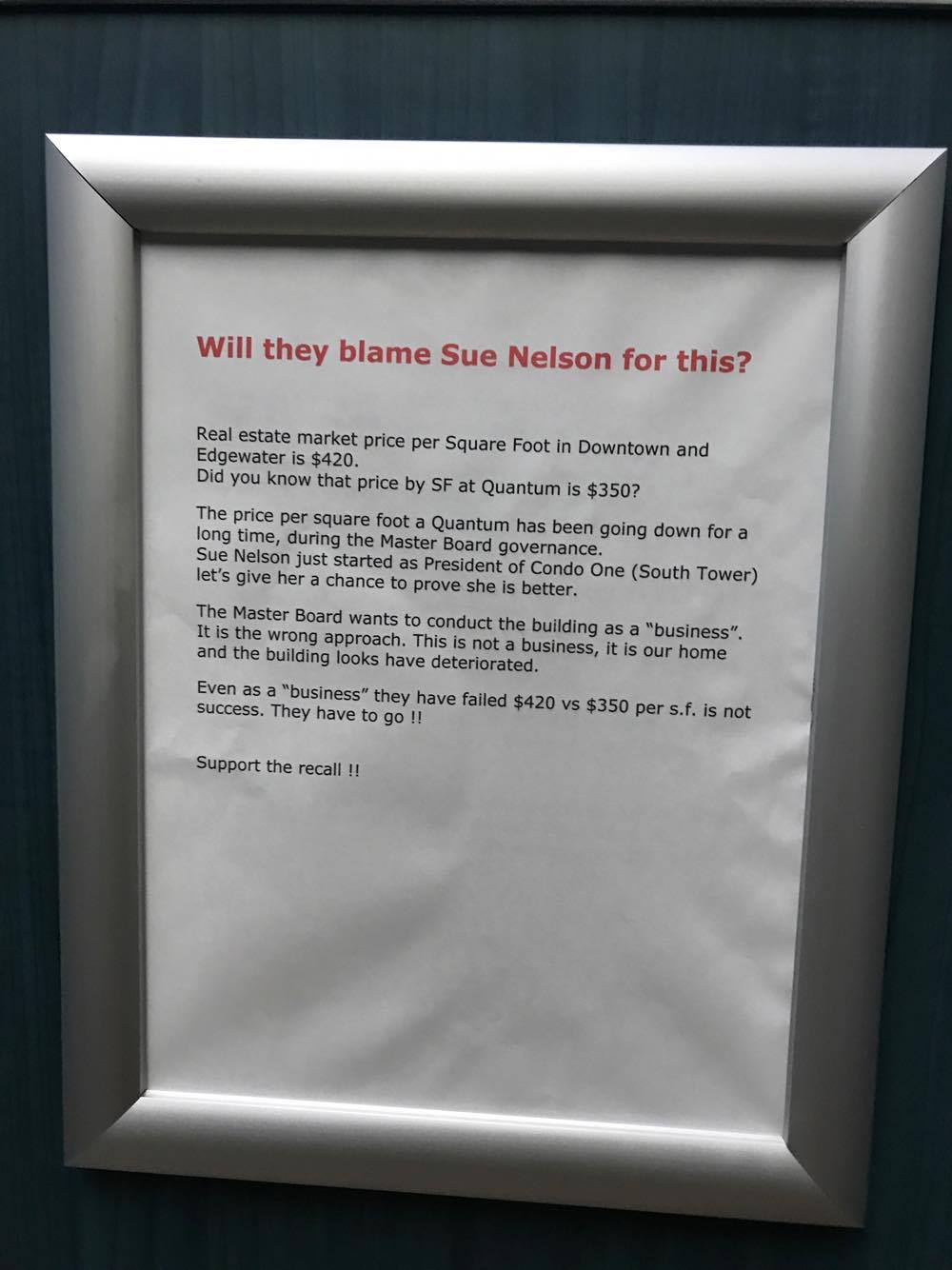 While most people agree, condo management offices are not known for being fun to deal with, but the management office at Quantum really is a piece of work. They're currently being targeted in a class-action suit for price gouging applicants in an effort to beef up the bank accounts, and it appears they also don't treat their owners well either as evidenced by the next elevator bulletin.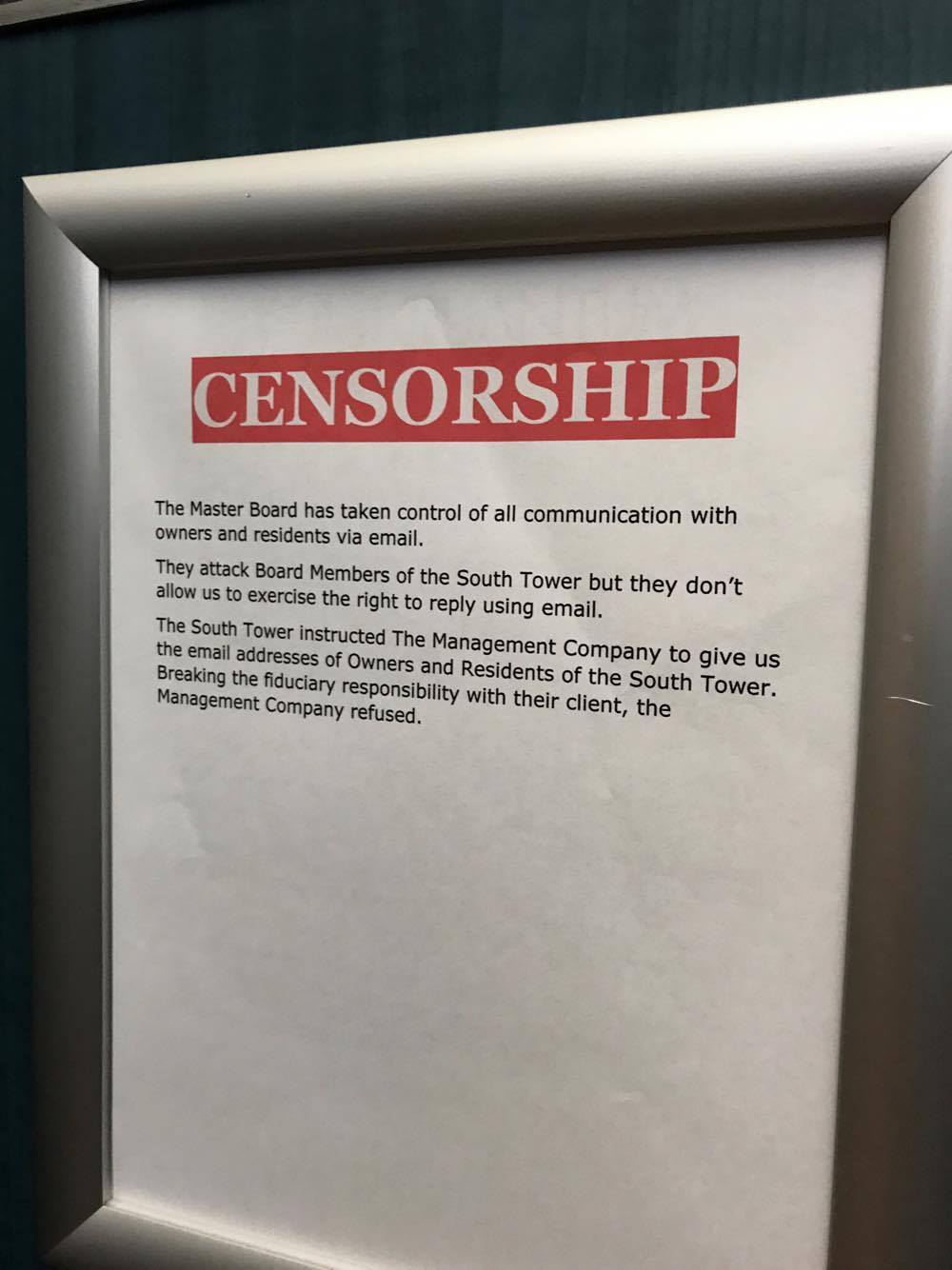 Aside from the building not being properly maintained, the ongoing legal drama has affected sales prices as well. The building threw a party for the owners and residents in May of last year to celebrate the big win of their construction defect claim against the developer and we were hopeful that mortgages would be more attainable for prospective buyers. Just six months later in November, the class action suit began, making mortgages unattainable once more.
In my opinion, the legal drama hurts values even more than the need for paint, so they need to get their acts together one way or another. In the meantime, I'll continue reading the elevator bulletins using my best Bruce Buffer voice.