The "Crown Jewel" Penthouse At Regalia Hits The Market… With A Very Romantic Bonus
August 24, 2017
by Sarah Elles Boggs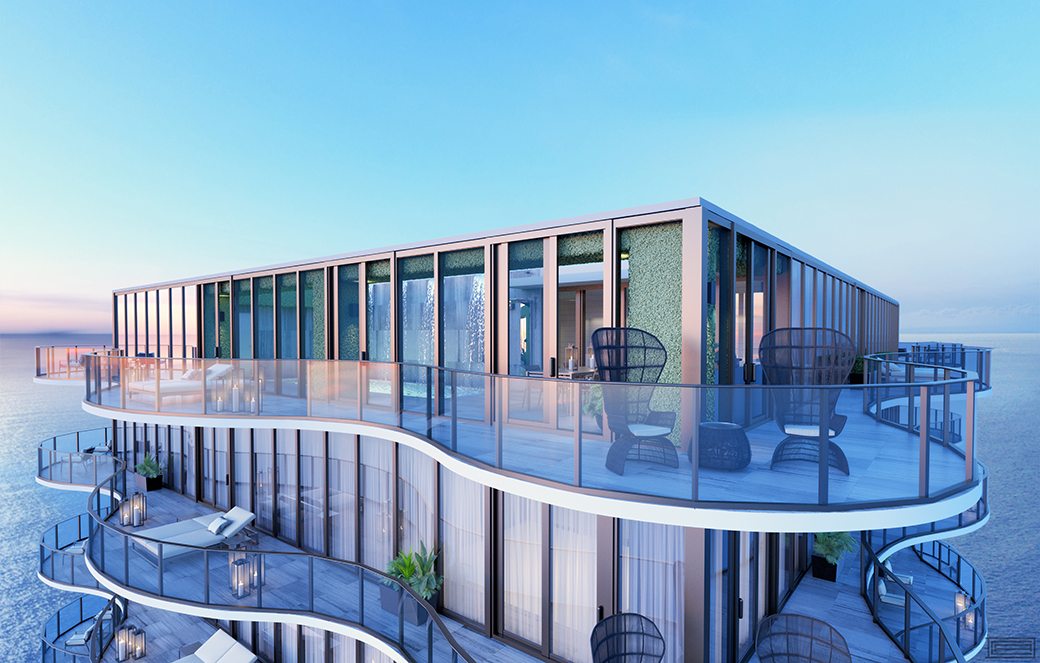 It is located 46 stories above the Atlantic Ocean with a sprawling 16,805 square feet of life's finest living designed by Architectural Digest's Charles Allem. The developer has withheld it from the market for the last 3 years, perfecting every detail, and here it is. The "Crown Jewel" of Regalia, a super-luxury boutique high rise in Sunny Isles Beach, is available now for $39 million... the most expensive condo in Sunny Isles and the second most expensive in all of Miami Beach.

"The time invested to perfect the design of this residence is evident in the finite details, of which a buyer of this caliber not only requires, but desires for their dream home. It is the final masterpiece of Regalia," said Kevin Venger, a co-developer of the tower."

The triplex apartment offers 360 degree views of the skyline, white sand and blue ocean. There are 6 bedrooms, 6 full baths, 2 powder rooms and a rooftop pool bath. Bronze accents and millwork found throughout turn the residence into a golden oasis, while top-of-the-line technology, including smart home keypads and drop-down televisions, are concealed to maintain design integrity.

To give you an idea of the scope of this sky-palace, the master bath alone is over 1,500 square feet with a private spa. The spa is fully clad in Calcutta Gold stone with a steam room, massage beds, and hydrotherapy area. With the average 2 bedroom condo being between 1,000-1,200 square feet, that's really something!

When you walk into the double-height entrance, you will be greeted by a cantilevered stone staircase with frameless glass, 1,000-bottle wine cellar of millwork, metal, and glass, and a backlit smoky quartz bar with all the accessories. The room's centerpiece is a one-off antique-bronze metal chandelier with layers of more than 225 floating tubular glass pendants by Ilanel, designed to emulate rain during the day and the constellations at night. Complimenting the sprawling, open layout is an adjacent formal dining room, featuring a custom chandelier of rock crystal baguettes and a nine-foot, 12-person table made of two single stone slabs that was especially made for this room.

As the ultimate entertainer's space, the residence boasts a movie theater complete with 10 European-upholstered and fully-reclining chairs, with an adjacent 1,100-square-foot game room that offers a lounge setting, bar and designer billiard table with a vintage light fixture. The versatility of the kitchen can also be adapted for the likes of a private chef-catered intimate dinner or hosting large gatherings for more than 50 guests.

Each level of the unit can be privately accessed by a newly-designed pneumatic vacuum glass elevator that peaks at the home's pinnacle of opulence – a 360-degree rooftop sun terrace. An outdoor summer kitchen is equipped with a retractable roof, stone-clad sky bar with lounge seating, and a pool bathroom with outdoor rain shower. The rooftop's trophy piece is its expansive waterfall that cascades directly into a private pool amid a backdrop of unobstructed views of Miami, from Coconut Grove, over the iconic Downtown Miami skyline and up to the Fort Lauderdale cityscape.

As if that weren't enough to give you a wow-factor, the Crown Jewel of Regalia also comes with a jewel of its' own... a rare $500,000 pink diamond. How romantic!