Plans Filed for 3 Tower Development – Biscayne 21
March 10, 2023
by Jacki Taylor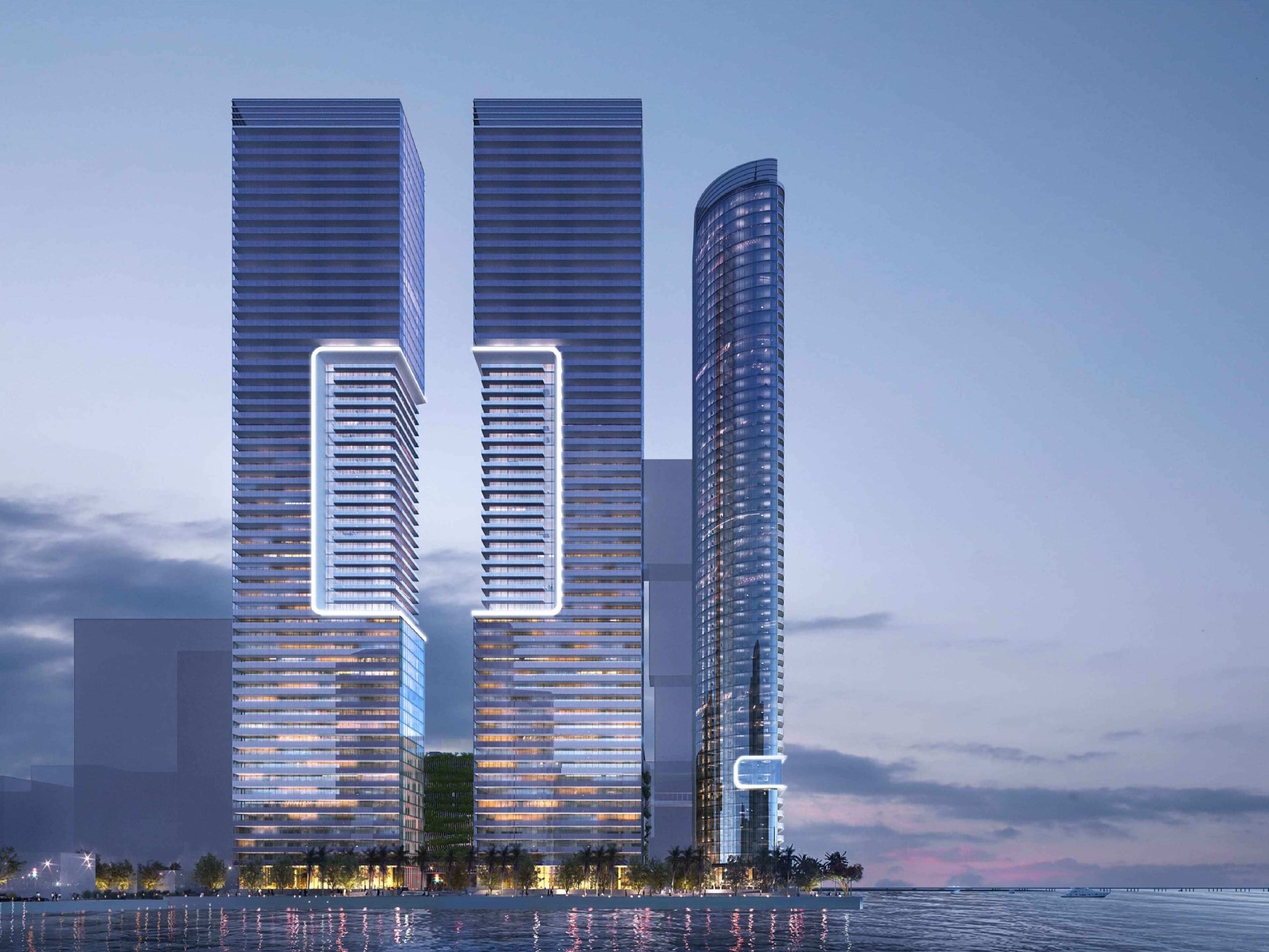 Plans for the highly anticipated three-tower mixed-use development called Biscayne 21 has been submitted to the Urban Development Review Board located at 2121 North Bayshore Drive in Edgewater, Miami.
The project will feature 606 multifamily units spread across three residential towers that are 649 feet tall, 8,433 square feet of ground-floor retail space, 971 parking spots, a complete amenity package, and more than 800 linear feet of a new waterfront promenade. Arquitectonica, EDSA, Longitude Surveyors, and Langan Engineering are just a few of the project's remarkable roster of architects and engineers.
The property, which is in a superb location with stunning views of Biscayne Bay to the east and the Biscayne Bay Inlet to the south, is located on the southeast corner of North Bayshore Road and Northeast 22nd Street.
The Edgewater skyline will be dominated by two twin skyscrapers that rise 56 stories in height and a third that is 55 stories high. The twin towers (South Tower One & South Tower Two), which are unbranded, will each have 210 residential units, while the structure known as the East Tower, also known as EDITION Residences, will have 186 residential units. The overall square footage of the project is divided into 333,463 square foot parking garage, 430,132 square feet between the two unbranded buildings, and 639,824 square feet For EDITION Residences. The project's outstanding overall square footage is 1,841,984 square feet.
The buildings at Biscayne 21 will have an exterior that combines a variety of high-quality materials. Glass with clear view, white-painted stucco frames, and other accessories will produce a contemporary and uncluttered appearance. Mechanical screens and painted metal or fiberglass with fake foliage, together with a creative painting, will add a natural touch to the parking structure. Moreover, mechanical screens will wrap around the tops of each tower. The project's most recent renderings are shown here, along with the project's cover image.
The East Tower (EDITION) will have a more sinuous and elliptical form, distinguished by a carve into the structure on the north side that creates concave balconies and a sense of architectural grandeur on the skyline, while the twin towers will have a striking rectilinear design, with the superstructure punctuated by cuts lined with concrete frames that reveal elegant balconies.
EDITION will offer condominiums with unit sizes ranging from one to four bedrooms and five-bedroom penthouses covering 1,952 square feet to 8,466 square feet. The two additional buildings have condominiums as well, with one to three-bedroom units measuring 915 to 2,190 square feet each.
Amenities:
Pool deck
Indoor fitness center
Sauna
Lounge and juice bar
Multi-use space
Entertainment room
Meeting room
Bridge connects each tower
Two Roads Development is requesting a number of waivers for the Biscayne 21 project, including a small reduction in tower spacing, two driveways separated by less than 60 feet, a reduction is required parking of up to 30%, parking above the first story to extend into the second layer, and pedestrian entrances more than 75 feet apart. Due to the property's special configuration with two waterfront frontages and to guarantee compliance with the Transect Zone regulations, the exceptions have been requested.
The proposed project for Biscayne 21 and the waivers requested by Two Roads Development adhere to Miami 21's guiding principles, which include fostering infill and redevelopment, encouraging mixed-use development, offering public transportation as an alternative to driving, and supporting compact, pedestrian-friendly communities. The project offers public spaces, such as waterfront walkways along the South and East frontages, as well as an energy-efficient design. On March 15, 2023, Two Roads Development will present the project to the Urban Development Review Board.