Top 5 Spots to Celebrate Cinco De May in Miami 2021
May 5, 2021
by Jacki Taylor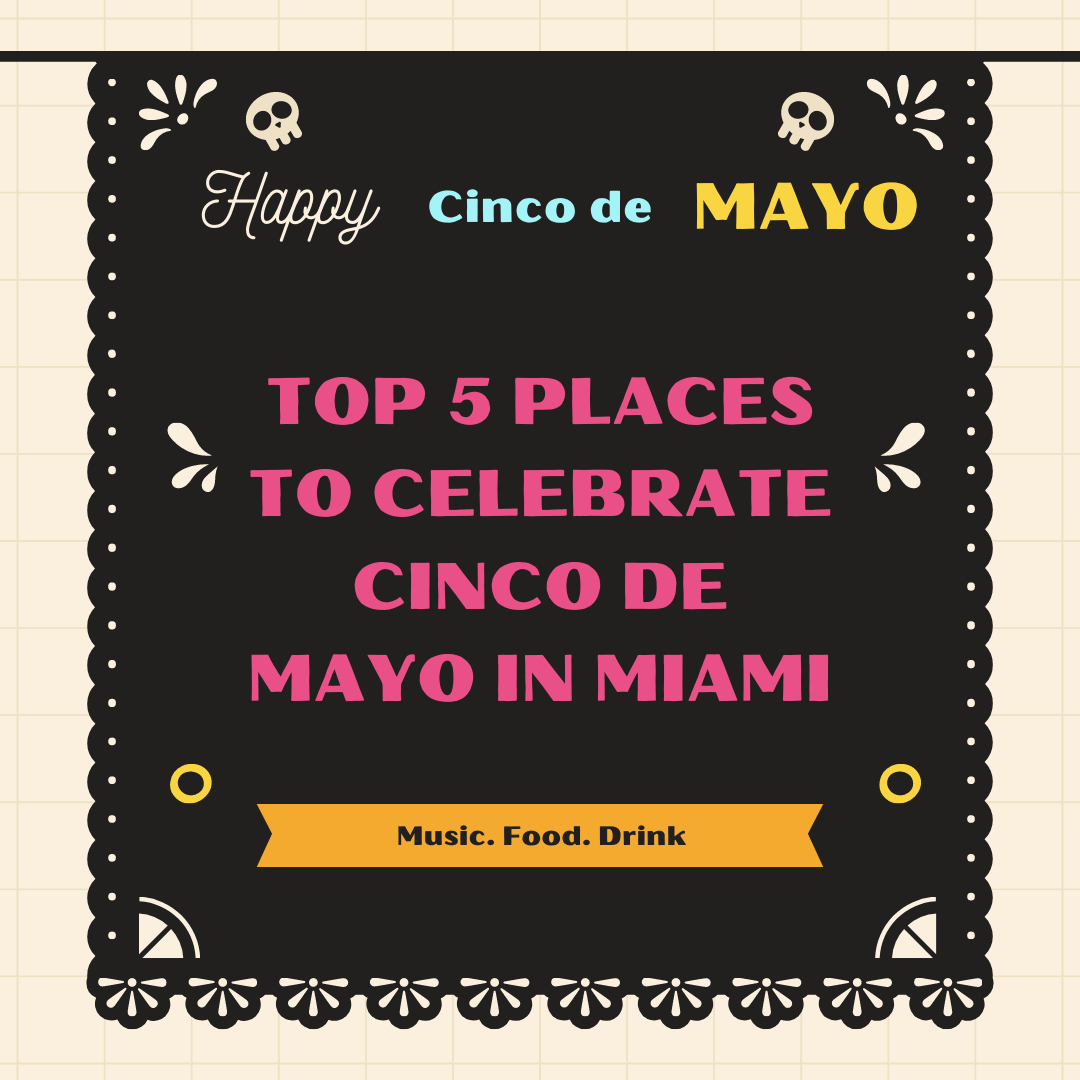 Cinco De Mayo is finally here and we have found the best spots in Miami to celebrate! So bring your friends and/or family and lets try them all!
La Tiendita Taqueria
La Tiendita of Wynwood features authentic Mexican foods inspired by recipes passed down from the La Tiendita ancestors. For Cinco De Mayo, they will have beer specials, margaritas specials, food specials, as well as a live DJ from 12pm-3am. Click here for their full menu.
$5 Monopolio Clara
$30 Bottle Margaritas with Don Julio
$10 Pierde Almas Mezcal Gin
$199 Bottle of Don Julio Blanco
Toro Toro
Toro Toro is one of Chef Richard Sandoval's 'Pan-Latin' steakhouses. This Cinco De Mayo, get ready for a tequila tasting with Casamigos hosted food parings. The fun starts at 5pm with a four-course tasting! Click here for more information.
Four-Course Meal Features
Pan-Latin inspired Cocktail
Casamigos mezcal served with fundido de queso a la tequila and Casamigos blanco paired with cobia tiradito
Casamigos reposado paired with smoked al pastor ribs with pineapple and chayote salsa
Coffee-rubbed lamb barbacoa, patacones and avocado crema paired with Casamigos anejo
Chocolate petits fours
Pisco Y Nazca
Pisco Y Nazca is celebrating this year's Cinco de mayo with $7 margarita specials all day long paired with their classic menu! Click here for the full menu and Cinco De Mayo celebrations!
Chica
Chica is Miami will feature a live DJ starting and 5 p.m. going until midnight. Specialty cocktails and classic food menus will make Chica a one stop for all of your Cinco De Mayo needs. Click here for the full menu.
Feature Cocktail "Tomas Estes" made with reposado tequila, rasberry liqueur, cranberry juice, agave syrup, and lime $16
Baha fish dinner special for two
Whole duck carnitas special
Tres Leches $15
Boia De & Jaguar Sun
This exclusive collaboration are teaming up for Cinco de Mayo and serving you specialty foods, drinks, and an awesome DJ. This even will take place at 7357 NW Miami Court (Lot 6) and reservations are needed. Click here for more information.
Cocktails by Jaguar Sun
Food by La Pollita By Boia De
Choco Tacos by Frice Cream