Is Miami Going to Become the Next Silicon Valley? If it's up to Mayor Francis Suarez, it Will Be.
February 18, 2021
by Jacki Taylor
Since the infamous tweet from Miami's own Mayor Francis Suarez in early December of 2020, he has become very creative in his attempts at recruitment of relocating big tech and financial companies to Miami.
According to CNBC, the "How can I help?" tweet generated more that 2.3 million organic impressions. "It gave me the impetus and energy and incentive to keep tweeting and connecting at a very high rate," Suarez said. From December 2020 alone, he has had more than 27 million impressions on his account and he hasn't stopped there.
In his latest marketing efforts, commuters in San Francisco were greeted by their usual sign but this one had a different message. "Thinking about moving to Miami? DM me," was sprawled across the billboard that resembled a tweet.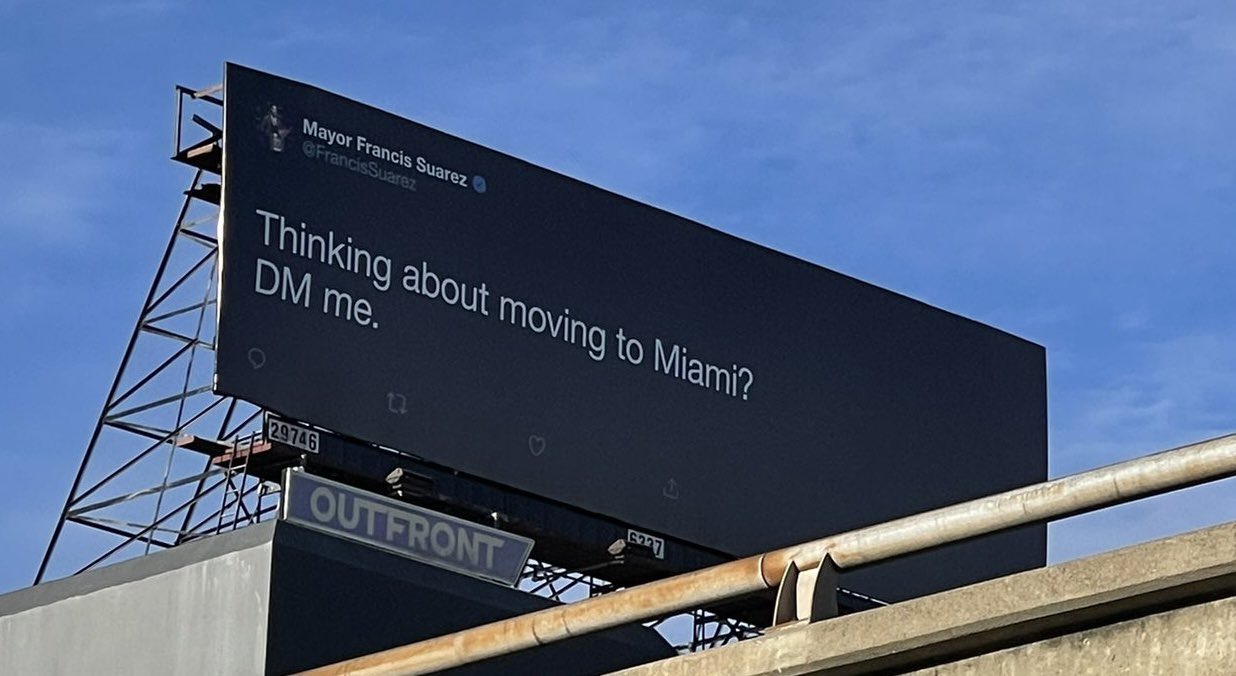 This particular signage is right above the 9th Street exit off westbound I-80 that leads to Twitter's San Francisco headquarters. The only information we do know is that Twitter employees are currently working remotely until the end of summer 2021.
His campaign seems to be working with a few known tech giants and companies committing to relocating to Miami. Keith Rabois, former executive of Square and Paypal, David Blumber-Manager of Blumberg, and Scott Absher- CEO of ShiftPixy are just a few.
"My job is… to make sure people understand this is not a moment. This is a movement," he said. "We're going to continue to do everything we can to attract the entrepreneurial and intellectual class of our country to Miami to create high-paying jobs in a city like ours that wants to continue to grow," says Mayor Suarez.