Coming Soon: Ten Museum Park
June 3, 2007
by Lucas Lechuga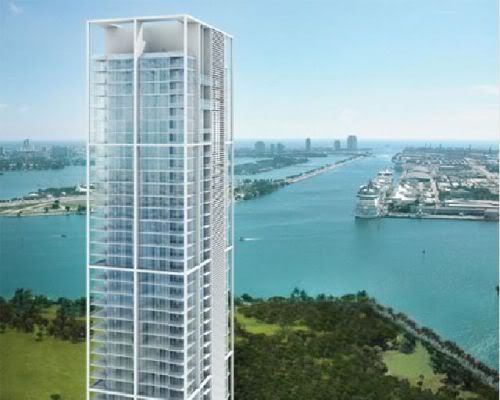 Ten Museum Park is a highly anticipated luxury condo building that will begin closings later this month. Ten Museum Park is located in the recently-dubbed neighborhood of Park West and offers spectacular views of the city, Biscayne Bay and even the ocean and South Beach from high floors. Park West is making way to be the most high-end neighborhood of Miami. Ten Museum Park is walking distance to the American Airlines Arena, Entertainment District of Miami, the newly opened Carnival Center for the Performing Arts and the shops and restaurants at Bayside Marketplace. There are also plans for Bicentennial Park, which will be renamed Museum Park Miami, located across the street in the underutilized parcel of land that you see in the picture above. $13.5M has already been allocated for the new park and the Miami Art Museum and the Museum of Science are collaborating to work on the plans. The pictures below show a model of the design for Museum Park Miami. It will be the premier public park in Miami.
Ten Museum Park will have a total of 200 units on 50 floors and has units ranging in size from 858 square feet to 4,100 square feet with either 10-foot or 20-foot ceilings. Units at Ten Museum Park will have stainless steel appliances by Bosch and Sub-Zero, high-end bathroom fixtures by Duravit and Dornbracht, glass-enclosed showers with body jets and rain shower and much, much more. Take a look at the Ten Museum Park website for more information.
Ten Museum Park will receive its TCO (temporary certificate of occupancy) in the next week or two and closings will follow soon thereafter on units located on the first 35 floors. Condo units located on floors 36-50 will begin closings in 30-60 days. There are resales currently available at Ten Museum Park. There are quite a few people holding contracts in the building that have their units priced at, or slightly higher than, what they paid for them back in January 2004 to prevent from having to close on their units.
I am eagerly awaiting to see the inside of Ten Museum Park. I will try to gain access this week and post pictures and video of what I see.
Update: Ten Museum Park has already begun closings. Take a look at my Ten Museum Park – Pricing & Availability Update with Pictures & Video post to take a look at Ten Museum Park for yourself. Contact me if you would like to schedule a tour of Ten Museum Park.