Ten Museum Park – More Opportunities as Closing Dates Approach
June 9, 2007
by Lucas Lechuga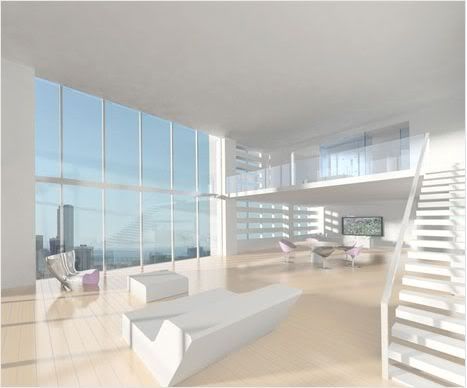 I met with a sales rep today who works for Ten Museum Park to go over pricing and availability for a few out-of-state clients who are interested in buying a condo unit there. I took in a lot of good information during my 30 minute meeting and want to share it with everyone. Ten Museum Park has received its TCO (temporary certificate of occupancy) and closings for units on the first 35 floors will begin shortly. I learned that the developer will grant one extension to people scheduled to close. Then, a letter will be sent out notifying the contract holder of a firm closing date. They will be charged for each day that they are unable to close at an 18 percent APR.
There are a lot of great deals currently available at Ten Museum Park. People holding contracts for condo units in the building were required to put down a total of 20% in deposit money. The first 10% was payable in January 2004. The second 10% was due in December 2004 when the building broke ground. Many of those people are currently looking for a purchaser to step in and close for them. In many cases they are willing to sell their unit at a price point that would allow them to break even or accept a small loss. This is an opportunity to get in at January 2004 pricing. The developer charges the contract holder a transfer fee of 3.75 percent and a co-broker fee of 3 percent. Most contract holders have factored in this cost to compute their break-even point. The worksheet below will show some of the deals that are available. The majority of these deals do not appear in the MLS. The data used to create this spreadsheet was provided by a sales agent working for Ten Museum Park.
The best deal in the building right now is unit 1607. As the worksheet reveals, it has a price per square foot of $363. That is remarkable for a building of this caliber!
Ten Museum Park is located in a Downtown Miami neighborhood now known as Park West. Besides Ten Museum Park, Park West will have three additions to the neighborhood in the next 12 months. These include the following:
There are a few things that I love about Ten Museum Park. One, is that it only has 200 units. I definitely wouldn't call it a boutique building but it isn't a monster development either. Two, the price per square foot is much lower than in these other buildings. The building was able to launch sales and begin construction in 2004, prior to when construction costs began to escalate. These other developments weren't as fortunate and had to price their units in accordance with the higher construction costs that needed to be taken into consideration. I also love the open floor plans at Ten Museum Park. If you're a fan of lofts then you'll appreciate the layouts of the units at Ten Museum Park.
I learned today that when the real estate market was red hot, a few of the "04" units sold as high as $1.3M during resales. Those people are pretty screwed. Fortunately, the lender, Mellon Financial Corporation, only allowed the unit to be resold a maximum of one time. It may seem logical for some of these buyers to walk away from their deposits seeing that comparable units are now on the market at a 38% discount to what they paid. If one of the resale buyers walks away from their deposit then the initial buyer is on the hook to close. I learned, however, that if this scenario were to occur, the 20% deposit forfeited by the second buyer would be applied to the initial purchase price of the first buyer. That is a pretty sweet deal! An instant 20 percent in equity just like that.
I've scheduled to have a tour of Ten Museum Park late next week. I'll be sure to take lots of pictures and shoot as much video as I can. I'm looking forward to seeing the penthouse unit with the 1,298 square foot rooftop terrace and vitality pool.