Live the Luxury Loft Life: Inside The Ritz Carlton Residences Miami Beach's Loft Residences
July 15, 2017
by Sarah Elles Boggs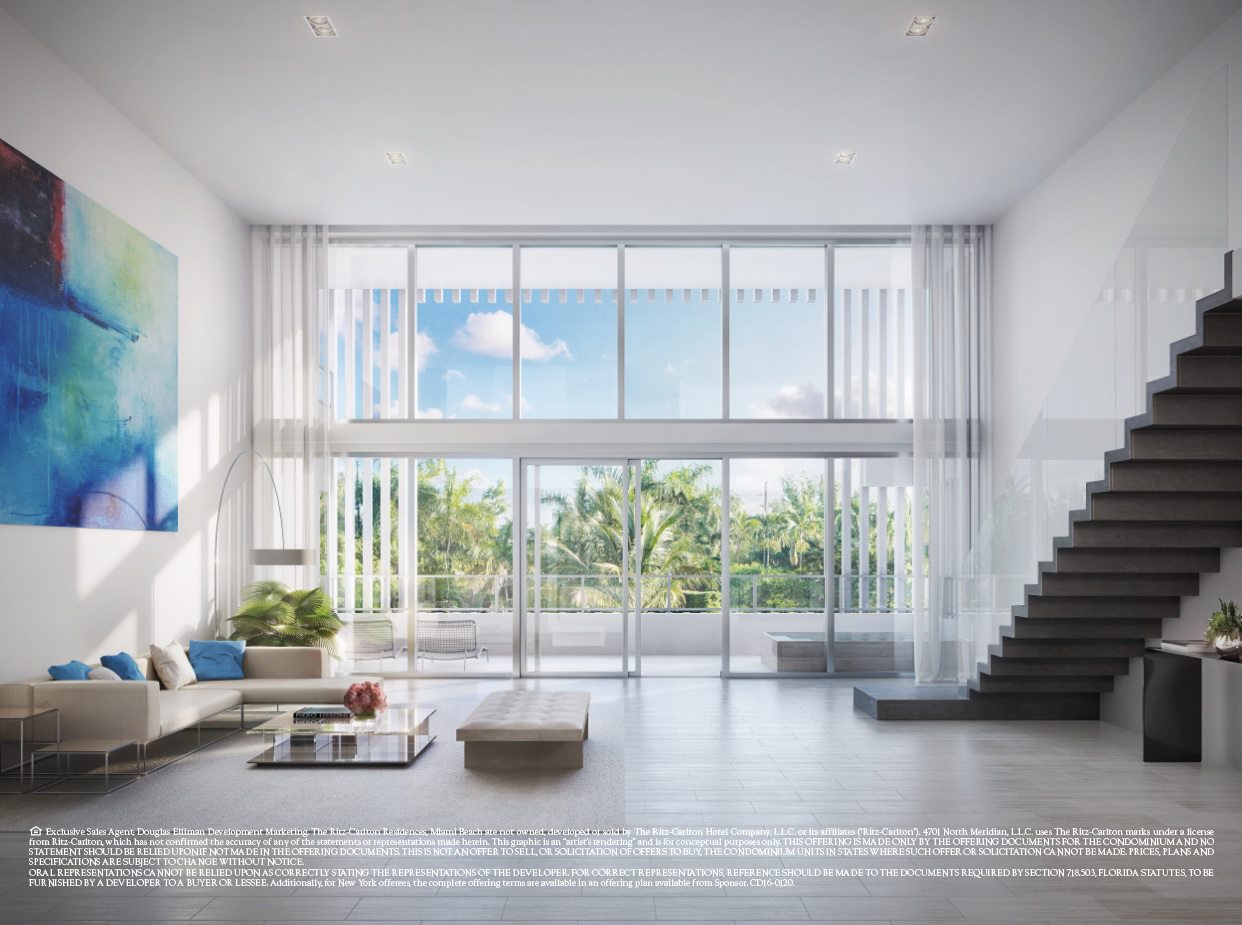 One of the most ambitious redevelopment projects I have seen is preparing to open in a few months, The Ritz Carlton Residences Miami Beach. For those who aren't familiar, the project is a redevelopment of the Miami Heart Institute, which was shuttered in 2004 after it was purchased by Mt. Sinai.
For years, nobody knew what would become of this eyesore on a great waterfront lot. Due to building regulations, the structure could not be torn down and rebuilt at the same size. In order to keep the height and size of the structure, all they could do is redevelop the existing structure. It took until 2012 when Lionheart Capital stepped in to propose a new Ritz Carlton designed by famed Italian architect, Piero Lissoni. Why not, right?
Well, here we are in 2017, the project is getting ready to open within the next few months, and 70% of the 126 residences have been spoken for. There are still 4 remaining loft residences with double height ceilings and increased feeling of privacy, let's have a look at these plans…
Loft 220
3 Bedroom | 3.5 Bath | Den
3,342 square feet
$2,827,000
This plan is a corner apartment that has southern exposure with a private plunge pool and summer kitchen. One of my favorite aspects of this plan is the bedroom and den upstairs, making it a great guest suite.
Loft 224
3 Bedroom | 3.5 Bath | Den
3,778 square feet
$3,964,000
This is the last remaining loft with a direct view of Lake Surprise. It also has a private elevator and all of the bedrooms are upstairs, leaving the downstairs perfect for entertaining.

Loft 218
3 Bedroom | 3.5 Bath | Den
3,292 square feet
$2,925,000
Another of the lofts with southern exposure, Loft 218 also has the plunge pool and summer kitchen on the terrace and guest quarters upstairs.
Loft 217
4 Bedroom | 4.5 Bath
4,033 square feet
$3,065,000
This is the last available four bedroom option, although the fourth bedroom could also be converted into a study. It also has a junior master suite upstairs and extra space on the terrace.