Market Stat Monday: Centro in Downtown Miami
June 19, 2017
by Sarah Elles Boggs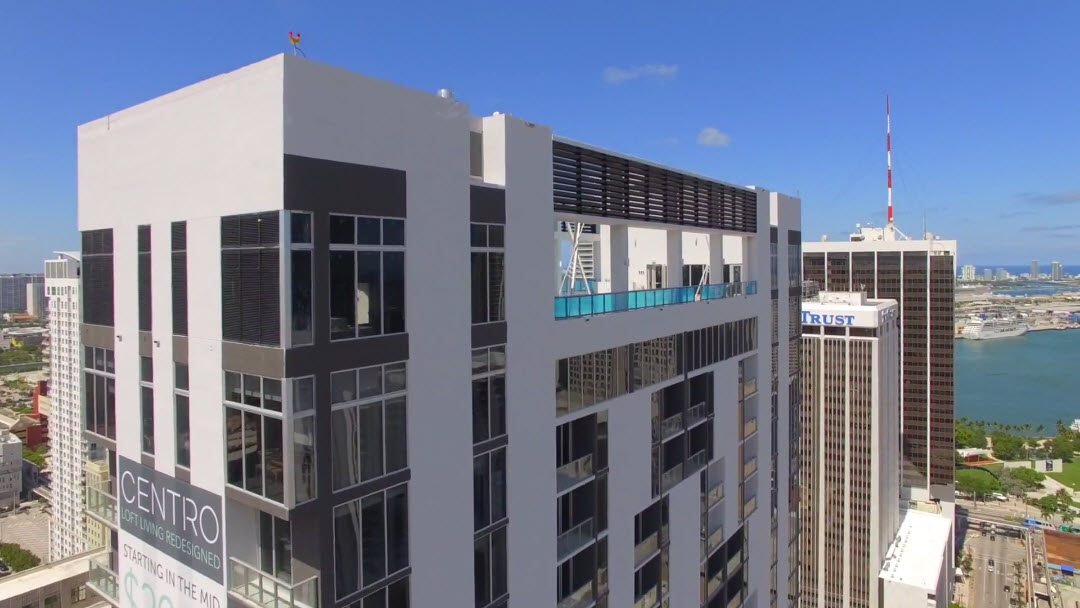 Welcome back to a new week! We're going to continue our Market Stat Monday series in Downtown Miami's Centro building. This building made a splash when it was announced because it was the first new tower in the neighborhood to be constructed without parking. It is located in the Central Business District at 151 SE 1st Street, very close to MDC and Bayside Park, so the area is quite walkable.
Another interesting quality of Centro is that all 352 units are loft-style. They're not duplex loft style (two story layouts), but they are New York style lofts in that there are no walls between the living areas and the bedrooms. This can be a positive or a drawback, depending upon your style of living. It is urban, chic and cool, but the lack of privacy could make things difficult for people living in a roommate situation.
Since there is really nothing different about the penthouses at Centro other than the fact that they're on the highest floor, I am going to factor them into the statistics search today. Furnished units are factored out. Also, since I'm in the mood for good news, I'm going to look first at the rental market.
Centro Rentals
Because of it's proximity to MDC and the price, this building was really hot for a few months on the rental market. People could move into a brand-new condo for as low as $1,450/month! Those days have come and gone because there's just not that much inventory right now. There is only one 1 bedroom layout available to rent as of today, and it is $1,920/month.
Overall, there are 10 active unfurnished listings on the market today. As I said above, the one bedroom is listed for $1,920/month with a partial bay view from the 36th floor. Two bedrooms are listed between $2,000-$2,650/month depending upon the view and size. Most all units in Centro have a city view, a few have a partial bay view.
This has been a very active year for Centro. It opened last summer, in 2017 we have seen 88 total unfurnished rentals. The prices ranged from $1,450/month up to $2,800/month and averaged $2.56 per square foot of living space.
The units that found tenants were marketed for an average of 66 days and accepted 96% of their asking price. Something else that sticks out to me in this report is that the lowest-priced rental stayed on the market for just 3 days. There was also a unit that closed for almost 10% above asking price! This demonstrates something that we tell our clients every day. There is a lot of competition for units that are at the entry point of the market (least expensive in the neighborhood). The rentals happen quickly and for very close to asking price, so if you love an apartment then it is best to make a move for it.
With just 10 units currently available and 88 rented so far this year, that works out to less than 1 month of available inventory! Amazing!

Centro Sales
Now it's time to swallow our bitter pill. There are currently 55 people trying to sell their apartments in Centro, and 2017 has brought a paltry 5 closed sales. That gives us 66 months' of inventory. Oof.
The active listings are asking $489/square foot on average, and those who did find buyers sold for $479/square foot, accepting 94% of their asking price. The building is one of the few in the area that is Fannie Mae approved, making financing easier, so what's the problem?
It appears there are just WAY less buyers in the marketplace. Now more than ever, it is imperative that sellers who sincerely want to sell choose an agent that has access to buyers and a way to make the listing shine in a pack of similarly-priced and similarly-finished apartments. You need an agent who will make sure the property is available to be shown when the buyers request, meets them there to roll out the red carpet and give a tour of the building, answering their objections on the spot and increasing the likelihood that your apartment is the one they choose. I apologize for the lecture, but listing agents need to work harder than ever to make closings happen these days. Here's a look at the scary stats.

I was amazed to see that even with Fannie Mae approval, there were so few transactions in the building. Only one sold at full-ask, and that seller threw in seller financing to make the deal work. They garnered $540/square foot, the highest price for a resale in the building ever.
To be clear, I'm not dogging Centro. It is very well positioned in the market, offering the lifestyle and finishes that residents of the Central Business District want. Hopefully the demand will pick up and these sale listings will start moving again. Until then, just keep them filled with tenants!