Another Record Breaking Quarter for Miami Dade Real Estate with the Second-Highest Quarterly Home Sales in History
November 12, 2021
by Jacki Taylor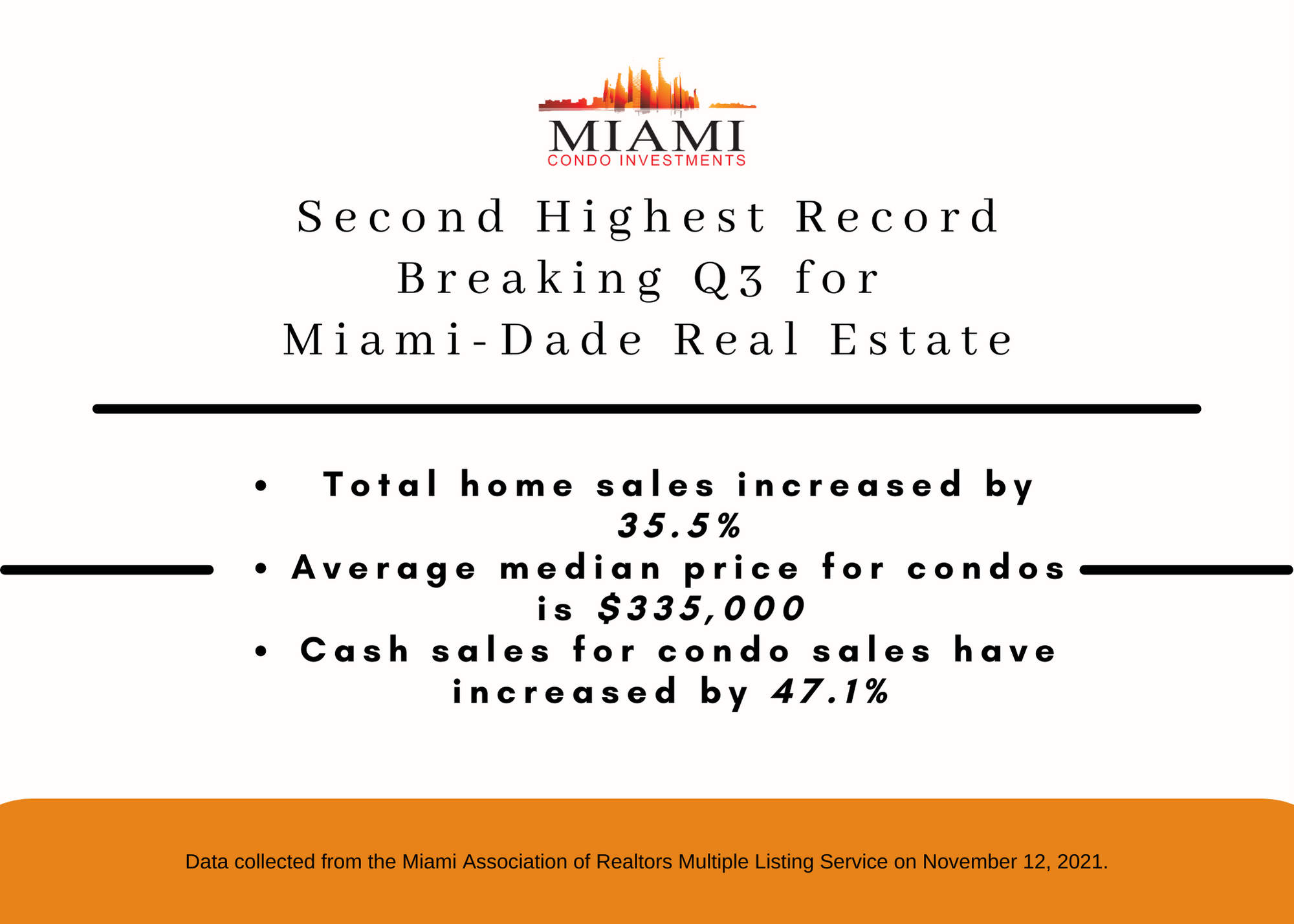 The Miami-Dade County real estate market is still on fire and we have the numbers to prove it. According to the Miami Association of Realtor's, Miami-Dade County real estate has yet again broke another record for second-highest quarterly Home sales in 2021 quarter three. After last quarter's record-breaking sales, this is of no surprise.
Sales, once again home sales have surged with a 35.5% increase compared to this time in 2020. Real estate sales are currently at 9,962 for this quarter with last year at 7,351. Single-family real estate transactions rose 2.2% (3,923 transactions) from last year with condo sales increasing by 72% (6,039 transactions).
Total home sales also jumped 40.2% from quarter 3 of 2020 at 9,962 transactions. It's a large win for luxury condo sales with a sales increase of 199.1% with 643 transactions. Luxury single-family home sales increased at 67.3% for quarter three.
Median home prices have also increased for single-family home by 19% from $420,000 to $500,000 and condo median prices increased at 26.9% from $264,000 to $335,000.
Cash sales increased for Miami by 67.4% higher compared to the national figure. For closed sales, cash represented around 38.5% of those sales. This was a large increase compared to 2020 at 27.3%. For Miami condo sales, cash sales represented 47.1% and 25.1% for single family transactions.
Lack of inventory has been a continued barrier in the current market with single-family homes representing about 2.2 months of inventory and 4.3 months for condominiums. These numbers represent a strong seller's market. Single-family home inventory decreased by 26.8% while condo inventory decreased by 43.1% compared to quarter two.
There are many variables to the continued increase in real estate sales. That includes low interest rates, restrictions lifted from traveling overseas, and lower pandemic restrictions in Florida have all aided in the surge of the real estate market.