Trouble Ahead for Ten Museum Park?
September 25, 2007
by Lucas Lechuga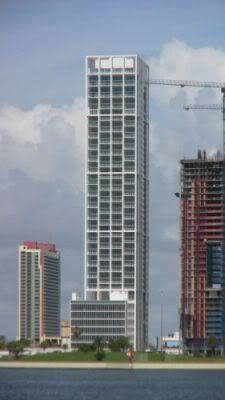 Those of you who have closely followed my blog know that I'm a big advocate of Ten Museum Park, for reasons that I have cited in the past. I've predicted that, of the condo developments that are scheduled to close within the next six months, Ten Museum Park would have the least amount of problems.
After reviewing the number of closings, as of late, at Ten Museum Park, I pray that my prediction pans out to be highly inaccurate. If, however, my prediction does prove to be true, then the Miami condo market is in for a world of pain. As I said, I pray that my prediction proves to be wrong.
Closings for units at Ten Museum Park began towards the middle of June 2007. As of last week, a total of 76 closings have been recorded since the middle of June. There are 200 total units at Ten Museum Park. Those 76 units represent 38 percent of the overall building. What has happened to the other 62 percent? A total of 6 closings occurred in the previous 4 weeks prior to last week. Closings are grinding to a halt.
Closings for units on the upper 15 floors only began within the past 3 weeks, so perhaps a significant percentage of units on those upper floors will ultimately close. That's best-case scenario.
I know for a fact that many contract holders at Ten Museum Park have been dragging their feet to reach the closing table by asking for extension after extension. When push comes to shove, what percentage of the remaining units will close and what percentage will default? At this point, the bank must be calling the developer three times a day.
Let's be optimistic for a minute and say that 30 percent of the contract holders at Ten Museum Park ultimately default. What does that mean for the rest of the Miami condo market? If a highly regarded development such as Ten Museum Park can have default rates that reach 30 percent, then what lies in store for the remaining developments that are scheduled to be completed within the next 6-12 months?
I expected high default rates to occur at Ten Museum Park in their 05 line, because of the lack of views, but a high amount of defaults have spread to the 05, 06 and 07 and 08 lines as well. After personally touring these floor plans, however, they all seemed to be smaller than the square footage that was represented at contract time, so I shouldn't be surprised. Only the 01, 02, 03 and 04 lines seemed to deliver an interior space that was promised.
I've also predicted, in the past, that of the condo developments scheduled to close within the next 24 months, Opera Tower would have the most problems. Originally, closings at Opera Tower were scheduled for August. Then, they were pushed back to September. I don't foresee closings to begin at Opera Tower until early November. I won't be surprised if closings don't begin until the beginning of next year. From what I've heard, the amenity deck at Opera Tower is at least one month away from being completed. I've spoken with several contract holders at Opera Tower who have no intention of closing on their contracts.
If the best-case scenario for Ten Museum Park is to have a 30 percent default rate, then what will that mean for developments such as Opera Tower? 50 percent defaults? 60 percent defaults? Opera Tower has 635 total units. That's a bitch-ass high number of condos that will remain unsold at Opera Tower if those estimates prove to be true.
Let's pretend to be ultra-conservative in our estimated default rates. Let's say that the condo developments that are scheduled to close within the next 24 months have an average default rate of 10 percent. I've previously cited that 16,070 new condo units would be delivered within the next 19 months. Using our ultra-conservative default estimate of 10 percent, this would mean that 1,607 units will not close. How long will it take to fill this void? Your guess is as good as mine.
Miami is a market that will once again see double-digit growth within the next 10 years. How long will it be until we reach that point? The land that I walk on each day is paradise. There's no doubt about that. Even Tony Montana said it himself, "This is paradise," and we all know that all he has in this world are his word and his balls, and he don't break them for nobody. But Miami was overbuilt. Right now Miami is in an adjustment period. Once the inventory in the condo market is absorbed then paradise lost will once again be regained. But how long will that take?
I'd love to see your comments. How long will it take to fill this large supply of Miami condos?