My Prediction for Ten Museum Park
August 31, 2007
by Lucas Lechuga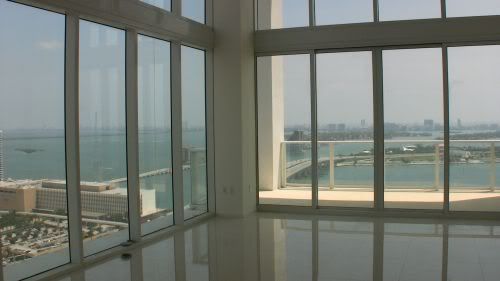 I'm going to go out on a limb and say that the east-facing units at Ten Museum Park will be selling 10-15 percent above where they are now by year's end. I know, I know…the Miami condo market is in a rut. But that's just my point. The east-facing units at Ten Museum Park are not condo units. They are lofts with 20-foot ceilings. Of all the high-rise developments in Miami, both existing and under construction, only Ten Museum Park can rightfully call themselves an ultra-luxury loft building.
Of the 200 units at Ten Museum Park, 73 of them have 20-foot ceilings with floor-to-ceiling windows. You will see that in future months there will be a premium paid for these units versus other units, not only in this building, but other buildings throughout Miami as well. I've already seen a lot of demand for these units in the past two months as some have been discounted due to original buyers not wanting to close. I think by the end of October the discounted units at Ten Museum Park will be nonexistent. The discounted loft units will be long gone by the end of September.
The amount of demand for units at Ten Museum Park has surprised even me, a big advocate of the development. The loft units at Ten Museum Park are truly something unique for Miami. They offer loft living combined with true luxury and gorgeous unobstructed water views, all residing in a neighborhood that, in my opinion, will be the best in Miami within the next five years.
Parc Lofts is a loft building in its truest form, but it is an industrial loft with minimal water views from higher floors, and offers no luxury. I'm a huge fan of that development as well though because it offers something very unique to the Miami market. Star Lofts, which will begin closings shortly, offers lots of luxury but resides in a neighborhood that does not even come close to the neighborhood of Park West. The prices are much higher as well. I think we'll see a large percentage of defaulted units there. Infinity at Brickell isn't quite as luxurious, nor does it have the unobstructed water views that the east-facing lofts at Ten Museum Park can offer, but it is probably the closest loft development to Ten Museum Park that offers the kwan: views, luxury, neighborhood and best investment dollars too.
Much of the luxury at Ten Museum Park lies in what it has to offer above other Miami developments. Primarily, it has the Clinique La Prairie spa which is based in Switzerland. By many, it is considered the best spa in the entire world. People from all over the world have been flying to Switzerland to enjoy the lavish spa treatments for which Clinique La Prairie is well known. Some of those treatments promise to slow down the aging process. The Clinique La Prairie spa at Ten Museum Park will be the first U.S. spa with their name associated.
Secondly, Michael Capponi's name is associated with Ten Museum Park. For those not local to Miami, the Michael Capponi name is synonymous with the abbreviation V.I.P. He can get you into any party, any restaurant and any event that is well attended. Residents at Ten Museum Park will be able to count on Michael Capponi to get them V.I.P. accommodations to any social gathering that is worth attending.
I think those two aspects alone rise Ten Museum Park to the forefront of all other Miami developments. However, Ten Museum Park is also a boutique building with only 200 total units. Most other developments in Miami have well over 400 total units. There are only 6 units per floor at Ten Museum Park. The east-facing units share one bank with two elevators with one another. The units residing on the west side of the building share a bank with two elevators which accommodates four units. This is another good reason to be on the east side of the building.