Marquis – The Fourth Luxury High-Rise Building in Miami's Park West Neighborhood
August 30, 2007
by Lucas Lechuga
I've been getting a lot of interest in Ten Museum Park from both local and out-of-state buyers. Most of them inquire about the developments in the immediate vicinity to Ten Museum Park, such as 900 Biscayne Bay and Marina Blue to the south, and Marquis to the north. One can get a good idea of how beautiful 900 Biscayne Bay and Marina Blue will be when completed by looking at the current progress in development. Marquis, however, probably won't be finished until the middle of next year and, as can be seen in the picture above, much is left to one's imagination. (The picture was taken July 7, 2007).
I wanted to share some photos that I took of the Marquis sales center back in 2005 to show people what the building is supposed to look like once it is completed. Marquis is an ultra-luxury building and, if I remember correctly, prices ranged from $700,000 to $15M. It will have 306 ultra-luxury residences on floors 15-67 as well as a 10,000 square foot spa/fitness center and boutique hotel aspect to it with 56 hotel rooms on floors 3-14. The architect behind Marquis Residences is world-renowned Arquitectonica, which also did Marina Blue and a myriad number of luxury condo buildings throughout Miami.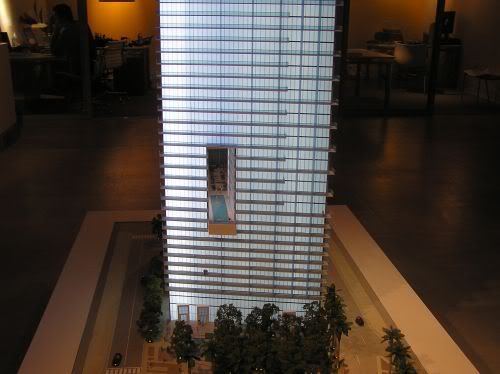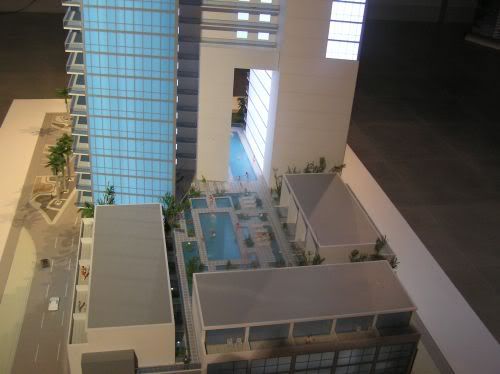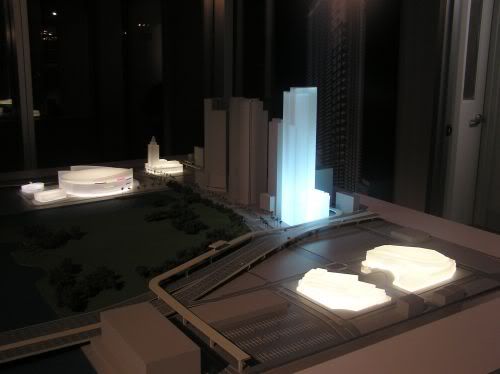 There is definitely a big price difference in units located on the north side of Ten Museum Park versus those residing on the south side. Most of this is due to the close proximity that Marquis lies to Ten Museum Park. I think the spread in prices will narrow once Marquis is completed and buyers see that having a building that will be one of Miami's most luxurious addresses isn't such a bad thing.