Miami Beach Teardown Fetches Record Price
April 20, 2017
by Sarah Elles Boggs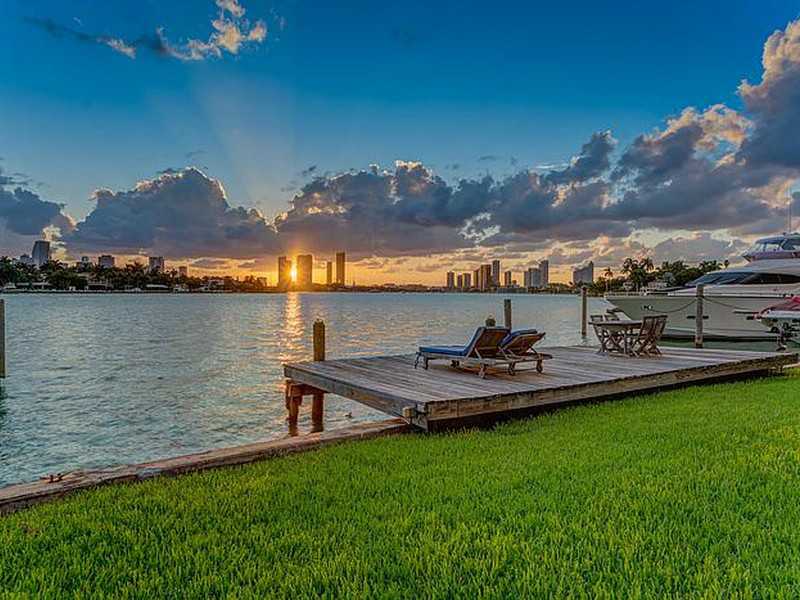 What would you pay to have this sunset view every day of the year? If you are a South African business mogul, I'd say you would likely pay $10 million. Then you could tear down the house that is on the lot and build something amazing that is customized to your taste. Yes, that's what would happen because that's what did happen. An unnamed South African businessman has taken the leap and paid an astonishing $746/square foot to call 28 S Dilido Avenue home. The property is very special, it is a 13,408 square foot lot with 107 linear feet of water frontage and a year-round view of Miami's famous multi-colored sunsets as the sun sinks behind Downtown Miami's glistening condo towers.
Because the lot is so special, calculating the final price took six months and surgical precision, according to Dora Puig, who brokered the sale. She spent endless hours dissecting the comparable sales of waterfront teardown homes. Dora is also the Miami Condo Investments Team's Madrina, the sales team is very proud to call her our broker! Here are the types of details she went through…
The overall average price per square foot of Miami Beach waterfront teardown lots is $392/square foot over the last year (excluding this sale). There were 19 total sales with the lots ranging from 9,500 square feet up to 30,000 square feet and with between 60 feet and 200 feet of water frontage. You also have to consider what type of waterfront views the lots have. Some have the same open bay view with the skyline backdrop, which is considered a premium by many. Some have views of the Port of Miami, so they can watch the cruise ships depart and arrive and commuters sit in traffic, and some have a peaceful lake view. Dora had to do the math on 19 properties and figure how much each factor of each property was worth, then do the math backward with the property the buyer is interested in to calculate what it would be worth. I consider this part a daunting yet gratifying task.
The most expensive sale prior to 28 S Dilido was 40 W San Marino Ave, which traded for $610/square foot. That lot had similar views but was 3,000 square feet smaller and had almost half of the linear water frontage that Dilido has.
The least expensive recent land sale has been 860 Lakeview, which sold for $132/square feet. This lot is an ENORMOUS 18,630 square feet that has 80 linear feet of water frontage, but the view is not the year-round multi-colored sunset behind the downtown buildings view that Dora's mystery buyer was seeking. It looks out over the new Ritz Carlton Miami Beach, that was once Miami Beach's Heart Institute and is currently under construction. That is going to be a gorgeous building, but let's stay on topic.
Now that Dora has been victorious in discovering the land value and closed the sale, whispers around the office are that the buyer (who has not been named) has chosen Saota to design his now home. Saota is a South African design and architecture firm who is responsible for that amazing Miami Beach mansion on Pinetree Drive with a waterslide off of the roof that sold for $34 million in January. That post took me a long time to write because I couldn't stop looking at the pictures. I am overjoyed to hear that Miami will receive another home that they have designed!
What is the takeaway of this sale?
People ask me all the time if the Miami market is a bust because of the hoards of negative news reports that are being written. I have to be honest and say that yes, there is an inventory glut in the Downtown and Brickell area condo market, but that doesn't equate to a bust.
Wealthy people buy what they want, not what is cheap and Miami is an immensely desirable location for people from around the world. This buyer could have chosen any city in the world to call his home, and he chose Miami.  We have the lifestyle that people seek, amazing culture, convenient accessibility and ease of access from other international locations, and that all-important multicolored sunset that shines behind our glistening condo towers year-round. Just like the client wanted. Congratulations to him! Let's see that sunset again for good measure.