What Will IconBrickell's Pool Look Like After The Renovation?
March 14, 2017
by Sarah Elles Boggs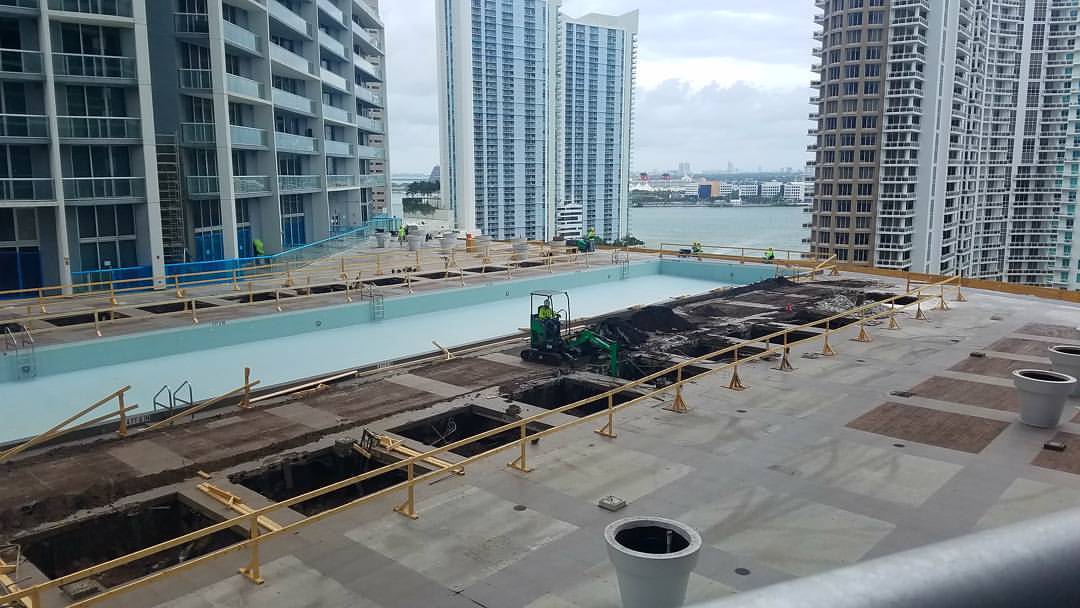 It seems everyone in the South Florida area knows that IconBrickell's famous pool deck is closed for a year, but we realized last week that nobody has asked about what it will look like when it reopens. Will they bring Phillipe Starck back in to do a redesign? Are there any renderings floating around?
We sat down with the property manager to find out what is in store after the construction crews complete their jobs and were pleased to learn that the design won't be changing much. Most of the necessary work is not cosmetic, so the finished product can look very similar to the iconic pool that we are used to.
There are some changes that will be necessary. The patches of tiles that resembled red wood will need to be replaced with something more slip-resistant but they plan to use the same color, just a different material. Also, the cabanas will be relocated to a sunnier area so that people are more inclined to use them. They will also use this opportunity to choose new pool furniture and add more outlets. It seems Related Group underestimated how many people need to charge their phones while they lay by the pool. Previously, there were only 11 outlets on the entire deck. The animal lights will return as well, although with updated technology.
We have been pleased to see that the construction seems to be moving along according to schedule and although the number of sales transactions has fallen, the prices are holding stable. It was a frightening moment last year when the prices were in free-fall. Once the more candid details of the repair came out and the work actually started, everyone's nerves seem to have calmed. There won't be any renderings of the project, since the finished product will be so similar to the original. We'll have to wait and see in person!
Here is a photo of the pool before the renovation: