Hilton Miami Downtown Updates Hotel with $35M Renovation
January 25, 2018
by Lucas Lechuga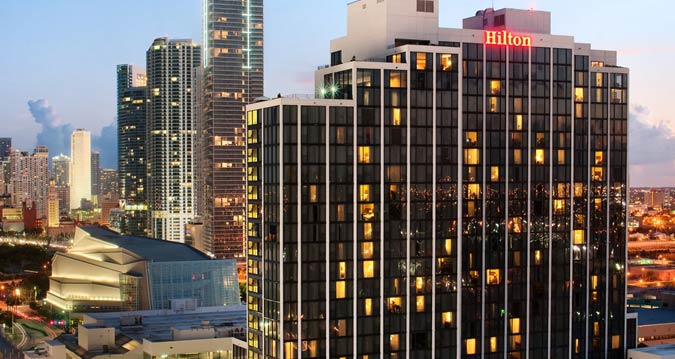 Hilton Miami Downtown – located on Biscayne Boulevard at the site of the former Omni International Mall – recently completed a $35M renovation, providing guests with a revamped experience featuring all the hallmarks of the Hilton Brand.
HBA Atlanta (Hirsch Bedner Associates) led the property's design renovation, updating each of the hotel's 527 rooms with a sleek look while meeting top-end technological expectations. The upgraded experience is aimed to please both leisure- and business-minded guests.
The hotel's breakfast, lunch, and dinner restaurant, Brisa Bistro, was also redesigned and renovated. The restaurant, which is led by Executive Chef Didier Pouzier, includes a fusion of Caribbean, European and South American cuisines.
The Hilton Miami Downtown is aiming to provide guests the best hotel experience, while fitting in with the cultural renaissance that's taking place in Downtown Miami. According to Alex Batista, Director of Sales and Marketing for the Hilton Miami Downtown, "The newly renovated Hilton Miami Downtown represents the area's best – style, culture, convenience and value."