Coming Soon: A New and Improved Miami Condo Investments Website
February 20, 2013
by Lucas Lechuga
Coming Soon: A New and Improved Miami Condo Investments Website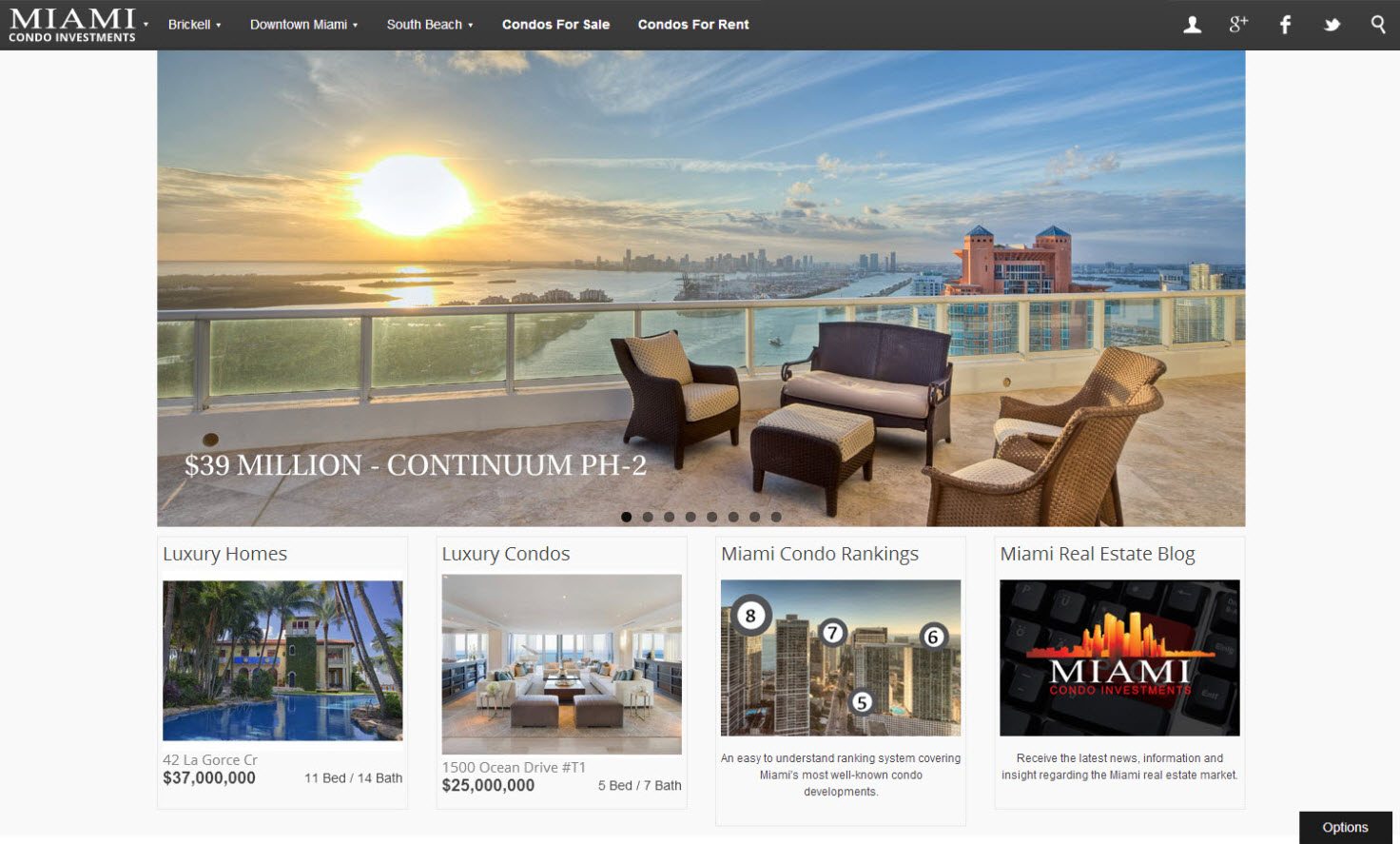 Behind the scenes, my business has seen a lot of big changes take place over the past couple of months.  It has been an extremely hectic time for me with most days me getting only three to four hours of sleep.  I'll get into some of the other big changes at a later date.  For now, I want to discuss a project that has been a little over three months in the making and something for which I am extremely proud of and excited.  My website developers and I have been working diligently to put together all the pieces of the puzzle to create a masterpiece real estate website that will truly wow people.  Our end goal when undertaking this project was to create a real estate website for consumers which is pleasing to the eye but also quick and easy to use.  In a nutshell, we wanted to simplify my existing website and eliminate all of the clutter.  The screenshot above shows what we came up with for the homepage.
It should immediately be clear that the Miami luxury real estate market will now be at the forefront of my business.  That does not mean, however, that the mid-level market, which has been at the core of my business for years, will be abandoned.  The new iteration of my website will continue to include the mid-level market but present it in a more sophisticated manner.
Below, you will see what we came up with for the building profile page.  I like to think of this page as having a left and right panel.  At all times, the left panel will display the picture slideshow for the condo development along with its description underneath.  The right panel is where the magic and innovation happens.  Clicking on the tiles in the right panel will cause content related to that tile's description to suddenly slide into view.  No new page to load and, most importantly, no need to scroll.  All of the information is hidden off the screen ready to jump into view upon request by the user.  When creating the design for this new website, we kept desktop, tablet and mobile users in mind.  As a result, we went with a responsive website design.  For those not familiar with responsive website design (RWD), the simplest way to explain it is that the design of the website transforms to respond to the size of the user's display.  See the third screenshot below to see what the second screen would look like on a tablet or smartphone with a vertical orientation.  It is important to note that this is not a mobile-only version of the website.  This is the exact same page but it has "responded" to the user's display and has transformed itself automatically.
We plan to have the new website launched by the end of this month…so stay tuned.