Flamingo South Beach: Then & Now
October 27, 2007
by Lucas Lechuga
Correction: I've been told that the picture above is from the 1920s and is of the old Flamingo Hotel.
I viewed the above picture a few days ago. I found it simply amazing to see what Miami Beach and Flamingo South Beach looked like in the 1960s. There were so many parcels of land still untouched back then. What a world of change 40+ years can bring to a city.
Flamingo South Beach became the largest condo-conversion in the state of Florida in early 2006. It is composed of three towers with 1,688 total units and is in the process of undergoing a multi-million dollar restoration. Currently, the south tower has been fully sold and Chicago-based MCZ Development is now working to sell out the north tower. The center tower, which rises above the two others and has more modern finishes and better views, will likely be available for sale in late 2008 if MCZ Development exercises their rights to it.
What is interesting to note about the picture above is that a swimming pool didn't exist back then at Flamingo South Beach. Nowadays, the swimming pool area is where the party is each sunny weekend afternoon.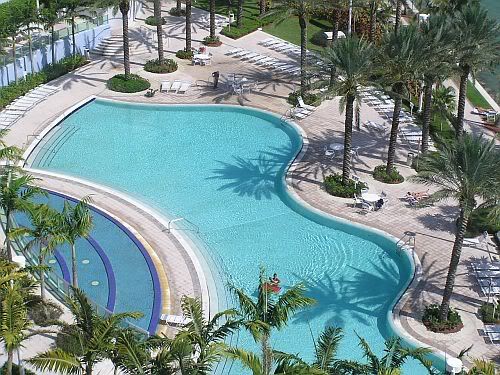 Of course, the picture directly above wasn't taken on a weekend afternoon. In fact, I took it in August of 2006 on a Tuesday afternoon. The topless and G-string clad beauties at Flamingo South Beach usually bask under the South Florida sun on the weekends.
Flamingo South Beach is well known for its great amenities. It is the closest that you'll come to resort-style living in South Beach. Investors love Flamingo South Beach because rental rates are high and the development allows short-term rentals. A gorgeous place to stay while on vacation in South Beach.
Truth be known, prices likely won't appreciate at Flamingo South Beach for 2-3 years sheerly based on the high number of units that have been and will eventually be fully converted. The long-term outlook, however, for Flamingo South Beach is great. It's a little piece of paradise within a paradise city.