A Look at the Miami Industrial Loft Market
May 22, 2007
by Lucas Lechuga
I took a drive through the Performing Arts District today and noticed the progress being made on the development known as Filling Station Lofts. This will be the second loft development of The Intrepid Real Estate Company in Miami, and I, for one, am looking forward to it.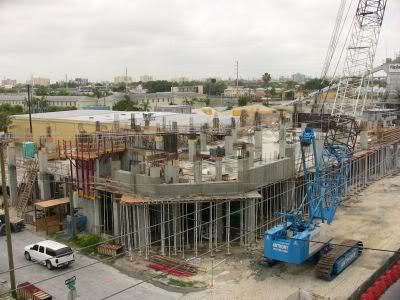 With the exception of a few overpriced units being left until the end of construction, Filling Station Lofts has been sold out for over a year. The Intrepid Real Estate Company, under the direction of developer Henry Harper, first brought the New-York-style industrial loft to Miami with their first development known as Parc Lofts, located catty-corner to the development site of Filling Station Lofts. The bold and unique marketing pieces of The Intrepid Real Estate Company caught people's eyes over a year ago. This one, entitled "BubbleProof", provided words of wisdom to those looking to purchase one of their loft units during a frenzied real estate market. Simply put, their message was that a person's love for owning a unique space, such as a loft, should be the motivating factor behind making such a purchase, and not that person's love for money, nor the expectation thereof.
The industrial loft concept is truly unique to Miami. I often get people from cities such as Chicago and New York who contact me looking for a large, raw, open space and the only building that comes to mind is Parc Lofts. They can't understand how there aren't other industrial loft buildings throughout Miami. Simply put…Miami didn't undergo the Industrial Revolution like many of the major cities in the North. We, therefore, lack the large abandoned warehouses found in the North which were later converted into lofts. Miami has had to rely on developer's, such as Henry Harper, to build these loft buildings from the ground up.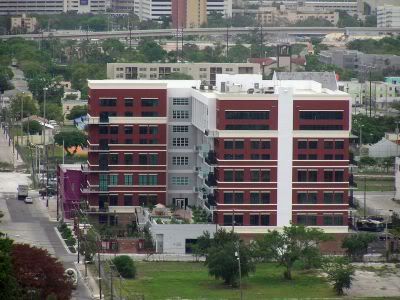 There are a few industrial-style loft buildings in South Beach, but none that offer the type of space like Parc Lofts. With loft sizes that reach a mind-boggling 5,436 square feet, Parc Lofts was built with SIZE in mind. Market forces have created a large premium built into those units at Parc Lofts with over 2,000 square feet. If someone needs a space of that size then Parc Lofts is the only building in Miami that can offer it. Zoned as a live/work building, there are many potential ways that a space of this size can be used. Most who own these units at Parc Lofts are fully aware of the premium that their units fetch. While the number of potential buyers out there for this type of size may be scarce, the number of lofts of this size in Miami is even scarcer.