EDITION Residences Sales Center Officially Debuts
April 5, 2023
by Jacki Taylor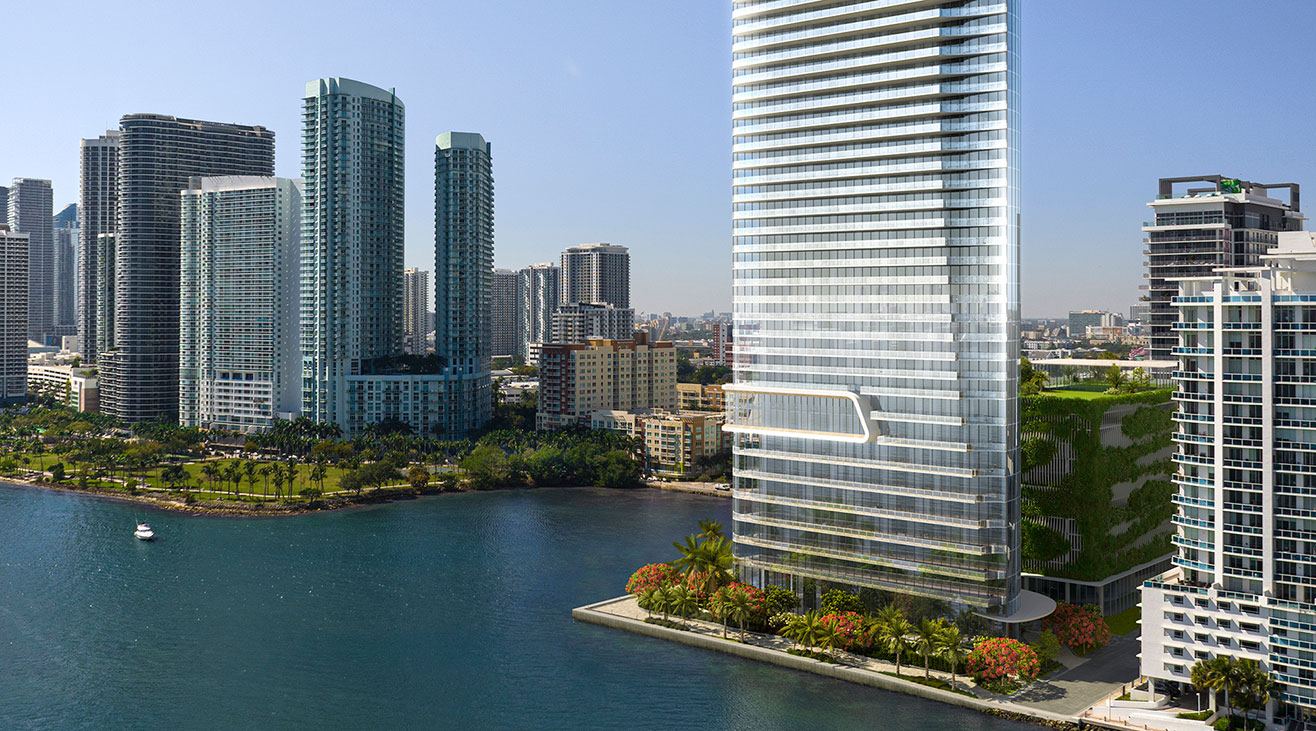 The $10 million state-of-the-art sales gallery for EDITION Residences Edgewater, the world hotel brand's first standalone collection of fully serviced luxury condominium homes, has been unveiled by Two Road Development following the opening of sales late last year. Future homeowners will be able to immerse themselves in the EDITION-branded quality of design, lifestyle, services, and facilities that the project will bring to Miami's Edgewater area.
At 2121 North Bayshore Drive, in the center of Edgewater, one of Miami's most exclusive areas for luxury, waterfront high-rise living, you'll find EDITION Residences, Miami Edgewater. With 185 custom units displayed in a sleek glass skyscraper created by visionary architect Bernardo Fort-Brescia, founder of Arquitectonica, and celebrated interiors by Studio Munge headed by Alessandro Munge, the 55-story structure will have more than 800 linear feet of bay frontage.
The EDITION Residences, Miami Edgewater are expected to be completed in 36 months, with construction set to start in the summer of 2023. More than $160 million in reservations with contract conversions are anticipated to start within the next month.
The official opening of the sales gallery, which is conveniently close to the EDITION Residences site at 2060 North Bayshore Drive, Ste. B-101, was celebrated on March 30, 2023. Many VIPs and A-listers, including Francis Suarez, the mayor of the City of Miami, and members of South Florida's real estate elite, attended the extravagant event. DJ Ruckus gave a surpise performance at the unique event. The evening came to a close with an enthralling drone display that filled the Miami sky with vibrant images.
The sales gallery is meticulously designed, with neutral-colored furnishings, lush flora, and architecturally distinctive details placed all about the room. A virtual reality room that offers unrestricted views of Biscayne Bay, the Atlantic Ocean, Downtown Miami, and the Miami Beach skyline captures the essence of indoor-outdoor living. The sales center has a copy of the master bathroom, kitchen, and living area to show off the building's spacious floorplans and cutting-edge features.
One-bedroom-plus-den to four-bedroom floorplans with sizes ranging from 1,952 to 3,864 square feet and starting at $1.9 million will be available in immaculately finished homes. The tower will also have three lavish tri-level penthouses, each with a private rooftop pool and garden, representing the height of luxury.
The EDITION Residences, Miami Edgewater will have approximately 45,000 square feet of beautifully designed amenity spaces where owners can live, work, play, and entertain guests while exuding the same degree of luxury as the renowned hospitality brand. Two resort-style pools, a club bar, a library, private training studios, an extensive spa program, and six Guest Suites are just a few of the lauded features.
If you or someone you know have an interest in purchasing at EDITION Residences, please contact Lucas Lechuga via email at [email protected] or by phone at (786)247-6332.