Tips For Foreign Investors Seeking EB-5 Visas & Paramount Miami Worldcenter Update
May 31, 2017
by Sarah Elles Boggs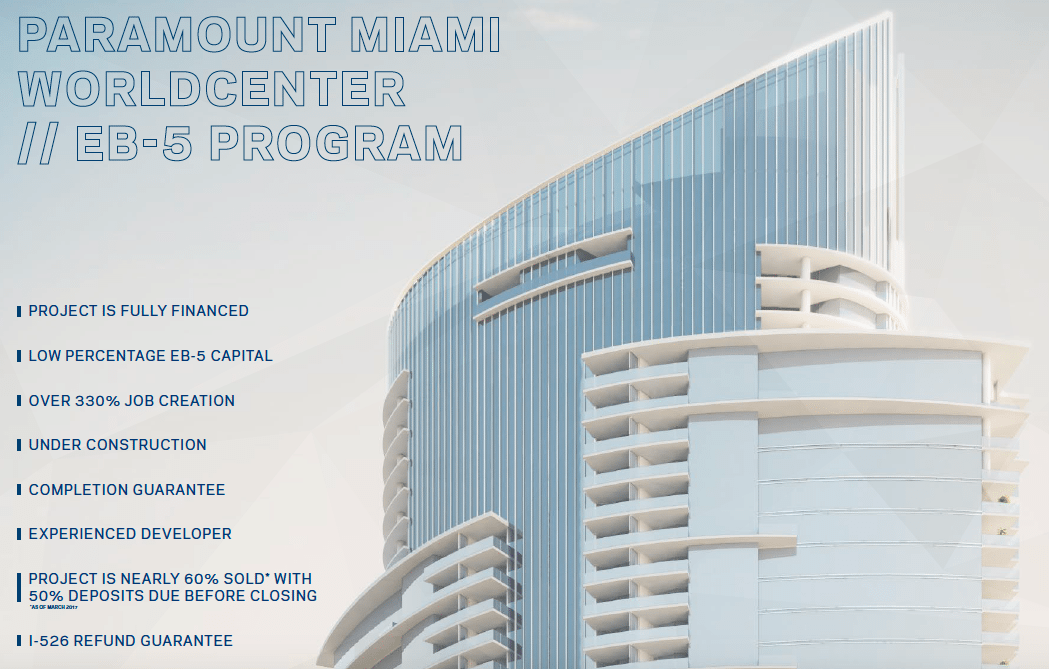 EB-5 can be a great opportunity for foreign investors who seek American citizenship to be able to do so, but the investment visa is not without risks. It is very important to choose the right project to invest in, so that the investor does not lose their investment without securing the visa. As a rule, the investment money must be considered an at-risk investment, but savvy investors can review their potential projects and choose the one most likely to end in the visa PLUS the return of their funds.
What Are Some Tips To Ensure Success?
When reviewing EB-5 opportunities, it is important to choose a project that actually creates a minimum of 10 full time jobs per visa issued. Good intentions are great, but the project has to actually happen in order for the visas to be issued. Because of this, it is important to invest with an experienced developer who is well-funded and already under construction.
If a developer is not experienced, the project is unlikely to come to fruition, leaving the EB-5 funds at risk. In this case, the investor may or may not be able to recover their $500,000 in investment money, but the $50,000 in administration fees are nonrefundable.
If the project comes to fruition but does not create the required amount of jobs per hopeful EB-5 investor, then a portion of the investors will receive their visas, but those who signed on later in the project would lose their administration fee and may or may not be able to recover their $500,000 investment. Investing in condos is safer in this instance, since investors are more likely to recover their money through the condo sales. Recovery of the funds is more tricky for parking garage or infrastructure projects.
Don't be greedy. It is extremely rare to find an EB-5 investment program that will provide the investor with the visa AND a healthy financial return. Many times, investors receive a small return and the visa. This brings me to Paramount Miami Worldcenter, which has an interesting offering that is one of the best I've seen.
How Does The Paramount Miami Worldcenter EB5 Opportunity Work?
The developer of Paramount Miami Worldcenter is offering a limited number of EB5 investment opportunities to buyers of condos in the project, which is currently under construction in Downtown Miami. There are around 35 opportunities remaining of the original 150. The opportunities are funding just 14% of the capital required for the project, which has already secured its $285 million senior loan and is 60% sold with 50% deposits due prior to closing.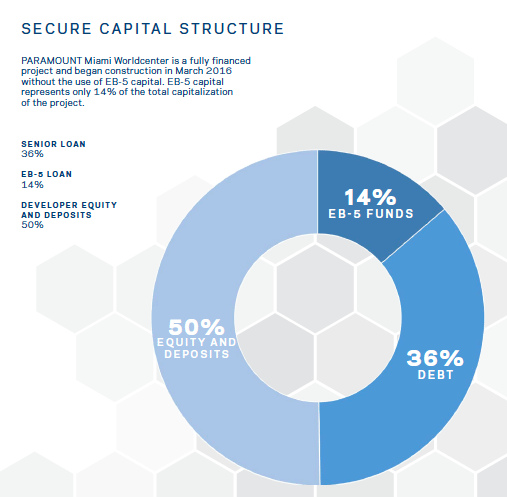 With 150 available investor visas, 1,500 jobs are required to be created. The project is estimated to create over 5,000 total jobs, so investors should have no problem securing their visa upon completion.
At the time of closing, EB5 Investors are offered two options:
1 – They can close on their condo separate of the investment and move in immediately.
2 – For the investors who prefer to roll their investment funds into their condo purchase, they have the option to delay closing by three years on a leaseback program with the developer. The developer will offer the apartments for lease and split the income from that rental with the investor. After the three year term, the investor can close with the use of their investment funds.
The remaining residences start at $626,000 for a 1 bedroom plus den with 1,095 interior square feet up to $1.8 million for a 3 bedroom plus den with a southeast view and 2,376 interior square feet. Overall, prices average $675/square foot and penthouses are available upon request.
If you or someone you know is interested in more information on the EB5 program, please contact our office for a full presentation.
Paramount Miami Worldcenter Brochure by Sarah Elles Boggs on Scribd